Businesses face a plethora of marketing opportunities and there's no way you have the resources to act on every one of them, even if you have a very large business. Hence, you must choose which marketing opportunities represent the best options given your resources, your customers, your competition, and the environment surrounding your business, such as economic and legal factors. Moreover, changing consumers and their shopping habits emphasize the potential for digital marketing opportunities that can explode your business, when done correctly, or waste resources if you don't implement them correctly. Today, we'll discuss some of the most valuable marketing opportunities you might consider implementing in your business if you're not using them already.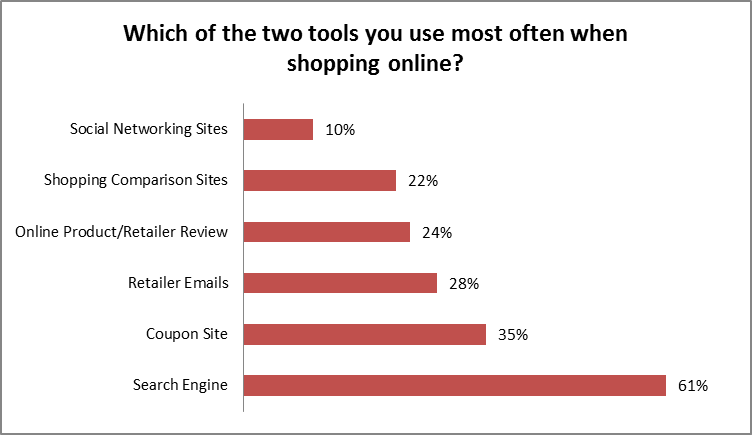 Notice in the image above, that search engines are often the first place consumers consult when they're in the market for a product (which includes both goods and services). Hence, it's easy to argue that search engine marketing (SEM) is one of your best marketing opportunities. The image suggests other marketing opportunities you might consider, based on the nature of demand in your industry.
Even if you're using one or more of these opportunities, there are nuanced ways to use them that optimize performance, as well as opportunities not listed in the graphic. So, without further ado, let's discuss how to use my top 5 marketing opportunities to explode your business.
5 Marketing opportunities
Some of the opportunities we discuss below offer short-term benefits so you can see a change in performance fairly quickly. Others take time before you'll see any measurable change in firm performance. In general, it takes a minimum of 6 months to see an appreciable change in performance from most digital strategies, so give your strategy some time to prove itself before discarding it as irrelevant for your performance.
While there are often business reasons for improving performance in the short-term, not the least of which is improving cash flow, don't get fooled into putting all your efforts into these strategies. Because they pay off in the short run, they are also often the easiest for your competition to copy. For instance, a price change is met with nearly instantaneous responses from your competitors, which negates any advantage you get from the strategy. Instead, focus on gaining a sustainable competitive advantage with marketing efforts that are hard to copy or take a lot of time for your competition to match.
To give your business the best shot at improving performance, you must first develop a detailed marketing plan that researches your current situation, sets measurable goals for the short-term, and sets out a strategy designed to achieve those goals with sufficient detail, including an itemized budget. Armed with this strategy, you maximize your chances of success.
Superior customer experience
No marketing effort delivers as reliably as providing a superior customer experience or is harder to copy. Satisfied customers return over and over again and act as your best source of marketing communication in support of your brand. They leave favorable reviews, recommend you to their friends, post about you on their social platforms, and generally support your marketing efforts. Of course, the opposite is true when you provide a poor customer experience and can sink your business fast.
Ensuring superior customer service is a long-term strategy and takes a sustained commitment from your entire organization. But, the rewards are well worth it, even if you don't see an improvement right away and may even experience a decrease in profits as you make the initial outlay for things necessary to implement your customer strategy.
Implementing this marketing strategy starts with a service audit (to evaluate how well you serve customers from the beginning to end of a service encounter) and includes your website, especially your landing pages and the pages necessary to support conversion, such as a shopping cart and thank you page. After completing the audit, begin implementing changes to improve the customer experience and ensure you deliver a superior experience every time. This is especially challenging in service businesses where the vagaries of the environment conspire to interfere with performance. For instance, high volume might delay shipping or an out-of-stock item might drive customers to a competitor.
Regardless of the type of business you run, failures happen — it's just part of business. Of course, you do your best to reduce the number of failures, but sometimes failure is unavoidable. Develop contingency plans for when things go awry so you can spring into action when a failure is about to occur or already occurred. The faster and more thoroughly you address customer complaints, the less damage they cause. Offer multiple ways for customers to contact you with questions or complaints and address these quickly and openly.
Consider providing handwritten thank you cards to include with your shipping to make your customers feel special. Even if your company operates in the B2B space, people appreciate a personal touch. And you'll find that people come back to you more often because they feel truly valued by your firm.
Optimize SEO
Remember the graphic above showed that more people use search engines to find new products. Well, that means you must optimize your website to attract visitors when they're in the market for the types of products you sell. That's SEO or search engine optimization. Optimizing your site for search is also a long-term strategy that takes time to bear fruit.
SEO relies on matching your website for the factors included in search engine algorithms that determine your rank on results pages. Content marketing is one of the biggest factors included in most search engine algorithms since search engines try to provide the best results to users.
It doesn't just stop at creating compelling content, though. Consider relevant topics and optimize for SEO to make the most of everything you're putting out, such as blog posts, videos, podcasts, and so much more.
Maximizing on FOMO
Fear Of Missing Out (FOMO) is a huge incentive to purchase products, especially for the younger generation. Make the most of this by creating content that makes customers feel like they're missing out on a trend if they don't do business with your company.
Showing that lots of people are buying from you is one effective way to maximize FOMO. This is done by displaying best sellers or having a pop-up that says how many people are interested in the product they're viewing. If customers feel like something is in demand, they're far more likely to convert.
Offers that expire at a certain time or ones that are available in limited quantities also encourage visitors to convert now rather than checking for a lower price elsewhere or navigating away to delay the purchase for another time. For instance, travel sites often show a limited number of seats available on certain flights while product companies may show that only 3 products remain in stock.
Abandoned carts
Plenty of shoppers fill up their online shopping cart and then leave it. It's like online window shopping. And it's the perfect opportunity for a bit of targeted marketing.
Set up a robust email marketing strategy where customers receive an email if they left something in their cart. Consider offering a discount code in the email if they complete a purchase within some time limit, or encourage them to set up an account to stay abreast of product and pricing changes if they're not ready to commit to buying today. Likewise, their account can let them know when one of their favorites is low in stock. That way, you're maximizing FOMO and abandoned carts.
Another tool to reduce shopping cart abandonment is using a popup that appears on exit intent. Just like email marketing efforts, a popup encourages an immediate purchase but doesn't require collecting emails that might put some visitors off.
Social media
Using social media in your marketing approach is a given nowadays. But it's worth going over again because it offers so many opportunities and can open doors to untapped niches for your business.
Use influencers to promote your products. For example, if you're a fashion brand, send clothing to Instagram influencers to show their daily lives in your styles. Most of their followers are there because they want to find new fashions. Which means they're ready to shop for something that catches their eye.
This might not work for all businesses, so it's a good idea to define your target audience and which social platform they frequent the most.
Need marketing help to support business growth?
We welcome the opportunity to show you how we can make your marketing SIZZLE with our data-driven, results-oriented marketing strategies.  Sign up for our FREE newsletter, get our FREE guide to creating an awesome website, or contact us for more information on hiring us.
Hausman and Associates, the publisher of MKT Maven, is a full-service marketing agency operating at the intersection of marketing and digital media. Check out our full range of services.