One of the most important aspects of running a business is understanding the key components that contribute to running a successful business. These components can include things such as vision, culture, and leadership, as well as effective planning that's implemented flawlessly. Each of these three components has a different meaning and each contributes to running a successful business in its own way. But there's often a lot more to it all than just understanding what you need but also knowing how to do each component well.
To create an effective brand, it is important to explore your strengths, weaknesses, and competitors, as well as other external factors impacting business success. This helps you define what marketing strategies to use with your specific target market and context to create success. Let's take a look at the 5 elements necessary for running a successful business.
The definitive guide to running a successful business
Successful businesses aren't built overnight. It takes much more than just a good idea, creativity, and hard work to succeed in the business world. The best advice for running a successful business involves detailed planning and putting in place the components necessary to effectively implement your plan. Updating your plan so it's always up-to-date on changes both inside and outside the company ensures success.
How to create a winning business plan
The first step in running a successful business involves creating a solid business plan before you start building your company. You must set SMART goals, monitor progress toward achieving milestones, outline your activities using detailed action plans, and develop pro-forma financial statements based on extensive research on factors impacting your opportunity for success using both internal and external scanning.
One of the most important things to remember when creating a business plan is to tailor it to your company and the environment you currently face, so just substituting your information into a business plan you found online or even using a business plan template is often a poor substitute for building a plan based on your situation.
By the same token, slavish adherence to your plan might result in overlooking a significant opportunity. So, the right combination of flexibility and planning is needed to run a successful business. For instance, Adobe started with the notion of selling hardware (printer, computer) with proprietary software (Acrobat) to allow companies to do desktop publishing without sending everything to a professional print shop. However, it was soon clear that their market (Apple, Microsoft) wasn't interested in hardware and just wanted the software. After turning away potential business because they weren't interested in buying what Adobe was selling, an advisor pointed to the opportunity and the rest is history.
The 5 elements of running a successful company
In order to achieve success, a company needs these 5 elements that build the foundation for everything within the company. A successful company needs all of the following:
1. Vision & strategy – a clear idea of where you're going and how to get there
The first thing you need to do is to decide on your mission and vision. These elements help determine the direction of the business and where it will go in the future.  It's important to be realistic about your goals and what you can achieve. If it's not possible to meet the goal, then there is no point in wasting time trying to pursue it.
Here are some examples of mission statements for companies that are household names:
Sweetgreen: To inspire healthier communities by connecting people to real food.

Patagonia: We're in business to save our home planet.

American Express: Become essential to our customers by providing differentiated products and services to help them achieve their aspirations.
Notice that each mission statement is generic while at the same time voicing the overall direction the company should take. Don't try to be all things to all people but also don't generate a mission statement so specific it limits your opportunities. We call this Marketing Myopia, a term made famous by Harvard professor Theodore Levitt. If your mission statement is too specific, for instance listing your industry, you face threats that the industry might disappear and you'll miss opportunities for branching out. For instance, instead of stating your business functions in the railroad industry, say you're in the transportation industry and don't limit your company to just moving people but moving things.
2. Capital – funding your ongoing business operations
The different types of funding sources for startups and growing businesses include venture capital, angel investors, crowdfunding, debt financing, small business loans, and credit card financing. If you start small, for instance as a gig business, you can self-fund by funneling resources from your current job into your business. If you choose to go for a business credit card, however, we suggest trying to find one with the right deal for you for example you can get up to £75 for free using a www.capitalontap.com promo code.
Many factors determine the funding option that is best for your company. The company's stage in development is one factor. The company's industry is another influencing factor. 
Any investor wants to see you develop a workable and thoroughly researched business plan built on a clear mission and vision statement. Even with an excellent plan, finding funding is challenging and the decisions made by funding sources don't always make sense. I once worked with a team of nurses who wanted to build a women's health clinic and had an excellent business plan for the business showing a strong need and potential profits. After shopping the plan to anyone who had money, they finally settled for the friends and family funding option when no one else was interested.
3. People – building a team that can get things done
The team is the most important aspect of any workplace and you won't succeed without a great team and the leaders needed to corral the cats so everyone moves in the same direction. The success of your company is determined by the sum of all the hard work and creativity coming from your employees as well as cooperation and coordination between them. It's important to understand what motivates and brings out the best in each individual on your team, as well as how to get the talented members to work as a cohesive unit.
Companies must understand how different personalities impact the corporate culture and productivity of the entire firm. Certain personality traits can help create a healthy, productive, and collaborative environment that encourages teamwork while others can cause friction or reduce productivity.
4. Marketing – how to reach your audience & grow your brand
Marketing is the process of promoting, selling, and distributing goods or services to gain visibility for a company's brands and move its target market toward purchase and loyalty regarding the brand. Marketing involves making decisions across the 4 Ps, shown below.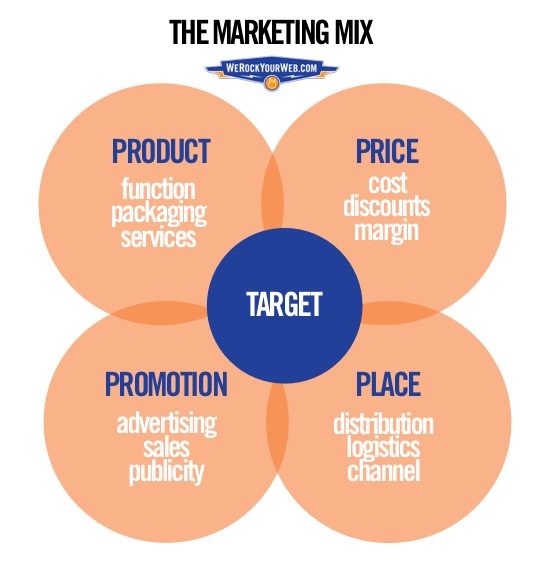 There are various ways to reach your target market to build awareness of your brand and positive attitudes toward the brand. Some of the best ways to do this are with social media marketing, video marketing, influencer marketing, and other forms of advertising, including digital advertising. Once you generate awareness, the goal of marketing is to drive consumers down the conversion funnel to entice them to make a purchase. Once that first purchase is complete, you can use those satisfied customers to attract new customers using reviews and encouraging user-generated content, such as posting images of the customer using your product, turning them into advocates for your brand. You also want to ensure continued satisfaction with outstanding customer service that encourages repeat purchases.
The best thing about digital marketing efforts is that they don't involve the huge costs associated with traditional marketing channels. You can even do digital marketing yourself with some online training. However, you can also get experts to help you including options such as billo to create the content you need. As long as you're authentically building your brand this way, you'll find that it can make a huge difference to your reach and impact.
5. Mindset – why believing in yourself matters
Believing that you are on the right path is important in achieving your goals. The mental state of "blind faith" is the ultimate driver of success. There are many theories on what leads to success, but one thing remains the same: believing in yourself. Building pure confidence and believing in your success helps you achieve your goals or meet your expectations for both business and personal life.
If you don't believe in your business, nobody else will. So you must really make sure you give your business your all. It makes such a huge difference when you do.
Conclusion
I hope this helps you in running a successful business. Today, we focused on the 5 elements necessary for running a successful business. Each of these elements requires a lot more detail, so don't stop here in building your understanding. Read more from this website and those run by other experts to ensure your future success.
Need marketing help to support business growth?
We welcome the opportunity to show you how we can make your marketing SIZZLE with our data-driven, results-oriented marketing strategies.  Sign up for our FREE newsletter, get our FREE guide to creating an awesome website, or contact us for more information on hiring us.
Hausman and Associates, the publisher of MKT Maven, is a full-service marketing agency operating at the intersection of marketing and digital media. Check out our full range of services.