A robust marketing strategy is forever a central feature of any great business and that isn't going to change in 2022. Yet, while tactics and how to implement them come and go based on the whims of the media gods, there are 5 key elements of marketing strategy that deserve your attention as you build that marketing plan.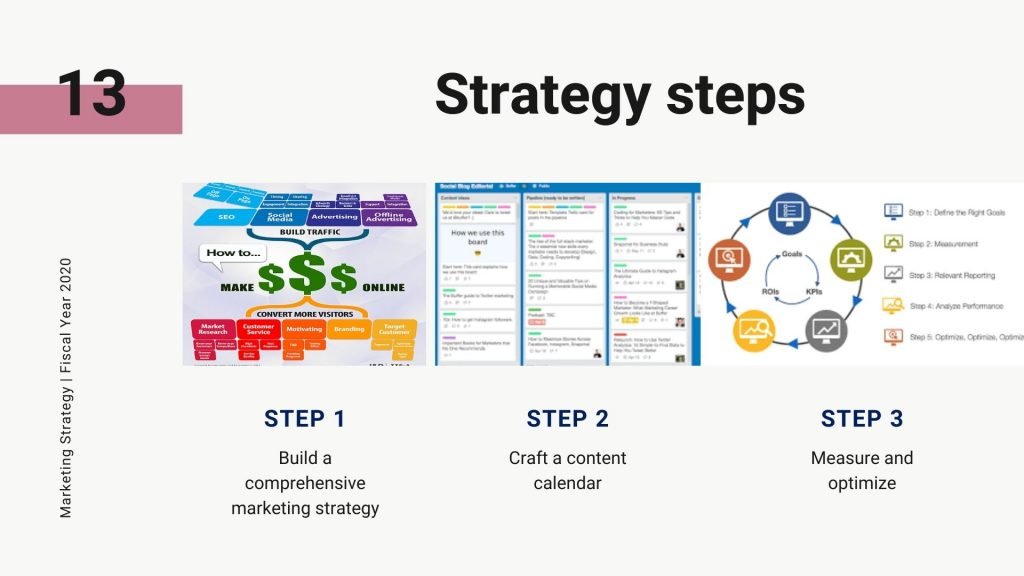 While we previously covered what's happening in online marketing from the perspective of new tactics and changes you must make to optimize performance in the tactics you currently use, you must also know how to bring it all together using universal concepts of marketing that stand the test of time. Focus on the five points below to build a stronger strategy over the months to come.
5 elements of marketing strategy
1. Visibility
Your business cannot achieve any success if nobody knows of its existence. Given that most consumers still begin their buying journey with an online search (88%, in fact), it's vital that you support your site with SEO (search engine optimization) and other online marketing strategies. This won't just lead to more visitors to your site, but will actively boost visitors to your online store, especially if you have a great landing page. By creating great content, you also gain visibility when users engage with your content on social media and from other websites that link to your content. These actions further support your SEO.
Local SEO is also something to consider. In fact, 78% of local searches result in a local sale. When users search on a mobile device, the default is to show local businesses first in the results, so you get a big benefit from using local SEO. Implementing local starts with a Google Business Profile to confirm your physical location and add information about your business.
Remember, takes seven touchpoints to gain a sale, on average. That's why PPC (basically Google Ads), content marketing, and social media campaigns (both organic and advertising) should factor significantly in your marketing plan. Building a cohesive strategy across these multiple touchpoints is the only way to achieve the necessary touches to achieve conversion.
Keeping your business fresh in the client's mind is a key element of marketing strategy that requires careful planning and effective implementation.
2. Trust
Consumers won't buy from a company if they have doubts about the quality of their products or reliability. Safety and security are also important considerations, especially in online activities with the proliferation of cybercriminals out there to steal your personal information.
Therefore, consumers almost always attempt to verify the legitimacy and quality of the company. Customer reviews and other forms of social proof confirm that you have a good product that others can trust. Trust in brands drives between 22% and 44% of customer loyalty. Trust also drives purchase intentions.
For startups, consumers need to know that your company is serious and genuine in its concern for customer satisfaction and security. Lacking the reviews and other forms of social proof available to more established companies, startups may rely on the professionalism and transparency of their marketing efforts to build trust with their target market.
Your brand image is the repository for all brand beliefs and attitudes, including trust. Building a positive brand image starts with choosing a brand name. Learn how to register one today and you can start building the remaining elements of your brand image through marketing, including product performance, pricing, and promotional messaging.
3. Personality
With so many companies out there, you can no longer fall into the trap of being generic or bland. As such, you must try to show a bold approach to all aspects of branding and marketing, including developing a brand personality that fits your business and resonates with your target market. Below, you can see the iconic representation of brand personalities (termed brand archetypes) along with brands that epitomize that personality.
Perhaps more importantly, the company must feel authentic and approachable to consumers, which means developing a consistent voice across communication channels.
Part of your brand personality comes from your promotional messaging, including unspoken elements such as product quality, packaging, and pricing. For example, consider Godiva's personality as an extravagant gift based on its high price, gold packaging, and selective availability in high-end shops and their own stores. Or, check out the explicit difference in brand personality used in the ad for Apple computers.
Other elements of your brand personality come from how you perform both core and ancillary elements of your brand, such as investing in customer support and supporting causes important to your market. A combination of smooth human interactions and quick responses to their problems generates a positive personality. Personality is yet another reason why consumers choose your brand over the competition.
4. Corporate social responsibility
Consumers want to buy from companies that share the same values. Right now, a lot of people care about going green, for instance, to protect the planet for future generations. Over 88% want to use brands that help them make a difference. Corporate social responsibility goes well beyond talk and requires you to demonstrate your commitment to the values you say are important to your company
In addition to showing corporate social responsibility, you must show that the brand and its products relate to a specific demographic. If they feel like a part of the brand's family, people will be far more likely to complete a purchase. More importantly, your hopes of turning one-time clients into loyal customers are greatly improved.
5. Value
Finally, customers need to feel that your brand offers value for the money. The arcane belief that consumers buy the cheapest products out there was never true and it isn't today. Consumers look for value, which represents the difference between costs (ie. money exchanged but also time and effort) and benefits received (how well the product performance, how easy it is to use and maintain, etc).
One of the best ways to achieve a high value is by adding something that consumers see as valuable. For instance, free shipping is pretty much standard (although some firms require a minimum purchase to achieve free shipping) so charging for shipping decreases the value of the items you sell. Similarly, the longer you take to deliver an item purchased online, the less value you provide, even for consumers facing no immediate need. That's why there will always be a market for physical stores.
Offering free content such as vlogs or a podcast can work wonders in terms of providing value, as well. Offering loyalty reward schemes and special treats for your VIP customers can have a positive impact too. As soon as people make a mental association between your brand and value for money, they will continue buying from you and recommend you to their friends.
Conclusion
These 5 key elements of marketing strategy extend beyond a single tactic or time period. When you build your marketing strategy around these 5 key concepts, you'll see your business expand.
Need marketing help to support business growth?
We welcome the opportunity to show you how we can make your marketing SIZZLE with our data-driven, results-oriented marketing strategies.  Sign up for our FREE newsletter, get our FREE guide to creating an awesome website, or contact us for more information on hiring us.
Hausman and Associates, the publisher of MKT Maven, is a full-service marketing agency operating at the intersection of marketing and digital media. Check out our full range of services.