In order to succeed in today's business world, it is essential to use cost-effective marketing tactics that deliver high returns without the high costs. After all, every penny counts when it comes to advertising your company. Luckily, there are many ways to reduce marketing costs while still achieving desirable results. This blog post discusses five of the best ways to make the most of cost-effective marketing tactics. Let's get started!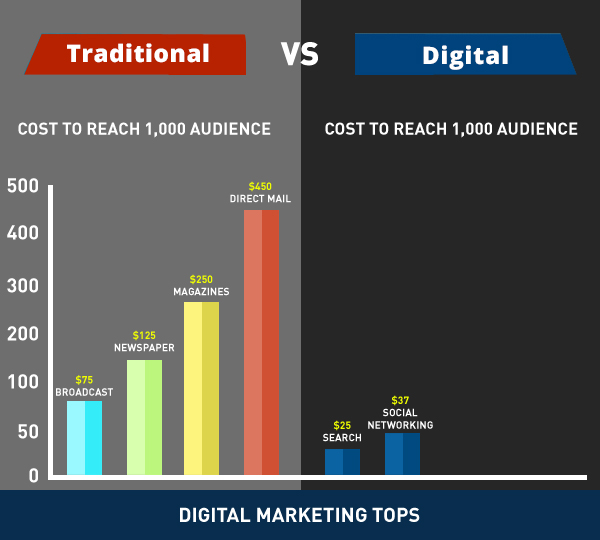 Cost-effective marketing tactics
As you can see in the graphic above, the cost to reach consumers using digital marketing is much lower than possible from traditional media outlets. That's probably why companies now dedicate more than half of their marketing budget to digital options. So, in this post, we focus on digital marketing tactics.
1) Utilize social media:
Social media is a powerful tool for connecting with customers and potential buyers. By establishing an active presence on social networks, companies can quickly and easily reach their target audience. Additionally, the cost of advertising on these platforms is often minimal compared to traditional methods such as television or radio ads.
Social media is also more effective, generating a higher ROI because advertisers can target their ads to users with the highest potential for buying their products
2) Invest in email marketing:
Email marketing is a great way to stay connected with customers and build relationships. It offers businesses the ability to reach more people faster while still keeping costs relatively low. Email marketing can be an effective cost-saving tool with personalized messaging and automated campaigns that deliver high ROI, as you can see in the graphic below. So invest in email marketing today for maximum results!
3) Use content marketing effectively
Content marketing strategies such as tagline advertising can be a very cost-effective way to market your business. Tagline advertising (natural longtail), is when businesses create short, memorable phrases or "taglines" that will stick in the minds of potential customers. Such taglines can be used on multiple platforms, from traditional advertising campaigns to digital platforms such as social media and websites.
By using tagline advertising in combination with other content marketing strategies such as SEO and blogging, businesses can optimize their cost-effectiveness while still getting the most out of their marketing budget. Tagline advertising is an effective and cost-effective content marketing strategy that involves creating a memorable phrase or slogan that accurately reflects your brand's message.
4) Run promotions & discounts:
Take advantage of cost-effective marketing tactics by running promotions and discounts. These can be offered to encourage customers to purchase your products or services and build brand loyalty. For example, offer special discounts on certain items, create bundles with discounted prices, or have time-limited deals that will help attract more buyers. Make sure you promote these offers across all of your channels, so people know they're available!
5) Monitor results
Monitoring results is essential for any cost-effective marketing tactic. To gain insights into the success of campaigns:
Track performance metrics such as website traffic, conversions and revenue.
Keep track of customer feedback through surveys or social media comments to identify what works best for your audience.
Leverage data analytics software to capture real-time data and measure the impact of each marketing effort against goals. This will help you adjust strategies promptly and improve ROI from marketing tactics.
Conclusion
In conclusion, cost-effective marketing tactics can go a long way in helping businesses achieve their goals without breaking the bank. By utilizing social media, investing in email marketing, making use of content marketing strategies, running promotions and discounts, and monitoring results, businesses can maximize their efforts while keeping costs low. So start saving money today by implementing these cost-effective marketing tactics!
Need marketing help to support business growth?
We welcome the opportunity to show you how we can make your marketing SIZZLE with our data-driven, results-oriented marketing strategies.  Sign up for our FREE newsletter, get our FREE guide to creating an awesome website, or contact us for more information on hiring us.
Hausman and Associates, the publisher of MKT Maven, is a full-service marketing agency operating at the intersection of marketing and digital media. Check out our full range of services.