Regardless of your industry or sector, having a strong online presence is vital for the survival of any business today. More than half of the world's population uses the internet, so it's safe to assume that the majority, if not all of your current, future, and potential customers are online. So, it's obvious how investing in your digital growth helps your business thrive and grow more than any other marketing effort. That digital growth fueled the slow transition of marketing spend from traditional to digital tactics, as you can see below.
To help you boost your digital growth, here are several key marketing strategies you should build into your marketing plans, with reference to some of the most effective digital channels.
Digital growth strategies for 2022
While digital growth continues and was even accelerated by the pandemics as physical stores shuttered during lockdowns, the tactics that work to support that growth have undergone massive changes and will likely face additional changes as more companies enter the arena and users, ever fickle, decide how they want to engage with companies online.
If you need a little data before committing scarce resources to digital growth, here are some facts:
If these stats don't convince you that you must up your online presence to survive, let alone grow your business, nothing will. And, if anything, the need for a strong online presence will grow over time, not diminish. When you work on your digital presence, you should stop thinking about digital growth simply as advertising. Consumers form opinions about your brand based on what they see, how you present yourself, how you communicate with your audience, your values, your creativity, and more. The digital world is where your customers are, so you need to show up and give them a reason to choose your company. With the right strategy, it's where you can build strong and long-lasting relationships with them, increase their loyalty to your brand, improve your reputation, increase sales and establish a trustworthy brand.
So, let's dive into some strategies you should use to fuel business growth or, if you're already using them, how to get more results from digital strategies.
1. Become a social media rock star
Most people online use social media. According to a recent study, 56% of consumers worldwide use one or more social media platforms; spending an average of 2 hours and 27 minutes per day browsing social media, as of 2021.
Major networks including Instagram, Facebook, Twitter, YouTube, and TikTok exceed a billion users per month, which speaks clearly of the possibilities these channels bring to your marketing efforts. The most appealing thing about social media for businesses is that they offer a means to reach customers and prospects in an informal way, as well as gain attention through UGC (user-generated content), which has a big impact on purchase intentions.
A big part of your success in social media rests on choosing the right platforms. You should only choose as many platforms as you can manage effectively. With a small staff, that means a maximum of one or two platforms, at most. Picking the right platforms is critical since you can't have a presence on all of them. Below, you'll find a graphic laying out some of your best options when choosing among the top social media platforms to make that decision easier.
And while it's not a secret that social media is a great marketing tool, many think it's simple but, in truth, it takes a lot of work and knowledge to build a winning strategy that makes a meaningful difference in your company's overall results. Trusting your social media to your cousin who has a big Instagram following or letting your advertising agency handle that important task may spell disaster. Success with social media marketing relies on knowing how to use each platform to the fullest, understanding the users most active on the platform, and building engagement through non-promotional content that provides value to users. Whether you use Instagram or any other platform, you should base your strategy on creating valuable social media content that attracts your target market, builds engagement, not just followers, and generates a positive brand image. 
Because of the importance of these platforms, there are thousands of agencies and software tools that claim that they can help you grow your accounts fast. However, use caution when choosing your approach to growth. Let's take Instagram, for instance. Rather than buying followers and engagement, you should find the right agency that can help you grow Instagram organic traffic. You should also consider investing in paid ads in addition to your organic strategies, as social platforms offer excellent targeting tools to get your message out to the right people.
2. Build a rock-solid website
Here are some more stats you should know when it comes to your website [source]:
56% of consumers won't consider a company without a website
75% of consumers use a website to determine the trustworthiness of a brand
28% of small businesses still don't have a website [source]
When it comes to your website, you should think of it as your brand's digital home. So, just like you would do with a brick-and-mortar store or physical office, you need one and you need to constantly care for it, in every sense. Make sure that when a visitor lands on your website, they will find it appealing and interesting enough to spend some time. So, first of all, you should think about the visual aspect of your website. Opt for a pleasant, elegant, and not overly cluttered design.
Your clients and prospects should find any information they need easily, so make their customer journey effortless. And to ensure a superb digital presence, you need high-quality content, such as useful and relevant blog articles, videos, or infographics, produced on a consistent basis. As you can see in the graphic below, there's a correlation between frequency and consistency in content production and revenue.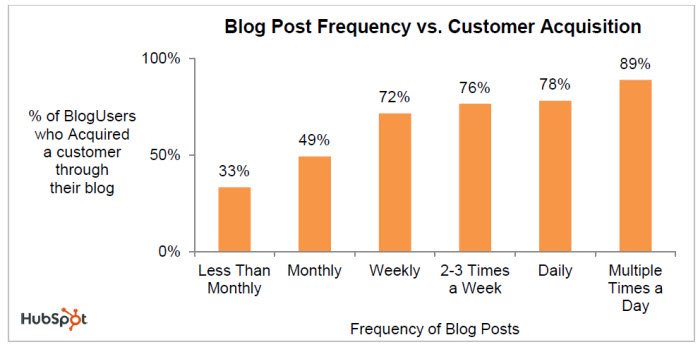 3. SEO
It's not enough to have a website, you must help users find your website in a search. SEO (search engine optimization) refers to efforts website owners make to conform with search algorithms that rank content produced online. Since most clicks accrue to content in the top positions in a search, there's a huge advantage to optimizing your content to help it rank better.
Since Google is the big tuna of search engines, I'll focus on their algorithm. Google doesn't publish the many factors contributing to rank in their algorithm, SEO experts use experiments to understand which factors contribute most to your rank. Here they are:
Creating highly valuable content on a consistent basis
Use keywords reflecting user intent strategically within that content, ie. in the title, meta description (read by robots that crawl looking for new content), in headings, and alt tags on images that describe what the image shows. The closer your content fits with the user's query, the higher you'll rank.
Speed. The increasing value of fast load times on rank is evident in Google's new Core Web Vitals metrics.
Social signals that support the value of your content, such as backlinks, time on site, social media engagement, and low bounce rates
Mobile-first design so the site looks great on mobile
A great customer journey
4. Monitor your performance daily
Numbers scare some people. If you're one of these, get over it. There's no way to capitalize on digital growth without paying constant attention to your key performance indicators — those metrics tied closely to your success.
Google Analytics tracks the performance of your website in minute detail. And, it's free. Google even offers a free training course to help you understand how to use metrics to improve your performance. Among the things you'll learn about your performance from Google Analytics are:
Your overall success in attracting visitors and how successfully you drive them toward conversion
Which pages, especially landing pages, perform well and which ones don't. Create more of the types of pages that perform best.
Where do your conversions come from? For instance, how much conversion comes from social media? How much from advertising? By tagging content, you get a granular view of which content posted on which platforms works best.
Discover where you lose visitors along the conversion process to improve conversion rates. By eliminating the need for a piece of information or reducing the number of clicks required to achieve a conversion, you likely increase your overall conversion rate, for instance.
Most conversions occur over time and multiple exposures to your brand. In fact, experts estimate it takes 7 exposures to your brand before a lead becomes a customer. Google Analytics helps you determine to contribution (in dollars and ROAS – return on advertising spend) for the combination of each channel to your success.
Social media platforms, while not providing as nuanced a view of your performance as Google Analytics, also offer some metrics to help evaluate your success. Just don't get fooled by vanity metrics like follower counts, as these are only loosely tied to performance.
5. Show your values
Consumers, especially younger ones, are interested in supporting companies that share their values, as you can see in the graphic below.
It's not enough to state your values, you must live them, as well. Sharing your commitment to socially responsible business practices on your social media platforms is a great way to show you live your values. For instance, if your staff takes part in giving away food at a local church or helps with local clean-up efforts at a community park, post those images online to show you live your values.
Also, use caution in posting content to your social platforms and websites to guard against misinterpretation or inadvertent slights of racial, sexual, or religious groups. A few years ago, Asus computers posted an image on Instagram that objectified women and endured a vicious backlash from consumers and traditional media. You don't need this kind of attention. Protect yourself by requiring that all content is reviewed before posting publically to help avoid such missteps. Just remember, digital media is a fast-paced environment so whatever review process you institute must work quickly to approve and post content.
Most companies use automation tools to help do some of the heavy lifting when it comes to creating content. For instance, you can post an entire week or month's worth of content for your social media platforms at one time and save it as a draft until approval. This is great when it comes to efficiency and workflow. However, don't use automation tools as a "set and forget" solution. When outside events intervene, it can make your brand appear tone-deaf. When Russia invaded Ukraine earlier this month, posting happy, light-hearted content might make you seem uncaring for the unfolding tragedy.
Conclusion
Whether you are trying to grow your business or you are just starting, digital marketing is one of the most worthwhile investments you can make. Digital presence is indispensable for businesses today. Thankfully, there are many channels you can use to bring your brand to your prospects' favorite devices, and the most important among them – social media platforms and websites. I hope you found the advice shared here valuable. I'd love to hear your take on digital growth in the comments below.
Need marketing help to support business growth?
We welcome the opportunity to show you how we can make your marketing SIZZLE with our data-driven, results-oriented marketing strategies.  Sign up for our FREE newsletter, get our FREE guide to creating an awesome website, or contact us for more information on hiring us.
Hausman and Associates, the publisher of MKT Maven, is a full-service marketing agency operating at the intersection of marketing and digital media. Check out our full range of services.