Are you spending a lot of money on your marketing? As you can see below, companies spend a significant portion of their budget to market their products. Skimping on this budget is often a recipe for failure as the only source of revenue for a firm comes through marketing to customers. Yet, there are ways to improve your marketing so you spend less but still get the returns you need to keep growing and succeed. Read on to learn how to spend your marketing budget more effectively so you improve your marketing without a bigger budget.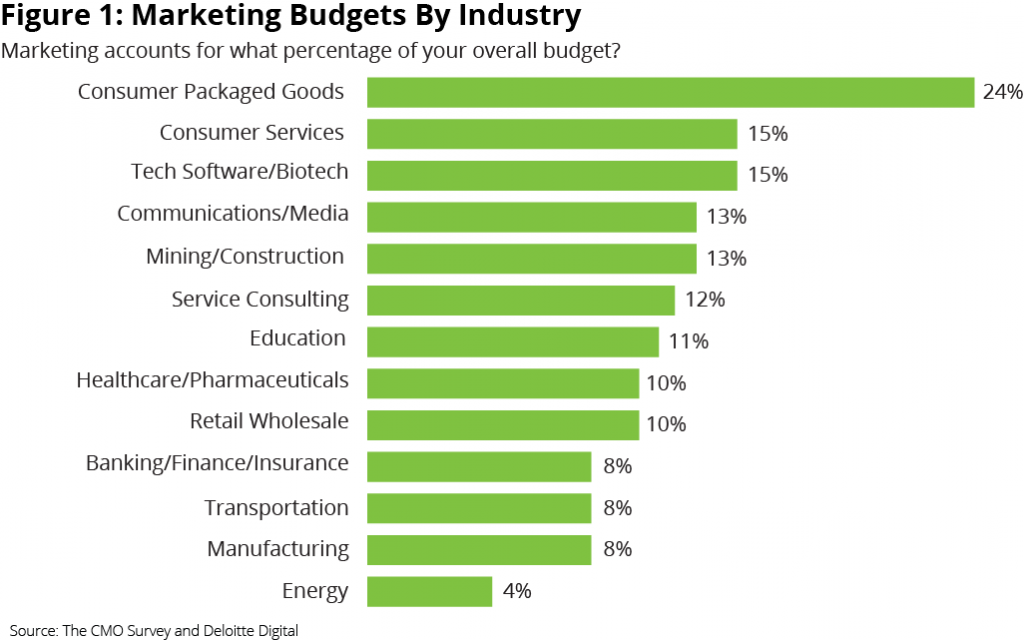 Improving your marketing is much easier said than done. With the wealth of strategies to choose from – and the countless factors that affect your returns from them – determining the most effective and efficient use of your budget that optimizes performance is harder than ever. By taking advantage of a few particular strategies, however, you can make it much easier for yourself and more rewarding for your firm.
In today's post, we focus on 5 specific ways to improve your marketing can help you achieve your goals. You'll have a more holistic marketing strategy that leads to more sales and revenue in the long term without spending more money.
How to improve your marketing: 5 affordable strategies
1. Track Analytics
Do you know how much of your marketing is actually effective? How much return does each tactic make relative to the cost of that marketing effort — we call this ROAS or return on advertising spend.
When you roll out your marketing campaign, you need to know how each marketing effort performs, how well you do with each segment of your target market, which efforts deliver the highest returns, and how your marketing plans deliver over time. You can't do that without tracking your analytics. If you don't track key metrics, you're essentially flushing your marketing budget down the toilet.
By tracking your analytics, you see exactly how your efforts are faring. If it's not performing as well as you'd hoped, you can determine how and what you need to adjust to get a better return. Tracking key metrics gives you much more actionable information to work from, which lets you create more effective marketing campaigns. The better you track your analytics, the better your campaigns will be.
Below, you see an example of a dashboard created using Google Analytics. By adding key metrics (KPIs or key performance indicators are metrics that impact your returns) on such a dashboard over time, you have the tools needed to optimize performance.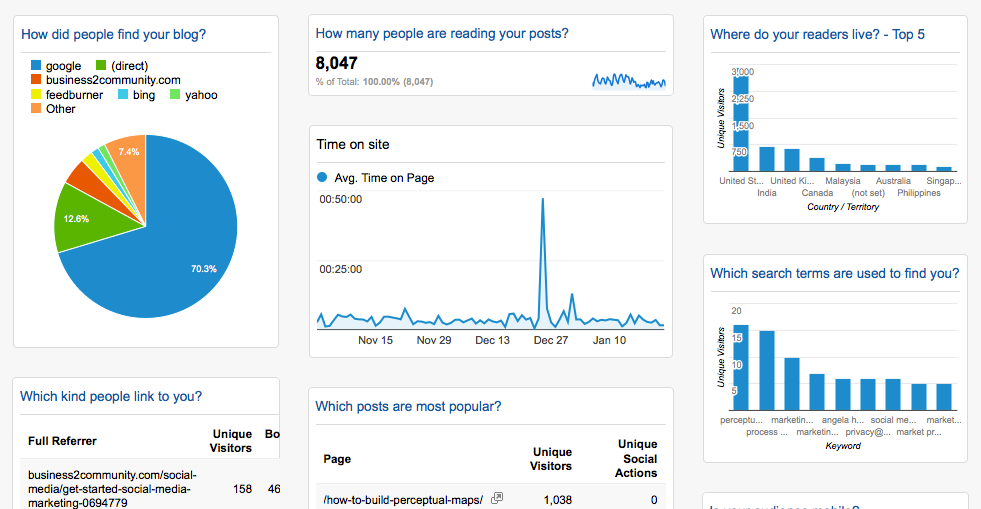 2. Outsource
Marketing, especially in a digital world, is more complicated than ever and requires a different set of skills than in the past. It's natural to get frustrated and stressed about the process if you don't have people with the right skills for the job (see below for a list of the digital marketing job skills where the greatest gaps exist between existing skill levels and skill needs).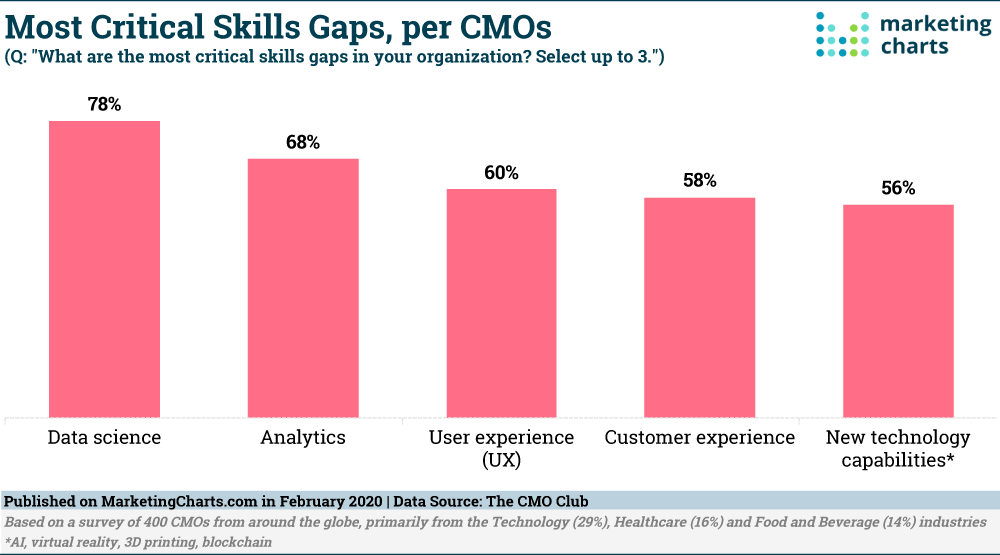 What if you could get rid of that stress while ensuring your marketing efforts support both short-term and long-term goals?
As impossible as that sounds, outsourcing your marketing to an agency is very cost-effective while delivering higher returns than going it alone. Sure, it may seem like you can use your nephew with a large Instagram following to manage your social media or a bright high school student who is a great developer to create your website, but neither of these individuals possesses the requisite marketing skills necessary to succeed. Your Instagram famous nephew has no clue how to build a business brand online while the high school computer whiz has no idea what it takes to create the optimal customer journey necessary to support your brand and build revenue.
While it might take some effort to find a great brand experience agency or similar company to help you with this, it's worth it. Not only does their expertise and experience limit the cost of mistakes, but it is also more efficient and spreads the cost of expensive tools across multiple clients, resulting in huge cost savings.
You'll have affordable access to marketing expertise, which lets you develop more sales without wasting your marketing spend or potentially damaging your brand with unprofessional marketing efforts.
3. Don't overlook mobile
When many entrepreneurs and marketing professionals design their campaigns, they typically do so on a desktop computer or laptop. While that makes it easy to do, it also means you might overlook design elements specific to mobile devices. Current SEO (search engine optimization), an algorithm used by Google and other search engines to rank content that shows up when a user makes a query, favors a mobile-first approach. Moreover, today's consumers, especially younger ones, begin a search using a mobile device, as you can see in the image below.
That's a grave mistake to ignore the impact of mobile in designing websites. The majority of internet users do so on a mobile device, so you need to ensure your campaigns are designed with mobile users in mind. When you're doing so, you need to keep screen size, button placement, and more in your head and plan accordingly. The better your campaigns are optimized for mobile, the better they'll appear for consumers. You'll see greater results once you do.
Plus, don't forget your mobile strategy includes email marketing (nearly 50% of emails are opened using a mobile device) and SMS messaging (text messaging).
4. Use good landing pages
With certain marketing strategies – such as pay-per-click advertising – it's natural to concentrate on getting as many views as possible. This means matching the content of the landing pages to your advertising. But, you also need to create landing pages that convert, since driving traffic isn't enough.
High-quality landing pages are an effective way to generate not only conversion but to build search traffic and support other SEO efforts since traffic and time on site are ranking factors. Landing pages are pages specifically designed to get viewers to perform specific actions, such as subscribing, downloading an ebook, creating a profile, or making a purchase. While these pages have the end goal of making a sale, you can encourage customers to take different actions, such as subscribing to a newsletter.
Without these conversion-focused landing pages, you have a low chance of turning viewers into customers, which wastes your time and theirs.
Qualities of a great landing page include:
Consistent branding and logo that matches the rest of your marketing
Negative space and clear navigation to make reading the content enticing
Clear, compelling headline (and sub-headlines)
A premium offer that focuses on the needs important in the future
Enticing visuals or video
Simple, direct copy
Standout call-to-action (CTA) that clearly articulates what you what visitors to do
Lead capture form
Includes trust elements to build confidence among visitors
Mobile-friendly
5. Use A/B tests
A/B testing is the term used to describe changing specific aspects of your marketing to determine how the changes affect your marketing results. Performing regular A/B testing lets you figure out where you're going wrong, which lets you find ways to adjust and fix this. While this takes regular effort and organization, the improved results will be worth it.
Commonly, A/B testing involves making a single change to one aspect of your marketing campaigns, such as testing different headlines or CTAs. A/B is a misnomer since you can test 5 or 10 headline options as long as you only change one element between each test. This is the easiest and most effective means to determine how to optimize results. However, it's also time-consuming as you test one element after another with multiple options for each element and may get confusing trying to keep track of what's different about each test. When you do A/B testing, you test the most likely factors to impact your results, not everything used in the campaign.
You can also do multivariate testing to change up multiple elements of the campaign at the same time. Analysis of multivariate testing is, however, much more complicated and takes knowledge of statistical tests such as regression, conjoint, and similar sophisticated statistical techniques implemented using software like R and SPSS. The advantage is that multivariate testing is much faster.
As an aside, the new version of the Google Ads platform uses this type of multivariate testing by having users create multiple headings and descriptions, as well as CTAs then tests them as it selectively shows different versions in search results. Over time, the platform learns and selectively shows those combinations resulting in the best CTR (click-through rate).
How to improve your marketing: wrapping up
As complicated as figuring out how to improve your marketing might seem, it can be easier to do than you'd think. A/B testing, mobile-focused efforts, tracking your analytics, and even outsourcing can all help with this.
While that could mean putting a decent amount of adjusting and making key changes, it'll be worth it. In time, you'll see more leads, conversions, and revenue because of your marketing. Since that's the goal of any high-quality marketing strategy, it's something you'll need to focus on.
Each of the above tips are sure to help with that.
Need marketing help to support business growth?
We welcome the opportunity to show you how we can make your marketing SIZZLE with our data-driven, results-oriented marketing strategies.  Sign up for our FREE newsletter, get our FREE guide to creating an awesome website, or contact us for more information on hiring us.
Hausman and Associates, the publisher of MKT Maven, is a full-service marketing agency operating at the intersection of marketing and digital media. Check out our full range of services.