How's conversion going on your website? Want more revenue without spending a lot of money on promotion? Today, we offer four ways to enhance your customer experience funnel to make it more efficient. Here's how good and bad customer experiences impact your business.
What is the customer experience funnel?
A customer experience funnel depicts the process consumers go through from awareness to loyalty and evangelism. The funnel shape shows how it takes a lot of prospective buyers to reach your sales goals as the funnel is leaky. Optimizing the customer experience funnel involves attracting more prospective buyers to enter the funnel, moving them efficiently from the top of the funnel to the bottom of the funnel where they create value for your firm, and capturing those who leak out at the funnel to encourage them back into the funnel.
The earliest versions of the funnel, alternatively called the sales or marketing funnel, or using the acronym, AIDA, which stands for awareness, interest, decision, and action. Today's notion of the funnel is much more nuanced, looking more like the image below.
One great feature of this image is that it contains options for marketing tactics that work at each stage of the customer experience funnel since firms get better results when they use the most appropriate tactics for where the individual consumer is along their journey through the funnel. That also means using the right messaging at each stage. It also means providing a great overall experience at each stage in the process, not just ensuring customer satisfaction with the products they purchase although that is an important aspect of the customer experience.
Providing a great customer experience is essential for business success. When you keep your customers happy, they're more likely to:
become loyal and engaged consumers of your products or services
recommend your product, and reviews drive other consumers to buy your brand, as you can see below

Image courtesy of Digital Marketing Community

defend your brand against the negative comments shared by other consumers
convert rather than leak through the funnel at one point or another
gain a positive brand image
increase revenue
faster conversion
lower marketing costs
easier introduction and greater success of product extensions and new products
higher value per order
The customer experience underpins your overall business success. Just one poor experience can cause a customer to boycott your brand and discourage others from supporting it.
Conversely, positive customer experiences mean increased customer satisfaction, retention, and word-of-mouth marketing. It also means increased spending per order, as consumers who have a positive brand experience spend up to 140% more than those who have a negative experience.
Here are four top tips to help improve the experience that customers have with your brand.
Improve your customer experience funnel
Remember, the customer experience funnel covers a lot of territory, not just satisfaction with the product. That means you must optimize each step along the customer journey. That means mapping the customer journey is the first step in improving funnel performance. For instance, here's a typical customer journey for rail travel.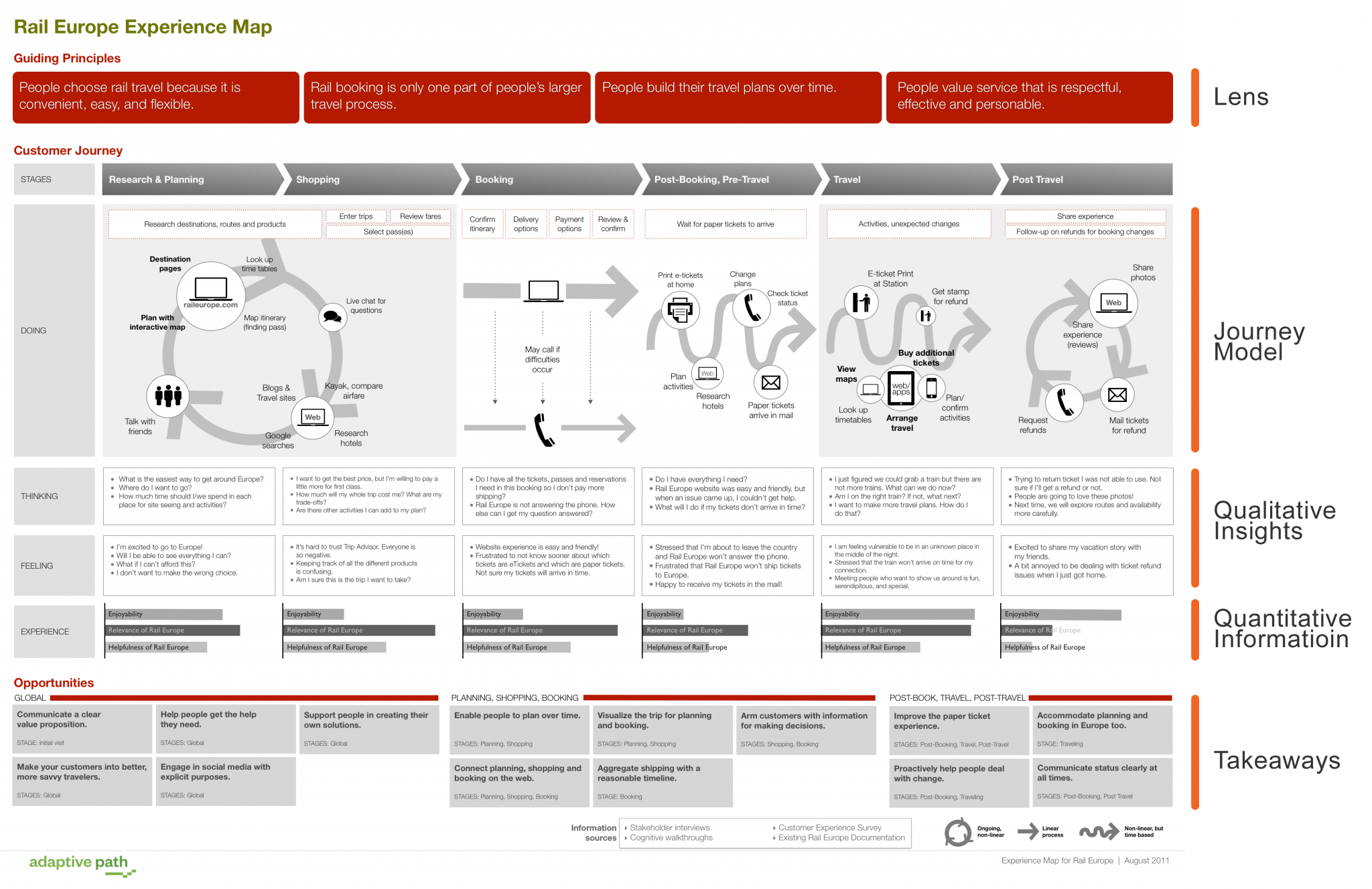 Does this map look the way you thought it would? My guess is that the map is much more complex than you imagined at first blush. Notice in this graphic, various elements necessary to improve the journey are included, such as metrics to monitor, insights and opportunities presented at each stage, and the way elements at each stage interact with each other in a way that isn't always linear. Above the actual map, you'll also find guiding principles for each step along the journey to help guide content creation.
Map out your own customer experience then work toward removing roadblocks and potential frustration that might arise at each stage. Elements such as those below lead to a poor customer experience (also see the image for reasons why buyers abandon a shopping cart):
unclear, confusing, or missing information, especially regarding specifications and compatibility
too many options that create information overload and lead to postponing or abandoning purchase decisions. Instead, offer rational filtering options to limit choice to a few options
conflicting reviews
poor product images
poor customer service when potential buyers have questions. Adding a chatbot and multiple contact options means customers can get the information they need in the way they prefer
poor brand image or an inconsistent brand image
unexpected elements such as shipping costs or later-than-expected delivery estimates

Image courtesy of Revechat
1. Use a customer data platform
A CDP – Customer Data Platform – is a tool that you can implement into your existing database infrastructure to unify your data sets. With a CDP, you can create a 360-degree view of each customer that enables you to identify each person's purchasing history, preferences, interests, and pain points to direct them to the right content to close the deal.
With all of this information, you can personalize your offerings to each customer and provide an enjoyable and helpful experience for them. In turn, you can build confidence and trust in your target market to build a loyal customer base.
2. Provide top-quality customer service
The quality of your customer experience significantly depends on the quality of your customer service. Focusing on improving your support services means every customer receives top-quality service when they have an inquiry or complaint. Recognize that different consumers want different options for customer service. Some prefer self-service from a chatbot or explainer video, while others want to deal with a person to get answers. Even some of these folks, however, don't want to make phone calls but prefer to get answers via email or customer support from social media requests. Some companies now offer special customer service hours when trained personnel as available to address concerns and questions in real-time while others use enhanced listening programs to detect and quickly respond when there's a question or concern.
Provide extensive training for your customer service team members and your AI chatbot so they know how to handle common queries or when to escalate complex cases to the right department. Consider implementing software programs to organize customer support tickets and provide a unified platform for your support staff to access all the information they need when resolving queries, as well as track performance metrics such as hold times, tickets closed, and the time between entering the ticket and closing the ticket.
3. Offer self-service options
Providing self-service tools enables customers to feel in control of their overall experience with your brand. Some great self-service options include online tutorials, user-enabled website personalization options, forums, and frequently asked questions.
Handing control over to your customers increases satisfaction and loyalty to your brand. It also reduces stress on your customer support staff and reduces support-related costs by enabling your audience to resolve their queries independently, on their terms, and more quickly.
4. Streamline the purchasing process
Simplifying the buying process makes life easy for your customers, ultimately enhancing their experience with your brand and increasing the likelihood that they will become repeat customers in the future and recommend your brand to others.
You can improve the purchasing process for your audience by minimizing obstacles and friction points along the purchasing timeline. Remove unnecessary steps to streamline the customer shopping process on your website to complete a full purchase. For instance, when Amazon implemented the "one-click" buying options, they increased revenue significantly.
Don't force the issue, however, as forcing visitors to create an account to buy products from you can easily backfire (refer to the cart abandonment image shared earlier). Even more dangerous is requiring visitors to create an account before they can explore your website to get information about your products. I know it's tempting to gather as much information as possible to allow for email follow-up but you actually scare away prospective buyers who don't care to create an account or have an account but don't want to bother signing in because they forget their credentials.
Conclusion
Providing a streamlined and efficient customer experience funnel option that suits your prospective buyers will increase revenue both directly from purchases, higher average order value, and repeat purchases, but indirectly through recommendations and engagement of satisfied customers.
Need marketing help to support business growth?
We welcome the opportunity to show you how we can make your marketing SIZZLE with our data-driven, results-oriented marketing strategies.  Sign up for our FREE newsletter, get our FREE guide to creating an awesome website, or contact us for more information on hiring us.
Hausman and Associates, the publisher of MKT Maven, is a full-service marketing agency operating at the intersection of marketing and digital media. Check out our full range of services.