Standing out in the crowd is a real challenge for brands, considering the business world is getting more competitive than ever. You need to compete with several comparable products and services with similar quality and prices. There's hardly a way to differentiate, let alone win over loyal customers ready to stick with your brand for the long haul. You can redefine the customer experience using storytelling as a means to stand out. Here are four ways to use storytelling to improve the customer experience.
Customer experience (CX) is often a game-changer for your brand. According to a Gartner survey, 80% of growth-focused companies collect CX data. Statistics also show that 73% of consumers consider CX a deciding factor in their purchasing decisions.
A great customer experience starts with how you showcase your brand in your marketing campaigns. Effective storytelling can drive a successful CX strategy by creating memorable experiences that foster profound relationships. Research shows that stories are far more memorable than facts; hence they drive recall that stimulates purchase decisions. Stories also situation facts within an emotional palace and it's these emotions that drive not only purchases but brand loyalty and recommendations.
This article highlights the potential of storytelling to redefine the customer experience.
Using storytelling to redefine the customer experience
Defines brand values
Every brand has a vision, mission, and values defining it. More than just showing what your business is about, values establish a connection with customers. If people feel connected with your brand, they are more likely to stick around, make a purchase, and recommend your brand. Stories can define brand values and make them evident to customers. As you can see below, this phenomenon isn't simply part of decision-making in developed nations but worldwide.
Here are a few examples where brand storytelling defines values:
Coca-Cola campaigns run around bringing people together over a drink; Teach the world to sing in perfect harmony
McDonald's creates stories around helping buyers save time and money when they are too busy to cook
Nike empowers athletes to be the best and inspires others to achieve; Just Do It
The US Army highlights stories that show an individual building themselves up; Be all that you can be
With stories, it is easy to create a compelling CX that helps people connect with your brand at a deeper level. They understand your values and remember them the next time they buy.
Creates emotional engagement
Did you know that emotional engagement translates into customer loyalty and retention? According to HBR (Harvard Business Review) research, 92% of businesses state that customer engagement is vital to their bottom line. While brands are willing to go the extra mile to engage people, storytelling is perhaps the simplest way to do it.
Your website is the best place to start. A website designer with experience in digital storytelling can help you create an effortless and engaging narrative on your website. With the StoryBrand framework, you can design a story around your customers' problems and subtly drive them to trust and buy your product. Additionally, you can create an emotional bond that brings them back for repeat purchases and makes them recommend your brand to others.
Bennett Web Group notes that your website is an expensive investment and, if it fails to hold the visitors and convert them into loyal followers, you've just wasted a precious resource. In fact, a poorly designed, unprofessional website erodes brand trust and may sink your brand entirely. With a story, there's a handy way to maximize the engagement value and sales potential of a website. The same applies to other marketing campaigns and ads.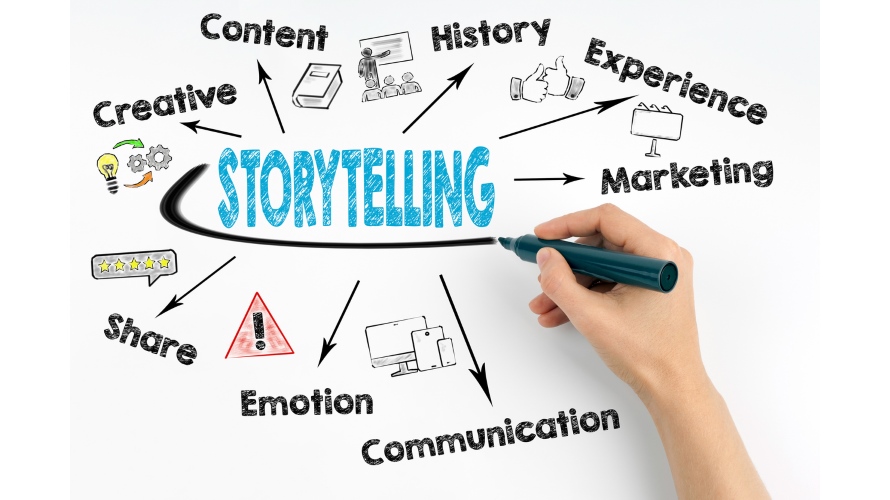 Achieves personalization goals
According to a McKinsey survey, 80% of retail buyers expect personalization. The numbers are similar in all industries because personalization sells and creates a bond with customers in a competitive world. Buyers expect brands to know their unique preferences and cater to their needs. Storytelling can help you achieve your personalization goals and create a loyal fan base for your business.
By leveraging market data and insights, you can weave narratives around the needs, desires, and behaviors of your target audience. With this approach, you can create segment-specific personalized experiences that resonate with individual customers. These foster deep connections and improve overall satisfaction levels.
Builds trust and credibility
Trust and credibility are invaluable assets for brands when it comes to customer relationships. Building them requires authenticity and transparency in your campaigns. Storytelling can help on both fronts as it can present your business the way it is without being too loud or superficial.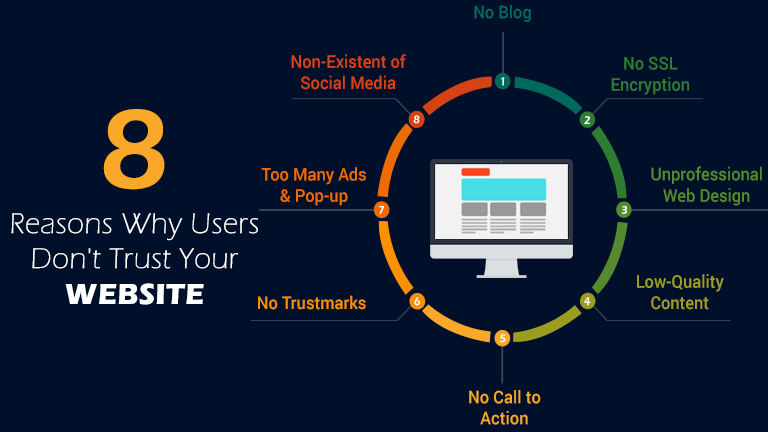 With a brand story, you can share your company's origin, triumphs, challenges, and vision for the future. You can build a relatable and trustworthy narrative that customers can empathize with. When people trust your brand, they invest in your products and services and advocate for your business. Having real people spreading the word can give your business a winning advantage.
How to become a brand storyteller
Some brands just aren't comfortable telling a story while others don't know how to tell brand stories. So, here are some ideas to get you started.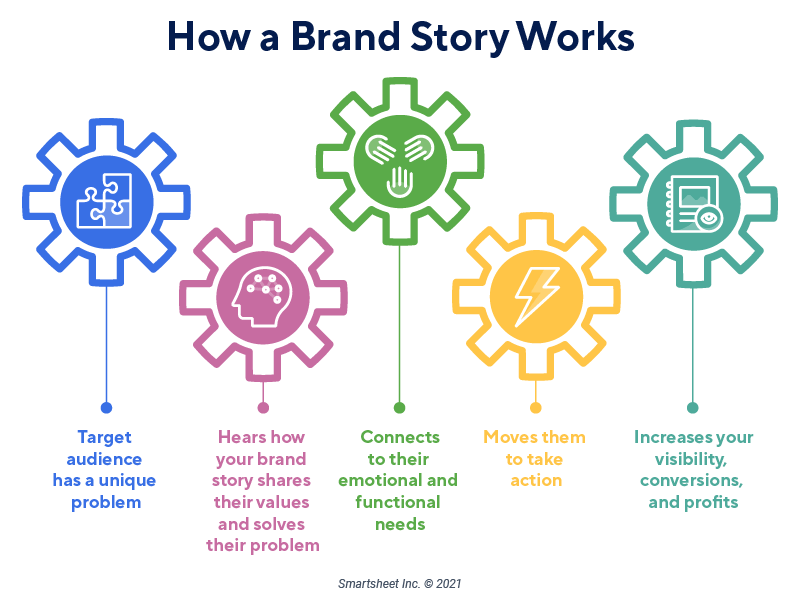 Plan
First, consider your target market and the brand image that you feel will resonate with them. Define your image based on those of your competition, as well, to ensure you stand out in the crowded market most companies swim in. That means research is the first step as you redefine the customer experience for your brand. Determine not only what your brand stands for but how to translate that into meaningful messages and visuals to use ubiquitously across your marketing efforts. Stay consistent by creating a style guide that reinforces that image including the colors, images, fonts, and messages that support your brand.
For instance, I have a brand called Living While Gray. The messaging is one that resonates with my target market (I hope), which is comprised of women over 50 who want to be heard in a world that seems to only value youth. The tagline is: "Women of a certain age who never learned to sit down, shut up, and act their age". The color scheme is vibrant and the images show women in active pursuits that celebrate this time in their lives without the common theme of how to look or feel younger.
Execute
Nothing creates engagement more than a powerful visual. So, include great images and videos as part of your brand story. Ensure these stories aren't just statements of fact but contain emotional content that drives engagement by hooking your audience on the characters and the problems they face.
Stay consistent so the story doesn't get muddled. And, nothing happens overnight so plan to produce stories and supporting materials frequently.
Assess
Assess the performance of your stories. Which stories work well and which ones don't? That means creating KPIs for not only terminal goals like conversion but intermediate goals such as engagement and awareness. By assessing your performance across these multiple goals, you will get better at creating stories to engage your market over time and convert them into customers.
Examples of brand stories you can tell
Celebrate your customers and employees
If you're not comfortable sharing the behind-the-scenes action at your company, you can still use storytelling to support your brand by highlighting the achievements of your customers or employees as a way to redefine the customer experience on your website and on social media. For instance, IBM identifies prospective customers they'd like to develop into customers. One way they do this is to create content celebrating the prospective customer, especially their social responsibility. This not only keeps them top of mind with the prospective customer but helps them show in a positive light to existing customers as a business committed to being socially responsible.
You can also highlight the activities of your employees beyond their role in your company. For instance, if you have employees who volunteer for local charities, you might send a photographer to take pictures of them in action. Of, if an employee is a virtuoso guitarist, you might highlight this aspect of their personal life. Not only does this create great stories to support your brand but it binds your employees to the company and makes it easier to hire new ones.
User-generated content
Encourage customers to create content around your brand by hosting contests or creating polls to get your users involved. Maybe you ask them to share how they use your brand or how it helps them with some problem they faced. On TikTok, for instance, you can create something called stitchable content where you encourage followers to stitch their own stories onto your videos.
Product stories
Product stories are another way to redefine the customer experience by providing a history of the product or how the company overcame problems to bring the product to life. What trials do the company face? Were there junctions in the development where the company faced a difficult decision and how did they come to a resolution? Are there ways that customers can influence development?
An origin story
An origin story is always a popular mode of storytelling as it allows all the elements of a good story. There's a protagonist, and crisis, overcoming the crisis, and a resolution. It's ready-made for creating engagement and interest, especially if you use narrative tools to drive emotions.
The bottom line
With CX becoming the mainstay of business strategy, the role of storytelling becomes pivotal for brands. Mastering the art of storytelling can help you deliver customer value with engagement, trust, and personalized experiences. All these factors come together to build loyal customers for your business and redefine the customer experience with your brand.
The easiest way to win the storytelling game is by being authentic and focusing on real connections. Also, ensure consistency in storytelling across all marketing areas, from your website to online ads, social media pages, and offline campaigns.
Need marketing help to support business growth?
We welcome the opportunity to show you how we can make your marketing SIZZLE with our data-driven, results-oriented marketing strategies.  Sign up for our FREE newsletter, get our FREE guide to creating an awesome website, or contact us for more information on hiring us.
Hausman and Associates, the publisher of MKT Maven, is a full-service marketing agency operating at the intersection of marketing and digital media. Check out our full range of services.