Email marketing is a marketing tactic for sending promotional, informational, or other types of messages to a targeted subscriber group using email. Many companies use this form of marketing because it produces the highest ROI of every other marketing strategy you might choose to incorporate as part of your marketing campaign, as you can see below. Email delivers ROIs of up to 3800%.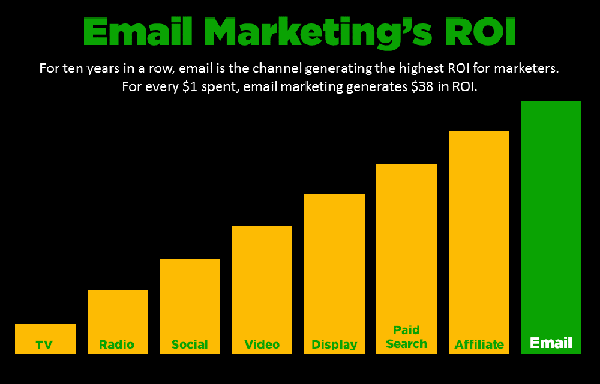 Despite this, some skeptics out there believe that email marketing just does not work for them, and they should not even bother trying. If you are on the fence about whether or not email marketing will work for you, then read on! We will discuss four reasons why you should add email to your arsenal of marketing tactics.
4 reasons why you need email marketing
1. It's a great way to build relationships with customers
Sending targeted email messages is a potent tool once you build a robust subscriber list, a requirement since regulations in both the US and EU mean hefty fines for purchasing email lists or renting them. In fact, you can't send an email to any person who didn't provide permission, which is why another name for this tactic is permission-based marketing. Targeted email messages mean you send subgroups of subscribers information they genuinely want to read; something valuable because it offers information, entertainment, or knowledge.
Building valuable messages means understanding your subscribers. For instance, you want to send information to subscribers about the products they own, similar products to the ones they own, or incentives to buy more product, such as coupon codes or nearby stores offering the products rather than random email messages. You also want to build relationships by sending email recognition of birthdays and anniversaries or thank you messages when they make a purchase or reach a tier level of purchases. Sending generic emails might be worse than sending nothing.
To ensure you're building a relationship rather than annoying subscribers, monitor metrics such as open rates, click rates, and unsubscribes. Use these metrics to determine the overall success of your strategy as well as improve your messaging. By tracking clicks, you build a better understanding of the types of information desired by a specific subscriber, while unsubscribes suggest you're sending too many irrelevant messages to subscribers.
2. Email marketing is inexpensive
Part of the reason why email delivers such high ROI is that the cost to send email messages is very low. Remember, you can't buy lists and you don't have postage as you do with other forms of direct mail. You do incur costs for a company to host your email list and help you craft email campaigns. Examples include Constant Contact, MailChimp, Moosend, and Hubspot. Most email companies charge a flat fee based on the number of subscribers, except MailChimp, which has a free tier available. Some charge an extra fee for premium templates and to host images. Overall, these costs are very manageable.
Deciding between these programs is serious. Each offers advantages and disadvantages that might outweigh the cost. For instance, Hubspot is at the high end in terms of cost but integrates with other tools to make your life easier while Constant Contact has superior metrics and templates to the others, although Hubspot is similar.
In addition, you need images and buttons for your messaging, which might involve some fees to purchase a license or to create custom images. You probably want an employee skilled in creating and managing your email program, as very subtle differences generate huge differences in performance.
3. Email is a great tool for building loyalty and encouraging future purchases
Repeat orders are a huge part of any business, and email marketing is a great tool for sending reminders when it's time to place another order. For instance, over time Chewy (the pet food company) learned how frequently I order food for my dog. At the appropriate interval, I seem to always get a message about reordering. These emails provide value since they remind me to make an order before I run out of food and they make it easy by including a button that takes me directly to the items I ordered last time.
If you send customers targeted content that interests them, then there is a good chance you generate a repeat order. Additionally, customers are even more likely to come back and buy from you if you offer incentives for repeat purchases (such as discounts or bonus products). For example, suppose you're selling medical consumables to physicians. Using a physicians mailing list is an excellent way to remind them of your offerings that brings in repeat orders. (SInce these are businesses rather than individuals, you can mail to purchased lists).
4. Email integrates with your website
The best way to get more out of your email marketing campaign is by using it in conjunction with your website. If you sell products online, have a place where customers can subscribe so you gain subscribers when they interact with you. By capturing the page generating a subscription, you can code the subscriber then send targeted emails in the future. Additionally, you can use email messages to drive traffic to your website by including links within the body of the email.
Creating an email campaign
An email campaign consists of 2 parts, 3 if you include analytics. These are 1) collecting subscribers and 2) sending email messages.
Building a subscriber list
As mentioned, collecting subscribers might occur on your website. For instance, on my website, I use a popup that appears when you stop scrolling (called an exit-intent popup), include a form in the sidebar on my blog pages, and use a lead magnet to encourage subscriptions (in this case offering my DIY website design ebook). You can also collect subscribers by adding to the list from your customer list, from those attending webinars and events you host, by including a form on your social media platforms (Facebook allows you to include a subscription tab).
In a physical store, you can collect email addresses at checkout or offer free products to those who subscribe.
Basically, any way you collect email addresses with the permission of the owner is a legitimate way to build your subscriber list.
Sending email messages
Here, the advice gets complicated. You must make decisions regarding:
how frequently to send messages
which groups get which content
your subject line, which is critical for getting opens
images and text
offers
Often, you use a template to guide message development. Here's a good place to get templates (some free and some premium). Plus, your email company will offer templates or you can construct a message beginning with a Canva template then import it into your email site.
Timing is an important consideration, not just in terms of how frequently to send messages, but which days and times work best. You can search the internet for guidance on the timing issue or monitor your own data to determine what works best. Remember that most folks receive a massive number of emails every day and sending business email messages on weekends increases the chances they'll get discarded in the rush to clear the person's email folder first thing Monday morning.
Conclusion
Email marketing is a powerful tool that can help any business grow. Email marketing has proven its value time and time again as an effective way to increase sales, build relationships with customers, sell repeat orders, market your website online, and much more!
Need marketing help to support business growth?
We welcome the opportunity to show you how we can make your marketing SIZZLE with our data-driven, results-oriented marketing strategies.  Sign up for our FREE newsletter, get our FREE guide to creating an awesome website, or contact us for more information on hiring us.
Hausman and Associates, the publisher of MKT Maven, is a full-service marketing agency operating at the intersection of marketing and digital media. Check out our full range of services.