There is no one-size-fits-all answer to how to create optimized content for your website that increases the conversion rate you generate. However, a few general tips can help you create content that is more likely to convert visitors into customers. This blog post discusses four of the most important ways to optimize your content for better conversion rates.
As you can see in the graphic above, the contribution of optimized content to conversion is 6 times higher for brands that mastered their content marketing when compared with those that haven't. Before we discuss our 4 content strategies, let's unpack the notion of optimized content a bit.
Conversion rate optimization
Before we offer advice on the types of content you need to generate higher conversion rates, let's look at the conversion process. Here's a great image that shows the problems encountered that negatively impact conversion.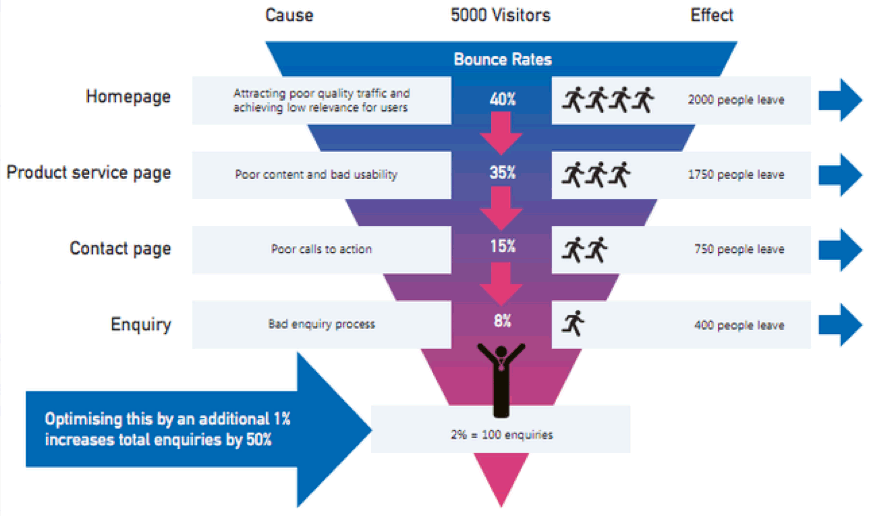 Let's start at the top of the funnel, a stage commonly referred to as the awareness stage. At this stage, you face multiple challenges:
Attracting visitors to your website through SEO (search engine optimization), social media marketing, and advertising
Convincing them to stay by reducing bounce rate through strategies such as load speed, providing a good user experience, and designing inviting web pages, especially landing pages
Offering inducements to visit additional pages, such as related content, internal linking, and attractive product images
Enticing customers to make a purchase using tools such as product reviews and testimonials, popups with discount offers, and concise and logical ordering processes
Attracting visitors
Although the number of visits doesn't mean much by itself, we call this a vanity metric, attracting more of your target market to your website offers the potential to increase conversion. SEO is the primary tool used to gain more visitors by improving the rank of your content in search results. Since 53% of your visits come through organic search if you're a normal website, showing up in the top position in a search means more traffic. The remaining visits originate through advertising, social media, and other marketing efforts, such as email marketing. As you can see, the higher you rank in a user's search, the more clicks you get to your content.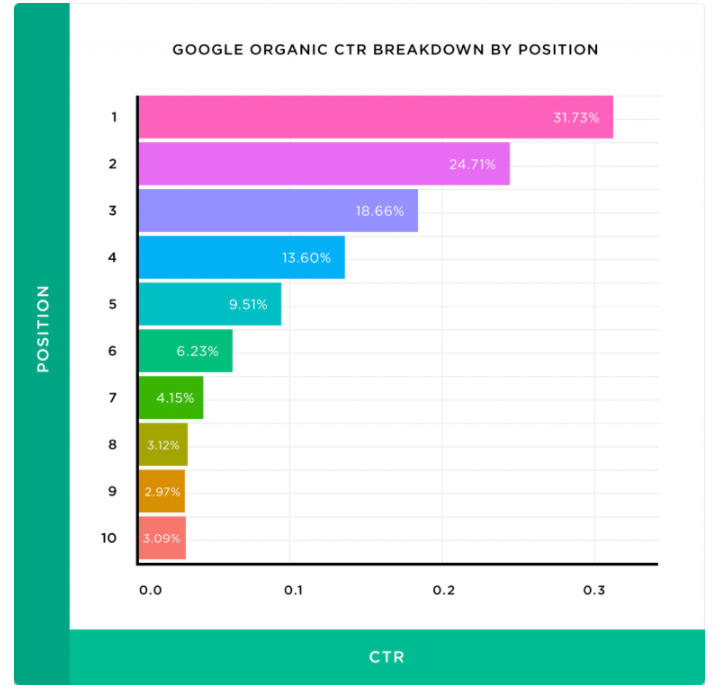 Keyword-rich content starts the SEO process. Optimized content drives more visits to your website by using keywords reflecting user intent when they entered a query into a search engine. You must use the right keywords to selectively drive your target market to your website, as well as use them effectively. Including your keyword in your title, a subheading or two, as alt text on your images, in your meta description, and a few times within your content. SEO may seem like a daunting process, but many innovative online tools like GlideSEM can help you find the right keywords to drive traffic to your site. And don't forget – you can always ask your customers what words they would use to search for your products or services online!
In addition to creating keyword-rich content, SEO relies on social signals that indicate quality content, such as backlinks from other websites, engagement in social media, and the click-through rate (CTR) you already achieve.
Convincing visitors to stay on your site, thus reducing your bounce rate (visits of more than 1 page), means you allow your content the opportunity to drive visitors toward conversion. Bounce rate also acts as a social signal of content quality, so it impacts your SEO.
Page load speed is a big factor in convincing visitors to stay on your website. How long users wait for a page to load declined precipitously over the last few years from 7 seconds to a mere 4 and over 40% of users will only wait a couple of seconds for a page to load. For this reason, you must work to get fast load times by choosing the right hosting company, caching images, and optimizing your website. Google uses load speed as an SEO ranking factor currently.
Using clear navigation and inviting website design also contribute to lowering your bounce rate.
Getting visitors to visit more pages helps increase conversion. You can do this by using a tool to offer related content at the end of your blog content, linking to other pages of your website within your content, and offering great content that entices visitors back to your content over time. While not really a form of optimized content, email marketing is a great way to invite visitors back over time to get new offers or to read new content. Increasing the number of repeat visitors also impacts SEO.
Enticing visitors to convert means crafting content and strategies that drive visitors to make a purchase. One of the most effective ways to increase your conversion rate is by creating a sense of urgency in your content. You can do this through calls to action, special offers, or even just reminding readers that limited quantities are available on certain items. For example, if you have an online store selling coffee mugs with inspirational quotes printed on them, consider writing something like: "Only 20 left! Get yours today before they're gone forever." This encourages customers who might otherwise wait until tomorrow to make a purchase today before giving them a chance to change their minds or forget about your product. If there were no incentive for immediate purchase whatsoever – people would likely put off buying one until later…when it's too late!
Exit-intent popups are a great tool for encouraging reticent visitors to buy. If you offer a discount when the software detects a user's intention to leave your website, you increase your conversion rate. Special advertising called retargeting ads, selectively show your ads on social or search to users who already visited your site. Conversion rates for these ads are 10 times more effective at generating a sale than other types of ads.
Streamlining your ordering process also improves your conversion rate, as you reduce cart abandonment each time you reduce the number of clicks involved in the conversion, the lower the conversion rate.
Optimized content to drive conversion
Obviously, optimized content not only drives more visits to your website with SEO and other tactics, but also helps promote your content, entices visitors to read more, and offers incentives to complete a purchase. Here are 4 types of optimized content you should add to your website today!
Use video content
One of the best ways to engage your visitors and keep them on your website longer is video content. Video is a great way to grab attention, and it also helps you capture leads by including a call to action as a popup in the video or in the description box below each video.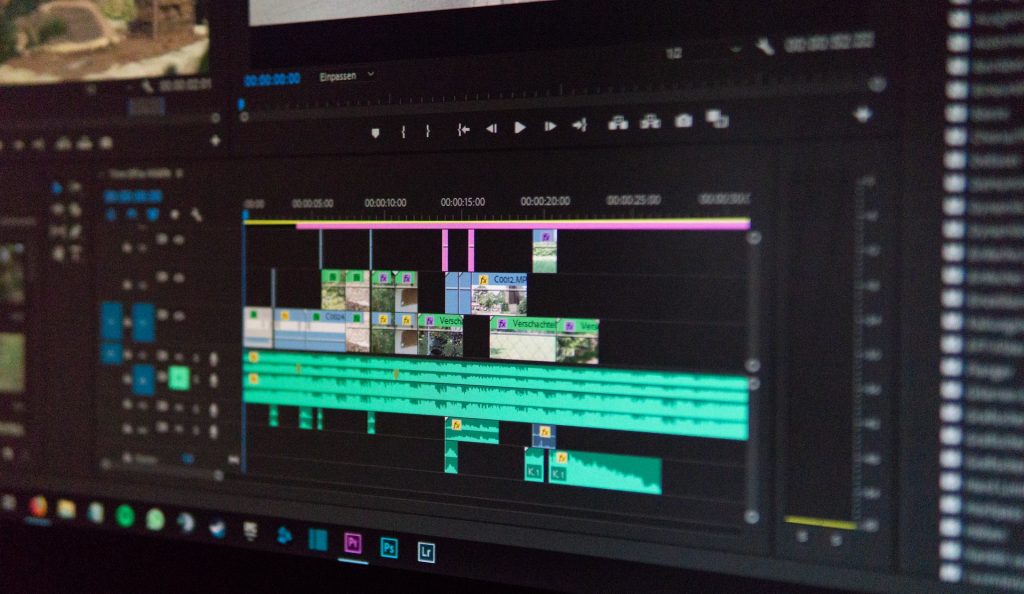 You might think that creating videos for your site is difficult or time-consuming, but there are many online tools available now that make it easier than ever before to create great video content! All you need is an internet connection, a computer with enough RAM (memory) and storage space, access to YouTube (or another hosting platform), a little lighting and sound recording, some video editing software, and a lot of creativity and imagination.
Explainer videos, interviews with experts or average users, and video ads on video content from influencers are great ways to drive home the benefits of your products.
Use high-quality images
As the saying goes, a picture is worth a thousand words, and this is true when it comes to optimized content. To capture your visitors' attention and keep them engaged, include high-quality images in your articles and blog posts. Not only do images help break up the text and make your website more visually appealing they also help you communicate your message more effectively. Also, be sure to choose images relevant to your topic and always credit the photographer or source if you borrow an idea from someone else.
Custom images and infographics
While high-quality images add value to your written content, content containing custom images, especially infographics, makes your site look unique. Custom images and infographics also attract backlinks from other websites, which supports your SEO efforts.
For instance, last week I created a content marketing calendar for my students since I couldn't find a suitable example online. I then shared this image with readers of my blog to help them with this pervasive pain point as well as attract backlinks from other websites in my niche. Here it is again.

Reviews and recommendations
Reviews and recommendations go a long way toward easing the fears of potential customers. When prospective buyers see that others recommend the product, they're much more likely to buy (87% more likely according to the infographic below) than without these reviews or recommendations, as you can see below.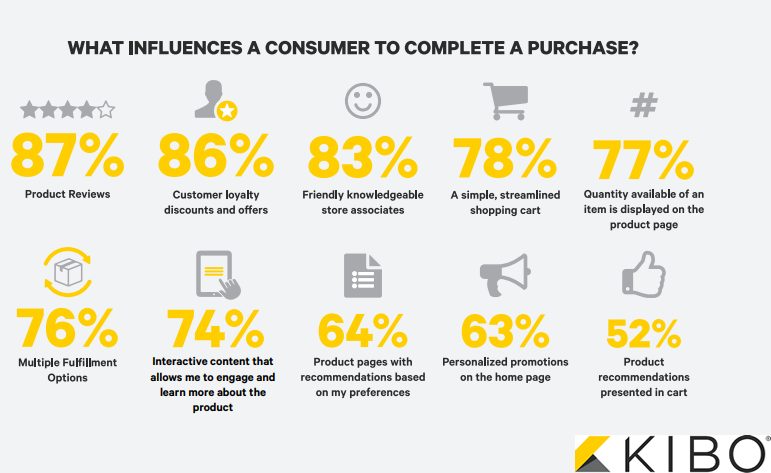 Conclusion
Optimizing your content for better conversion rates is essential to increase traffic and sales from your website. By following the tips we've outlined in this blog post, you can create content that is more likely to engage and convert your visitors into customers. Good luck!
Need marketing help to support business growth?
We welcome the opportunity to show you how we can make your marketing SIZZLE with our data-driven, results-oriented marketing strategies.  Sign up for our FREE newsletter, get our FREE guide to creating an awesome website, or contact us for more information on hiring us.
Hausman and Associates, the publisher of MKT Maven, is a full-service marketing agency operating at the intersection of marketing and digital media. Check out our full range of services.