You probably built your business around the notion that people could come to you, get what they want, and leave feeling satisfied. Unfortunately, life doesn't always work like that. Today's customers demand more than ever before. They want fast, free shipping, a company that shares their values, and one they can trust to put their needs first. That's because your competitors work hard to improve customer service along these lines. For instance, Amazon is now testing delivery drones to get products to your faster and Dominos has their pizza delivery trucks that keep your pizza hot while reducing reliance on humans who get lost, take sick time, or quit unexpectedly so your pizza is there on time.
Sometimes, customers need to interact. They might want to ask which of your products you think would be best for them or have technical queries. And after the transaction is complete, your job isn't done yet. Your customers may need help with getting a product to work as it should, or it might be faulty and they want to know what you'll do about it. Companies work to improve customer service along these lines by building better communications systems between the company and its prospective and actual customers. For instance, chatbots sit on your website 24/7 and answer queries using ML and NLP (machine learning and natural language processing) so they get better at answering questions over time and offer customer service hours on multiple platforms such as social media, discourse, SMS, as well as traditional platforms such as phone and email.
These are just a few common reasons for people to deal with your service and support department – but there are many more – and whatever the reason for interacting, your customers want to get an accurate, clear response quickly and feel like the company values their business. When you improve customer service, you ensure increased satisfaction that leads to the growth and success of your brand. Here's how you can get those results!
How to improve customer service
Know your customer
The way to improve customer service starts by understanding your target market and what they want. I was once hired by an industrial supply firm to validate the new product they developed among existing customers. What I found was really disturbing. Not only didn't customers see a value in the new product over the existing one, they actually found the new product was less desirable as all the bells and whistles added to enhance the product only represented more things to go wrong with the product, which users viewed as a workhorse not an elegant solution to a complex problem. Needless to say, the product was a big flop when it finally hit the market despite our findings.
Ask for customer feedback on every aspect of your business. Then, incorporate that input as part of every decision you make. In the era of social media, listening to customers has never been easier. By implementing a strong active listening program, you can learn a lot about how consumers view your products relative to others on the market, identify unmet needs that represent great opportunities, and discover problems before they become damaging to your brand.
Perform an audit
A customer service audit is an important aspect before you can improve customer service. Develop a checklist based on your own processes and what's important to your customers. Periodically audit your service quality on a 5-point scale from excellent to needs improvement and adjust your processes until your audit shows you perform at top form.
Your customer service audit should encompass every touchpoint along the process of serving customers with an eye toward reducing friction, improving performance, and improving coordination that results in a more seamless process.
Work with your people to improve customer service
Ensure everyone in your organization understands the importance of great customer service and is committed to delivering on the promises you make to customers. Tie their compensation to customer satisfaction, however, avoid rewarding negative behaviors in an effort to improve customer service. For instance, physicians compensated based on customer satisfaction write far more prescriptions for pain killers, order more tests, and base their medical treatments on what patients feel they need in their efforts to appease patients. This results in poor patient care to improve scores.
As a professor, a study found the highest correlation between evaluations of teaching and anticipated student grade, which favors giving students grades they don't earn in order to get good student evaluations. So, use care in constructing your compensation schemes so you reward customer care without forcing professionals to provide poorly on their primary responsibility. It's a difficult balancing act.
Training really helps your staff improve customer service. For instance, a communication course that focuses on listening rather than speaking is a good start in your training efforts. Also, encourage empathy with customers in your training and show staff how to communicate empathy effectively.
Keep your promises
Customers expect you to keep your promises. Overpromising then underdelivering may work to get new business but it hurts your brand in the long run as dissatisfied customers defect quickly to other brands and word of your poor performance makes it harder to attract new customers to replace them.
Tips to improve customer service
1. Offer great self-service options
Many customers want to find solutions themselves before asking for help as they see it as more expedient and they get to choose how to get the support they need. Cut the annoyance by making it as easy as possible for them to help themselves. For instance, offering YouTube videos to guide installation or a checklist to help customers determine which product is right for them to allow prospective customers to make optimal purchase decisions and get the most from the products they buy. For some companies, using technology to help customers visualize how the product will look is a great option when products are sold only online or offering to send samples so customers can experience the product in their own environment.
Good IT Service Management (ITSM) provides companies with the tools they need to improve customer service. Design, develop and build services that help and support your customers. While they might be impressed by the professionalism of human service agents, they'll be even more impressed if you set up your services so that helping themselves becomes an easy matter.
2. Have trained staff on hand
As we've already pointed out, people are already feeling a little frustrated by the time they ask for help. When they do so, your team must be on hand to assist since some consumers, especially older consumers and those who are differently abled, want to deal with a real person, not a machine. These human operatives are very important to your business. They must have excellent product knowledge and great people skills, and they'll need to understand the best actions to take across a wide range of possible scenarios.
Trickier still, business hours are becoming blurred, even when you work with only local customers, as consumers now expect you to provide support when they want it. Once you have a global audience, the lines get even fuzzier. And people don't like to wait. If they ask for help now, it must be available now. Make them wait and they might think twice about whether they want to do business with you at all.
3. Track and record every customer's journey
It's the third time I called your support desk. On the previous two occasions, I was given what looked like good advice. It didn't work for me. Will I have the patience to explain everything that's happened to date to an altogether new customer service agent? I'm ready for an annoying call. But when your agent picked up the phone, he already knew about every interaction I'd had with the company – and he knows what to do next. Below you can see what a dysfunctional customer journey looks like and it may look familiar as too many businesses fail to take the necessary steps for an efficient journey. Note that many of these interactions, such as too many choices, don't appear as failures from the outside but fail to meet customer demands.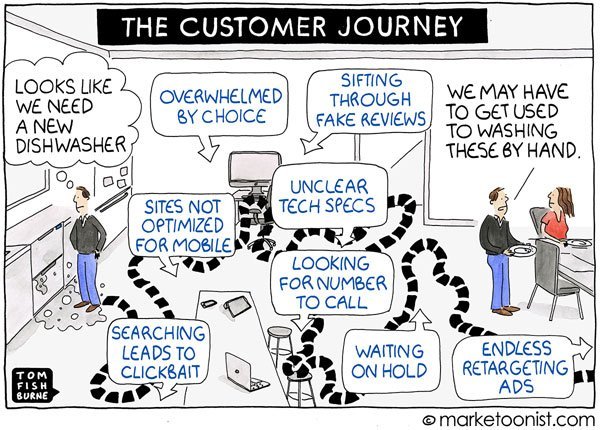 That's what your clients get when you record every single point of contact they had with your company. It's the difference between being just one more face in the crowd and getting personalized service. It's a definite advantage, and it takes the right software and the right customer care agents to support it.
4. Keep on improving
Every business you will ever encounter says that it cares about its customers. But actions speak louder than words. Make sure that everyone in your company knows how important customer service is to you. Use data to look for areas where you can improve it. Talk to your service agents to find out how you can help them to boost customer satisfaction. Address common issues that trouble your customers. As with any relationship, the one between your business and its customers requires work. Be ready to tackle it head-on!
Conclusion
I hope you understand how important it is to improve customer service and I've given you some tools to help you make the most of your marketing efforts through improved customer service and satisfaction. Let me know in the comments below if you have other ideas that worked for your business.
Need marketing help to support business growth?
We welcome the opportunity to show you how we can make your marketing SIZZLE with our data-driven, results-oriented marketing strategies.  Sign up for our FREE newsletter, get our FREE guide to creating an awesome website, or contact us for more information on hiring us.
Hausman and Associates, the publisher of MKT Maven, is a full-service marketing agency operating at the intersection of marketing and digital media. Check out our full range of services.