Building trust with your market is always an important aspect of your success but when you build patient trust, it benefits you both; your business, by generating repeat business and referrals, and the patient by encouraging deeper cooperation and intentions to comply with doctor orders. These features make it imperative that you build patient trust whether you are a medical doctor, chiropractor, dentist, or practice any specialty.
Chiropractic care gained popularity as an alternative pain relief therapy in the US over time. Besides offering respite from chronic pain, the therapy can restore mobility and eliminate the need for medication and surgery. Not surprisingly, more than 35 million Americans opt for this miraculous therapy each year. As of 2023, the number of chiropractic clinics in the US is close to 68,000, with California, Florida, and Texas leading the way. These statistics indicate that the market is rife with opportunity and competition.
To make the most of the opportunity and overcome competition as a practitioner, you should build patient trust. Delivering top-notch patient care and experience gets you part of the way there. You also need effective communication strategies. But before you can build patient trust, you need to increase foot traffic for your clinic, and having the right chiropractic clinic management software can streamline your operations, enhance patient satisfaction, and ultimately serve as a cornerstone for building trust. A robust marketing plan is also important for attracting new patients to your clinic. Beyond boosting visibility and outreach, it can help when you establish trust in your chiropractic practice. Here are a few tips to achieve your credibility goals.
4 tips to build patient trust
1. Get a rank advantage with SEO
SEO or search engine optimization involves a series of tactics designed to bring more organic search traffic to your website and, since search is an extremely common way for patients to find you, the better you show up in search, the more traffic comes to your site. In fact, according to a 2020 study, the top organic result in Google Search gets a staggering click-through rate of 31.73% on average. As you can see in the image below, that percentage drops precipitously the lower your rank for a particular search term. SEO means you have a much better chance of driving traffic to your website by ranking at the top of web searches. Beyond making your site visible in search, the same website factors that help it rank well in search also foster trust for your business, which matters the most for healthcare providers.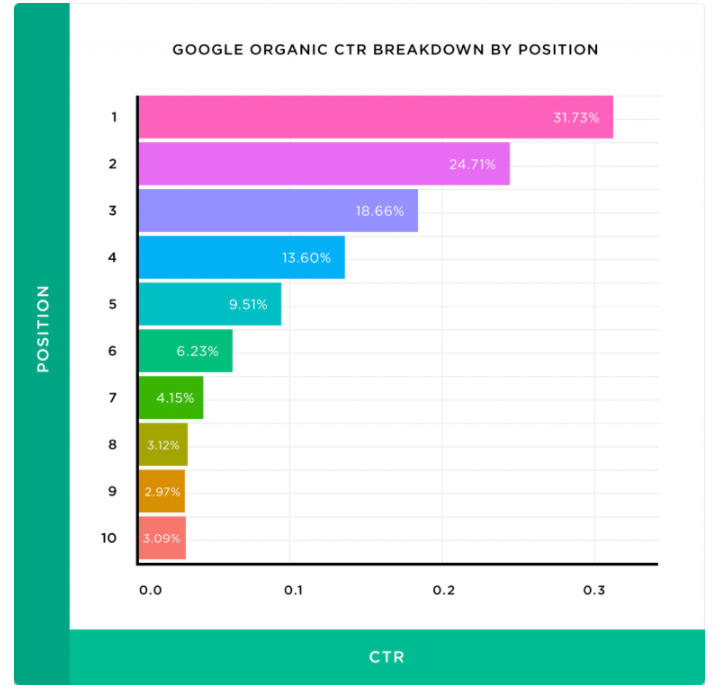 A robust search engine optimization plan is the mainstay of chiropractor marketing because it ensures a sustainable ranking advantage. SEO for chiropractors requires more than following the basics. You should focus mainly on building visibility and authority as it makes your clinic more credible.
Harris & Ward highlights the significance of local SEO for chiropractors. It sets your clinic apart in the local context and gets people to your location. A well-optimized Google Business Profile makes your clinic visible, accessible, and trustworthy.
2. Create educational resources
Although chiropractic adjustments have been used for centuries, the field is evolving in the Western world. You may encounter patients' apprehension due to a lack of awareness. Winning trust is about educating them to ensure they feel comfortable with the idea of treatment.
The best option is to create valuable educational resources for your patients. Provide simple and easy-to-understand information through compelling and shareable content.  A mix of informative articles, helpful tips, and engaging videos can engage the patients and foster trust in chiropractic therapy.
Share content on social media to maximize its outreach. Adding a blog section to your website gets the traffic flowing. You can also start a YouTube channel to gain the video marketing edge.
3. Leverage patients as promoters
Nothing brings in patients more than having real patients vouch for your expertise and service quality. You can build patient trust by leveraging your patients as promoters. The graphic below shows the impact of trust on large purchases, and medical services are likely classified as large purchases due to the inherent risk associated with the purchase decision. Buyers consider reviews from current customers/patients as more impactful on their decision (87% more impact) than celebrity endorsements, influencers, and company advertising. Even if a few patients share reviews online, you can consolidate the trust factor.
All you have to do is ensure that everyone can see these reviews across different platforms. Most customers post reviews on Google, so they will automatically show up in your business profile. You can request patients to share them on social media for a broader outreach. Success stories and video testimonials are even better at patient engagement.
And, you don't have to wait for unsolicited reviews. For instance, a dentist uses contests to garner more user-generated content from his patients by holding a contest to win an iPad. Patients who share reviews or images of themselves wearing his branded T-shirt on social media are entered into the contest.
Remember to add these user-generated pieces to your website. The home page is the best place to present reviews because potential clients cannot miss them when they visit your website.
4. Build a Community
Building a community is another factor that can give you the trust advantage. Webinars, social listening, engagement, live streams, and offline events are some forms of community-based marketing. By getting many patients in one place, it is possible to keep the conversations going. At this point, your hard work pays off when people spread the good word about their experiences at your practice.
The best thing about community building is that it maximizes outreach and credibility for your practice at a minimal cost. You only have to engage in authentic interactions with the members and encourage them to share their opinions. You may encounter some negative ones along the way, but take them in a stride. Consider using the negative feedback to improve your services in the long run.
The Bottom Line
Trust is one of the key selling points for healthcare providers, and chiropractors are no exception. Building trust in your practice is a gradual process. But you can do your bit to accelerate it with a smart marketing approach. These actionable tips can help you build trust and gain a competitive advantage in a tight market.
Need marketing help to support business growth?
We welcome the opportunity to show you how we can make your marketing SIZZLE with our data-driven, results-oriented marketing strategies.  Sign up for our FREE newsletter, get our FREE guide to creating an awesome website, or contact us for more information on hiring us.
Hausman and Associates, the publisher of MKT Maven, is a full-service marketing agency operating at the intersection of marketing and digital media. Check out our full range of services.