No one ever sets out to have their business fail. But sometimes life happens, things go wrong, and suddenly your once successful company is floundering. Things are tough for every business right now through no fault of their managers. Inflation is still high and the efforts to bring down inflation using monetary policy mean higher interest rates on your borrowing. Supply chains are still clogged, which means you have trouble getting needed goods into your store or manufacturing facility. Although things are slowly getting better, a symptom of the supply chain issues is cars lined up in manufacturers' lots awaiting computer chips that aren't arriving fast enough. If you find yourself in this situation, don't give up hope! There are steps you can take to get your business in the black.
Getting your business in the black
This isn't the first financial crisis businesses faced and it won't be the last. The key is to get your business in the black so you survive to enjoy the good times that are ahead since a global financial crisis isn't a long-term situation and things will get better. Cutting costs makes a lot of sense to keep your business in the black (as opposed to losing money which is in the red), but be careful. Cutting the wrong costs almost ensures you can't adapt to the changes coming down the pike that help you thrive once the economy opens up again.
For instance, many businesses choose to cut their marketing expenses during a financial downturn. While it might make sense in the short run, that decision is a long-term disaster. Instead, take your marketing budget to task. Any campaign that doesn't deliver a positive ROI (return on investment) is on the chopping block, although you still need to think long-term before you ax a program that likely delivers a strong ROI in the future, such as building a relationship with a market segment (like young people) that might not show a profit today but gives you a leg up when this segment gains more wealth and decision-making ability. For instance. a banker friend offered free accounts to 5th and 6th graders and encouraged them to add a portion of their allowance every week to the account. Certainly, the bank lost money on the operating costs associated with these accounts but it attracted the parents of these kids who decided to open an account since they were already in the bank every week to let their child deposit his/her dollar or so. When the kids grew up, many continued banking with the firm because they were comfortable there.
Those costly TV ads are a place to start in making budget cuts. Replacing these ads with lower-cost social media or search ads with superior targeting and higher ROI makes a lot of sense. That's why the percentage of the marketing budget spent on digital increases each year, as you can see below.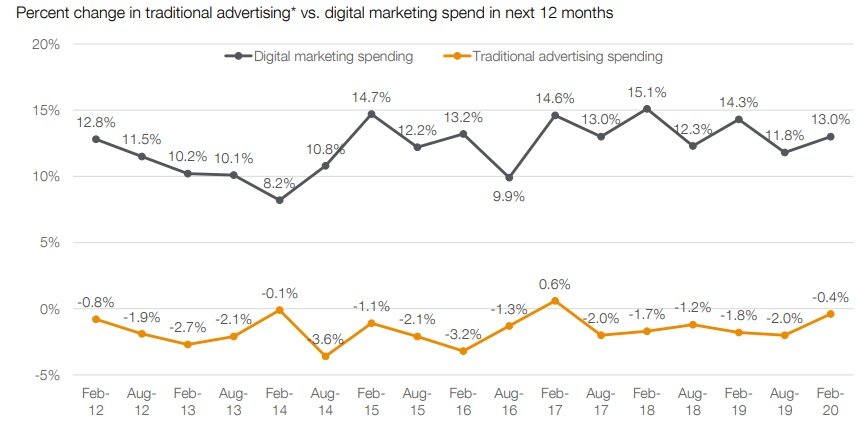 If you're looking for some other tips to put your business in the black, read on.
Figure out where your business went wrong and what mistakes were made
When a business struggles, knowing where to begin to turn things around is often challenging. One of the first steps is to take an objective look at where things went wrong and identify any mistakes that your company made to get you in this pickle. This can include anything from poor financial planning to misreading the market or even issues with communication within the company. Of course, it's best to track these details along the way since the faster you identify a problem the less damage it causes. Companies routinely monitor financial records by comparing budgeted and actual amounts so they can detect a problem early and improve performance by tweaking their operation.
Once you are able to identify problem issues, it's essential to devise a plan for addressing them. This may involve finding new resources, restructuring the organization, or changing the product or service offered. It's also crucial to stay open-minded and adaptable as you work towards getting your business back on track. Don't be afraid to try new things and seek advice from trusted colleagues or mentors. Taking a critical look at what went wrong and crafting a plan for improvement can pave the way for your business to emerge more successful than ever before.
Take a look at a debt relief program
Any business owner knows that there are ups and downs in any business. Most businesses develop contingency plans for anticipated problems to speed response to them and reduce their impact. Often, this involves setting aside some money to handle unexpected expenses. There are times when business is booming, you can't keep up with the demand, and there are other times when it feels like you're barely scraping by. If your business is currently in a slump, it's crucial to take action to get things back on track.
One way to do this is to look into debt relief or learn about fresh start programs for tax relief options. These programs provide much-needed financial assistance to help your business through tough times. In addition, it's essential to take a close look at your expenses and cut costs wherever possible without damaging your future. You can also look at factoring your accounts receivables to get your money faster than waiting for customers to pay their accounts.
Another thing to consider is using leverage to amplify your assets. For instance, consider selling your building and renting space to free up capital for other needs. Especially with businesses moving some workers remotely, you may find you also need less space than before the pandemic. Of course, leverage involves more than managing your assets effectively but handling your operations in a way that reduces costs. You might consider hiring gig workers for tasks when you don't need a full-time employee or outsourcing functions like accounting to an agency that specializes in that function to gain access to skills without the investment needed to hire workers with the same skills.
Evaluate your target market and find ways to reconnect with them
Any business owner knows it takes hard work and dedication to keep a business afloat. But even the most well-run companies can find themselves in tough times. If your business is struggling, there are a few things you can do to get it back on track. First, take a close look at your customer base. Are you still offering the products or services that they need? Remember that consumers buy solutions not products so ask yourself if you're solving a problem for your target market. If not, it may be time to make some changes to better solve today's problems.
You may also need to find new ways to connect with your customers and build relationships with them. Few consumers watch TV in the way we did when growing up. Instead, they stream content, record it to watch later, watch TikTok rather than commercially developed programming, and watch content through a variety of devices, normally alone. That means the number of eyeballs on your advertising dwindled significantly, which impacts the effectiveness of your promotions.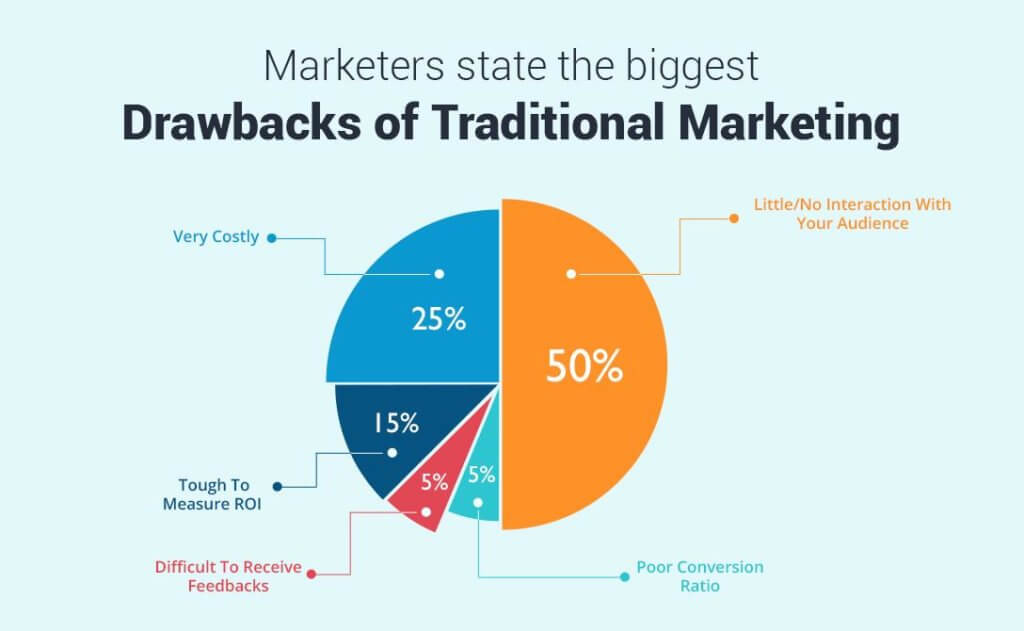 Another option is to attract new customers by offering special deals or discounts. Remember that it's much cheaper to keep an existing customer than replace them with a new one, so ensure you show customers that you value them with superior customer service and promotions for them, as well.
Whatever course of action you choose, remember that building a successful business takes time and effort. But, with a little determination, you can get your business out of the gutter and back on the path to success by connecting with customers and prospects.
Develop a more efficient marketing strategy to promote your business
You need to develop a new marketing strategy built on a detailed understanding of your customers and target market, your competition, the current environment (such as the economy and available technologies), and your internal capabilities. Businesses succeed when they can tap into new markets and promote themselves effectively. Here are a few ideas to attract and keep your target market more efficiently than traditional promotional tools given the drawback of traditional marketing shown in the graphic above:
Social Media Marketing: Social media platforms like Facebook, Twitter, and Instagram are great ways

to connect with potential and current customers. You can build relationships with customers and promote your brand by sharing engaging content. Additionally, social media platforms offer paid advertising options that can help you reach a larger audience.

Content Marketing: Content marketing is another effective way to promote your business. By creating informative blog posts, helpful guides, and engaging infographics, you can attract new visitors to your website and convert them into leads. Additionally, if you share your content on social media and other websites, you can increase your brand's reach and get more people interested in your offer.
Email Marketing: Email marketing is a great way to stay in touch with current and potential customers. By sending newsletters, special offers, and other updates, you can keep people interested in your business and encourage them to purchase. Additionally, email marketing lets you track how many people open and click through your emails to gauge their effectiveness.
Don't Give Up – Rome Wasn't Built In A Day, And Neither Was A Successful Business
If your business is in the gutter, don't give up hope. There are steps you can take to get your business back on track and make it prosperous again. Evaluating your customer base and finding ways to reconnect with them or attract new customers is a great place to start. Implementing these strategies will help you turn things around and get your business back on track.
Need marketing help to support business growth?
We welcome the opportunity to show you how we can make your marketing SIZZLE with our data-driven, results-oriented marketing strategies.  Sign up for our FREE newsletter, get our FREE guide to creating an awesome website, or contact us for more information on hiring us.
Hausman and Associates, the publisher of MKT Maven, is a full-service marketing agency operating at the intersection of marketing and digital media. Check out our full range of services.