Most people think globally when it comes to SEO. However, small businesses find it's pretty tough to compete with bigger brands in saturated markets, with their vast resources for advertising and SEO. Instead, a focus on local SEO somewhat levels the playing field, giving smaller brands a chance to compete on search with the big boys.
Either because they don't realize the potential for local SEO or because they don't understand the ins and outs of local versus global SEO, too few small companies spend enough time on local SEO. Even the ones who do know about local SEO don't know how it works. It takes more time than we have now to help you understand how to do local SEO effectively but we have several posts on this website to get you started. And you can check this out to get started right away.
For today, we'll focus on 4 reasons why your business should focus on local SEO.
If you work with a company to ensure visibility in search results, a local SEO company is best because they really understand the local competition, the market, and the culture of residents in the area.
For instance, if you're in Perth, we suggest you consider working with a team that knows all the inside and out of the local market. They've provided SEO services in Perth for years, and they know the particularities of the local market. They allow you to turn things around quickly and give you a better chance to get nearer to top spots in search.
The same holds true in any local market. Do some digging and you'll find a top local SEO provider in your area. Ask for references from their customers before signing a contract, as you lose a lot of time and effort if you must switch later on.
Improved visibility
The name of the game in SEO (search engine optimization) is gaining visibility for your business, whether that's an online business or you have a physical store. When users enter information into the search engine box, 40% of the time they're looking for a local business, hence Google autocomplete often adds "near me" to searches they think involve a need for a local business. In other cases, Google anticipates your need by providing local locations first in a map listing. Here are some other stats when it comes to local search from Brightlocal:
64% of local customers use search engines and directories as their main way to find local businesses
50% of local mobile searchers look for business information (like a company's address or phone number)
A whopping 78% of local mobile searches result in an offline purchase
By focusing on local SEO, small businesses improve their rank in search results. We know that users' click rates decline precipitously based on where you show up in search results, with most clicks going to the top 3 results on the first page [see below].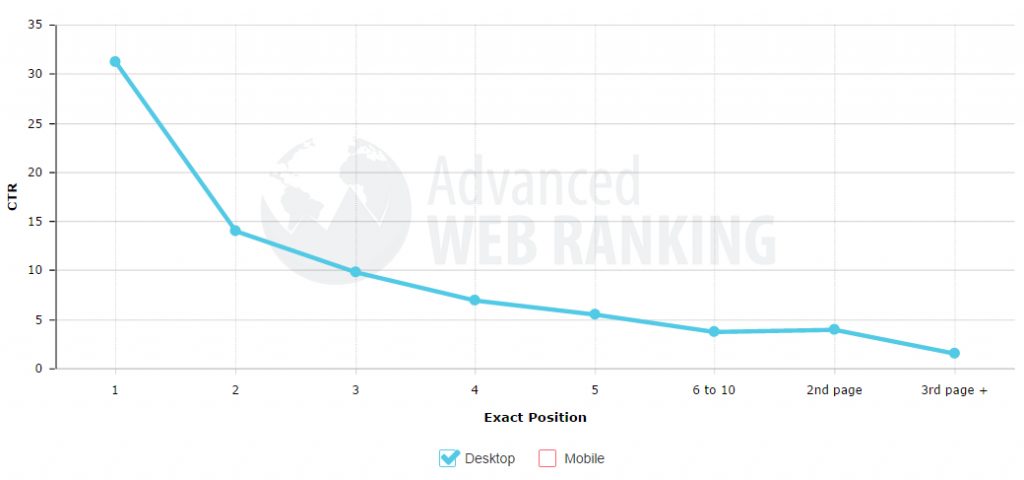 As you can see, improving search results generates more click-throughs and more visits to offline stores, as well. Hence, getting prime local search results provides more visibility for your business and translates into higher profits.
A good SEO provider can point you toward simple changes that have a great impact on your search results. Sometimes, all it takes to improve search results is ensuring your contact information is consistent everywhere it's published online.
Attract motivated customers/ clients
Think about how consumers behave online and you'll see why local searches bring the most motivated customers/ clients to your business. For instance, if you're looking for a new pair of shoes for the party, you pull up your trusty phone and type "dress shoes" into the search box. Google knows you're looking for a shoe store near you, so the results that pop up show a map of local stores, along with links to their address and phone number. Often, the listing contains other helpful information such as hours and how expensive the store is compared to a standard scale.
Only after the local listing, which you can expand by selecting the "more places" link, does Google show online shoe stores. Hence, your local store gains an advantage. In this case, a local store gained similar prominence to major retailers like Finish Line and Kohls.
Not only that, but a focus on local SEO attracts many voice searches, as they tend to be local in nature. With rapid increases in voice search with the explosion of devices in homes, voice search rates will increase. Improving your local SEO is probably one of the methods with the highest ROI available within SEO.
It's a great way to build a brand
Trying to build your brand globally before focusing on doing so locally is working backward. Since you have less competition, improving your local SEO with relevant mentions allows you to have a strong presence on the first page, which eventually starts spreading your brand locally. You will then have more traction when trying to compete for global SEO.
Customers are going hyper-local
There is also a growing hyper-local trend that makes local searches more relevant than ever. Studies found that 87% of consumers refuse to travel more than 15 minutes for everyday purchases like groceries, clothing, and gas. Sure, if you offer something unique or rare, folks'll travel farther, but your local SEO efforts should really focus on SEO within a short distance from your location. For instance, if your business is located in Williamsburg, which is near Virginia Beach, don't focus your local SEO on Virginia Beach, even though it's a larger area with more visitors.
So, if you didn't realize how important local SEO was already, we hope we were able to help. Make sure you focus on local SEO as one of your priorities, and you should see impressive results with a relatively small effort.
Need marketing help to plan your business strategy?
We welcome the opportunity to show you how we can make your marketing SIZZLE with our data-driven, results-oriented marketing strategies. Sign up for our FREE newsletter, get the 1st chapter of our book on digital marketing analytics – FREE, or contact us for more information on hiring us.
Hausman and Associates, the publisher of MKT Maven, is a full-service marketing agency operating at the intersection of marketing and digital media. Check out our full range of services.