The shift in marketing budget to digital marketing grows dramatically every year. In 2021, in a survey, CMOs (chief marketing officers) across industries reported they expect to allocate 50% of their budget on digital strategies, a growth averaging 11% per year since 2016. Hence, if you're not increasing your spending on digital marketing, you're falling behind and face the inevitable failure of your venture as more tech-savvy companies gobble up the businesses that increasingly focus on online search and social influence. So, today, we discuss 4 digital marketing tools to rock your business.
And, while businesses across multiple industries find digital marketing an effective tool for increasing revenue, today we'll focus on implementing these strategies in the real estate marketplace since the number of real estate agents is steadily growing and has surpassed the two million mark of 2019.
The real estate market
The increase in real estate agents, just like any other market function, is a reflection of supply and demand.  An increased number of homebuyers in the country, likely fueled by the pandemic as dissatisfaction with current lodging grew and remote work allowed more flexibility in where a family chose to live, drove demand for more properties (a great thing for homeowners, who also now need new accommodations) and more real estate agents. Though growth in the real estate market is a positive statistic (and a leading indicator of a healthy economy), the market's flood of buyers and sellers made it difficult for the buyers and sellers to identify the best bargains, compare housing options, and find just the right home to meet their family's needs. Most people prefer using an agent to help winnow down options to a more manageable list while guiding them through this complex and risky transaction.
Of course, technology also helps bring buyers and sellers together, offering low-cost options such as Redfin and even websites allowing buyers and sellers to connect directly without the need for an intermediary. These structural changes threaten the stability of agents in the real estate market by disrupting their business model, especially driven by changes wrought by the pandemic.
Real estate agents must adapt if they're to survive this existential challenge and part of that adaptation is becoming facile with digital marketing. Here are 4 digital marketing tools to get you on your way to success.
4 digital marketing tools to try
1. Social media
Social media marketing is one of the most prevalent and high-performing digital marketing tools to use in growing your business. In the graphic below, notice that over 50% of those surveyed reported the ROI of social media was good or excellent; higher than any other digital marketing strategy except email marketing.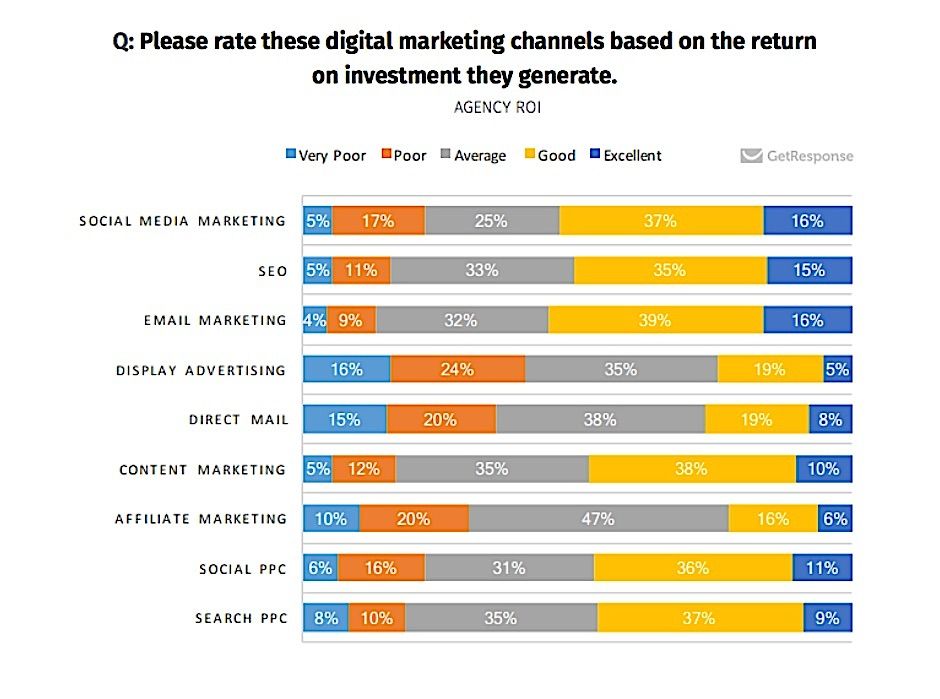 Moreover, social media marketing is easy to use and provides great targeting options, especially for advertising on social platforms. Most agents and real estate agencies can use social media without much trouble as the mechanics of starting a page or profile are pretty straightforward.
Of course, the ease of using social media belies the complexity and challenges of using it effectively. You can't just set up a page or profile and expect success to follow. Instead, invest time (and maybe some money) to learn how to optimize your social media marketing or hire an agency that specializes in this digital marketing tool.
You can easily create a social media ad campaign by posting the types of houses and a compelling message on your timeline. You can also boost your post at a small fee to ensure your message reaches out to the correct age group and caliber of buyers you are targeting.
2. Apps and software
Where once real estate agencies relied heavily on face-to-face interactions and used word of mouth to gain new customers. technology made significant breakthroughs in the form of real estate apps and software that eases many of the cumbersome procedures required when acquiring a house.
For instance, there's software integrating CRM (customer relationship management) with MLS (the major real estate listing service). Other software options allow agents to clone themselves via chatbots with always-on options for answering client questions immediately. Software options help organize all your transactions and documents from your Gmail, handle back-office functions, and automate tasks necessary to consummate a sale.
Many of these tools feature multiple solutions and come with an affordable price tag.
3. Digital tracing methods
It is not easy to search for particular houses to purchase when you don't know where to start. Batch skip tracing provides a platform to quickly search for a single item with a unique identifier from among a large pool of data.
For example, if you spot a house that you would like to purchase on a specific street, you can input the house's exact location, and the batch skip tracing will direct you to the home's owner. This eases the agent and buyer's burden as it can hasten the transaction without much hustle.
4. Virtual Tours
Video conferencing tools made it easy for buyers to tour homes that match their needs from the comfort of their house or office. With changing technology, including specialized cameras, virtual tours became the norm during the pandemic, when home visits were potentially dangerous for both buyers and sellers.
While virtual tours don't entirely replace the traditional home showing, virtual tours allow buyers to view more home options without the hassle of finding convenient times for buyers, agents, and sellers or having to prep the home multiple times for showings.
Final thoughts
Technology continually changes and must meet the challenges, adapting your business model and tactics to take advantage of new opportunities. Those successful in the real estate industry embraced the change and move forward with new methods and strategies to boost their market returns. If you have not decided to embrace digital techniques, the time is now!
I hope you found this post enlightening. If you have ideas for future topics to cover on these pages or questions about this post, feel free to share them in the comments below. Also, I'd love to hear from you if you're a real estate agent or own an agency to learn how you adapted to meet the twin challenges of changing technology and the pandemic.
Need marketing help to support business growth?
We welcome the opportunity to show you how we can make your marketing SIZZLE with our data-driven, results-oriented marketing strategies.  Sign up for our FREE newsletter, get our FREE guide to creating an awesome website, or contact us for more information on hiring us.
Hausman and Associates, the publisher of MKT Maven, is a full-service marketing agency operating at the intersection of marketing and digital media. Check out our full range of services.