Advertising your business involves any number of tactics designed to increase awareness of your brand, as well as to drive consumers toward purchase. Advertising also reinforces the wisdom of making a purchase for existing customers. For instance, Toyota's long-running campaign slogan "Oh, what a feeling" is interpreted by advertising experts as a tool to make buyers feel like they made the right decision since buyer dissonance is high with expensive products and reduces the likelihood of recommending the purchase.
New and exciting advertising methods join traditional tools for advertising your business all the time as technology, innovation, and consumer tastes evolve.
If you're looking to advertise the launch of a new product or spice up an existing advertising campaign, then this post is for you. By combining new tactics for advertising, such as 3D animation, with the tried and true traditional advertising tactics you've used for years, you'll increase awareness of your brand and build positive associations that drive sales.
3D animations
How often does a high-quality video full of creative animations and colors catch your eyes on TV? Probably quite frequently since our eyes are trained to notice things that are out of the ordinary as a defensive tool of survival.
Creating 3D animations is a great tool for grabbing consumers' attention by making the videos entirely different from every other video out there. Not only will these innovative videos attract attention, but they also increase the likelihood viewers will remember your brand when they next seek purchase in your brand's category. Heck, consumers may even seek out your brand to see if it has the same innovative appeal as your advertising.
With millions of videos on the internet, you need your video to stand out from the rest and 3D animation can do that for you. But, creating attractive and professional 3D animation isn't for the faint of heart because it's a difficult skill to develop and time-consuming even once you've mastered the tools.
However, you don't need to start from scratch with 3D animation. Brands such as Viddyoze help you create 3D animations and videos with ease as well as ensuring the videos are professional looking and effective.
Social media
Once the shiny new tool, social media usage is growing by the day, so advertising on these platforms is a must for any brand serious about success. Yet, too many brands struggle with the new dynamic wrought by digital technology, falling back on tactics effective in traditional media advertising instead of recognizing the unique challenge of advertising on digital platforms.
Uploading high-quality content to social media platforms commonly used by your target market is just the beginning of your job when it comes to advertising your business on social platforms. To be effective, you must master tactics for all 3 types of social media used in business: 1) owned social media, which involves the pages, profiles, etc owned and managed by your brand; 2) earned social media, which involves the following you earn through valuable, interesting content shared by followers; and 3) paid social media, which involves advertising paid for across your chosen social media platforms.
Social media marketing works by amplifying your message to new users. Check out the image below to see how your message quickly expands from your original (owned) social following to a reach that surpasses even that of the Super Bowl. Of course, this reach doesn't come without sustained effort over time, understanding what your target audience wants to see, and an ability to capitalize on the unique aspects of social media such as algorithms that control the spread of your message.
The value of social media lies not only in amplification but in decommercialization, which is a fancy way of saying that consumers don't believe brands because they know brands lie out of self-interest. So, when a brand says their product tastes great, consumers remain unmoved. When their friends say the product tastes great, their community tends to not only believe their assessment but give the brand a try.
Effective monitoring of your KPIs (key performance indicators) guides your efforts to optimize performance across your chosen social media platforms. But, don't be fooled by so-called vanity metrics, such as your number of followers, fans, etc. Without engagement, reach is limited.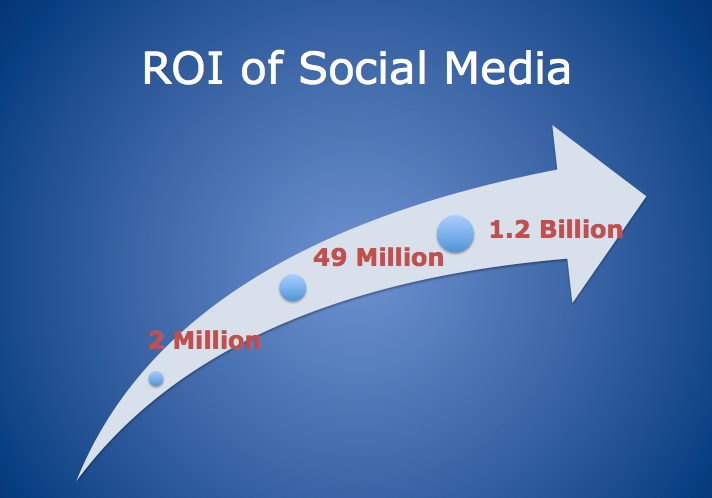 Leaflets and business cards
Although technology advances all the time, we can't forget about reliable advertising methods such as leaflets and business cards. These printed products are an easy way to encourage people to visit your social media platforms, your website, and your brick and mortar store all on one card.
Always carry a stack of cards around with you as you never know when you have an opportunity to share. Utilize every moment by handing cards out at events, parties, or even someone you met on the train. Just remember, handing out cards shouldn't be your main goal at these events, but fit naturally into the conversation after you build a relationship.
You can leave leaflets or brochures at gyms, on cafe notice boards, and even on doors to maximize every opportunity to help your target audience notice you and your business.
Ensure leaflets are full of color and double-sided to allow for enough white space so that readers aren't too overwhelmed with information. Often, if there is too much text, people won't take the time to read the information. For example, when a leaflet comes through their door, it needs to convey critical information of value to the reader to get them hooked.
Hopefully, with this guide, you can creatively advertise your business for ultimate success. Using 3D animations catches the eyes of everyday potential customers and uploading them to your social media platforms ensures consistency in your posts. However, don't forget about traditional tactics, such as leaflets and business cards. A business needs multiple advertising techniques to catch consumers' attention since it requires multiple exposures to motivate a purchase.
Need marketing help to plan your business strategy?
We welcome the opportunity to show you how we can make your marketing SIZZLE with our data-driven, results-oriented marketing strategies. Sign up for our FREE newsletter, get the 1st chapter of our book on digital marketing analytics – FREE, or contact us for more information on hiring us.
Hausman and Associates, the publisher of MKT Maven, is a full-service marketing agency operating at the intersection of marketing and digital media. Check out our full range of services.