Digital assets are very popular in today's world where the time individuals across almost every generation, income level, and lifestyle spend vast amounts of time online. However, many large investors and stakeholders have yet to enter the market, thus missing the potential appreciation of these products. In today's post, we discuss how to build a digital portfolio or renovate an existing portfolio. Recognize when we talk about a digital portfolio, we're not talking about buying stock in companies with a strong digital presence, like a social media platform. Instead, we refer to building a website that's profitable as an investment instrument, for instance by building value the owner recoups by selling the website, renting in out, or monetizing it through links or other tools that create value.
3 skills to invest in a digital portfolio
There are 3 key skills that work to build and renovate a digital portfolio:
SEO
copywriting
conversion rate optimization
By learning these skills or hiring folks who already have them, you turn the skills into improved valuation and returns for the site.
In building a digital portfolio, there's no need to start from scratch since many platforms allow you to purchase sites that already have an earning history, so you only have to utilize these 3 key skills to stimulate an increase in the earnings and valuation of the site.
A firm like Future PLC do this strategically by purchasing an already established business and domain showing promise then use their wealth of digital marketing skills (including the 3 skills included in this article) to increase the valuation of the website and therefore their digital asset portfolio. Not everyone can afford the services of a firm like Future PLC, but most offer great insights on how to invest in digital assets for the rest of us. Or, simply read on.
SEO – Bringing in free traffic
SEO stands for 'Search Engine Optimization' which involves tactics designed to increase the quantity and quality of traffic when users query Google or any other search engine. The better your SEO, the more traffic you attract, which increases the chances you'll turn visitors into customers.
When you improve the SEO for a digital property, links to the site show up higher in queries related to the products offered on the website (SERPs). Higher ranking websites attract more visitors since users commonly choose top results to provide the information they need. Once you drop to the second page or beyond in SERPs, your organic search traffic dwindles to almost nothing.
An owner improves SEO by improving the quality, frequency, and value of the content produced on the website and related social media properties, since most metrics used to determine ranking are reflected by user signals of high quality such as these. When implementing an SEO strategy, you almost instantly see improved metrics such as time spent on a page and bounce rate, which signal Google about the improved value of your content.
Another technique related to SEO is keyword research, which involves carefully choosing which keywords (actually, in recent years keywords are really keyword phrases – called long-tail keywords — and the increase in voice search dramatically changed keyword research to represent natural language. Choosing keywords that bring the "right" traffic to your website not only results in increased traffic but increased sales. That's because connecting to consumers who possess the need, money, authority, and desire to buy your product (as reflected by the words used in their search) results in higher sales.
It's important to remember that great content is essential for the keywords to be effective, so avoid over-optimization and other tactics designed to "fool" search engines because they only work until the search engine finds the tactics don't sit well with users. If consumers find the content to be valuable, they are more likely to buy from you, which increases earnings for your site.
While these are off-page SEO, on-page SEO is also crucial to boosting your conversion rates. On-page SEO is more user friendly; making it easier for search engines such as Google to index your pages and increase search rankings. A few techniques to help with on-page SEO are decreasing your page load time, optimizing headings, and writing summaries of the page's content (meta descriptions) to help Google know the topic of your posts, which improves visibility on a search engine results page.
SEO is a key skill to build and renovate a digital portfolio, as it increases your visibility and reach online, which ultimately leads to higher sales by driving more traffic to your site and generating higher conversion rates. You need not be a large company to use this skill effectively as you can make minor improvements easily to increase site earning.
Implement SEO by using keywords associated with your products as naturally occurring when your target market searches for products like yours. Use these keywords judiciously in your headings, emails, page titles, URLs, web pages, and content to increase the opportunity for higher conversion rates.
Copywriting – Encouraging purchase
Copywriting, when discussing a digital portfolio, is the ability to convince people to purchase your products using the written word. Many copywriters use different formulas for copywriting to attract, engage, and turn prospects into potential customers — driving traffic down the funnel toward conversion.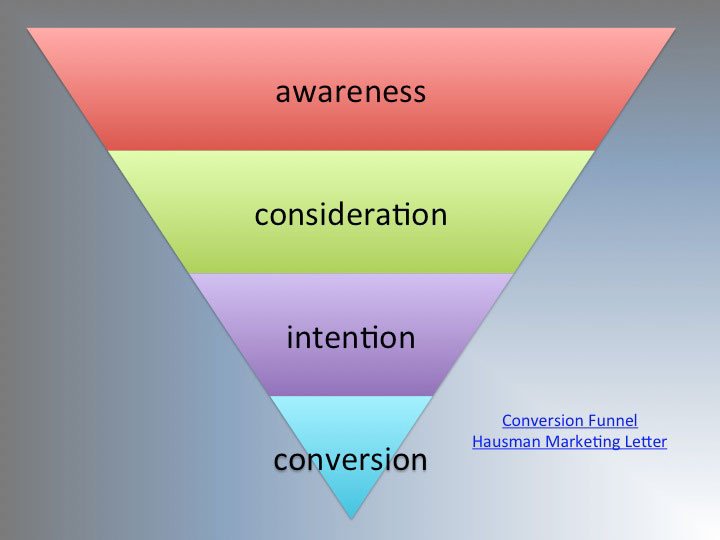 We should note a few points when copywriting to utilize its full effectiveness.
First, the easiest formula used to make sure you have the basics of conversion optimization down is AIDA (Attention, Interest, Desire, and Action — see the image above). This formula guides you in structuring your copy, ad, or campaign.
To grab readers' attention, use a catchy headline. Make it interesting for your target audience to read by solving a problem, providing entertainment, or reinforcing purchase. Promote the benefits of your product (rather than features) and prompt them to take action with explicit calls to action (CTA). For, effective and great content use this formula as it includes key elements of good copywriting.
Second, keep content simple, clear, and to the point so that your consumer can understand what they are looking at or reading straight away. The easier it is for your consumer to understand the value of your product, the more likely the sales to increase. So, when creating a copy, always keep your target audience in mind. The more simplistic your content, the more scannable it is for your consumers; the more likely visitors will read and understand your content.
Using bullets, headlines, bold, and highlighted quotes and information makes it easier for the readers to peruse text quickly. This not only keeps their attention but encourages them to read more content when they discover your high-value information.
Writing clean copy means you cannot cram everything.
Lastly, writing an interesting narrative or story helps visitors identify with the brand to encourage engagement and purchase. Interesting narratives can be anything from reviews to high-quality advice for your product that addresses commonly encountered questions, such as including an assembly video.
It defiantly helps to grab consumers' attention with something snappy right off the bat. So, instead of writing why the product is great, show images of the target market enjoying your product, such as Nike's slice of life commercials.
These copywriting skills take a lot of practice, but when you use some of the techniques mentioned above effectively, your site will earn more and increase valuation.
Conversion – turning visitors into customers
Conversion rate optimization is the ability to build your site in a way that attracts people to buy. Creating a lot of traffic is only good if it converts to a sale, signup, or a download.
To help optimize your conversion rate, you can use a few proven techniques. Some of these overlap with earlier advice but modifies how this tactic is used.
Using an effective headline is crucial, as it is the first thing a visitor sees when they are on your website. It needs to summarize the content on that page and interest the visitor enough to stay on your site long enough to read.
Headlines should either stimulate the curiosity of visitors, ask or answer a question, solve a problem, or give instructions, as well as including keywords as we mentioned above. Making the headline unique is important, as that reduces the bounce rate. Such optimization increases your conversion rates as a good headline can encourage visitors to become potential consumers by providing them with valuable information.
Another way to optimize conversion rates is to make navigation simpler. The simplicity of your site means consumers can easily navigate back to the landing page or to any other page of interest. However, removing the menu bar on the landing page increases conversion rates as visitors are more likely to make a purchase, subscribe or download due to not having those extra options.
Also, page load time matters as the optimum speed leading to conversion is around 2.4 seconds. Essentially the faster your page loads, the higher the conversion rate. People hate waiting, especially when something is loading, so by decreasing the load time you instantly decrease the chances that consumers will leave your page without having made a purchase.
Finally, using verified payment systems, trust symbols, and free shipping builds trust between you and your customers, which can increase your conversion rates. People are more likely to buy, sign up, or download from a trusted and convenient source.
Need marketing help to plan your business strategy?
We welcome the opportunity to show you how we can make your marketing SIZZLE with our data-driven, results-oriented marketing strategies. Sign up for our FREE newsletter, get the 1st chapter of our book on digital marketing analytics – FREE, or contact us for more information on hiring us.
Hausman and Associates, the publisher of MKT Maven, is a full-service marketing agency operating at the intersection of marketing and digital media. Check out our full range of services.