Marketing managers must develop a deep understanding of ROI (Return on Investment) for all their marketing activities, including social media. Unless you understand the factors that improve ROI and which factors have the greatest positive impact on ROI, firms are lost in efforts aimed at assessing and maximizing social media ROI. Achieving improvement without adequate metrics and analysis means you leave performance to chance.
Not so long ago, marketers defended their marketing strategies and tactics with nebulous metrics such as increases in brand awareness that have little or no relationship with changes in ROI. We often call these vanity metrics because they make you feel good without contributing to improved performance. In contrast, actionable metrics help a business understand performance and, by analyzing actionable metrics, you improve your decisions and improve performance.
Metrics that improve ROI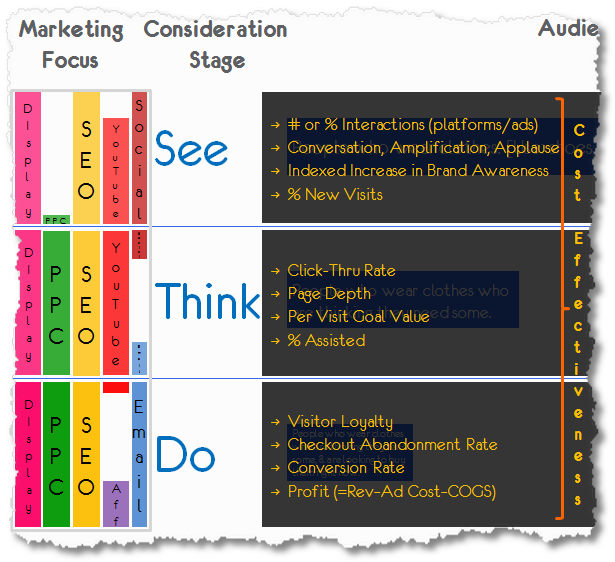 I love Occam's Razor, written by Avinash Kaushik, a guru from Google Analytics, for his insights into measurement that improves ROI. The image above encapsulates the major metrics involved in monitoring your digital performance with the goal of improving performance.
One of the strengths of his image is the focus not only on metrics but strategies for improvement at each stage of the marketing funnel. In marketing, we often define these stages as:
Awareness
Interest
Decision
Action
We use the acronym, AIDA as a shorthand for this process consumers traverse as they make their way toward a purchase. The model gets its funnel shape because the reality is that users drop off at each stage in the process, with fewer continuing down the funnel. Your goal, regardless of the marketing channel chosen, is to get as many folks to move from one stage to the next. As the image below demonstrates, a small improvement in driving users down the funnel results in a huge improvement in performance.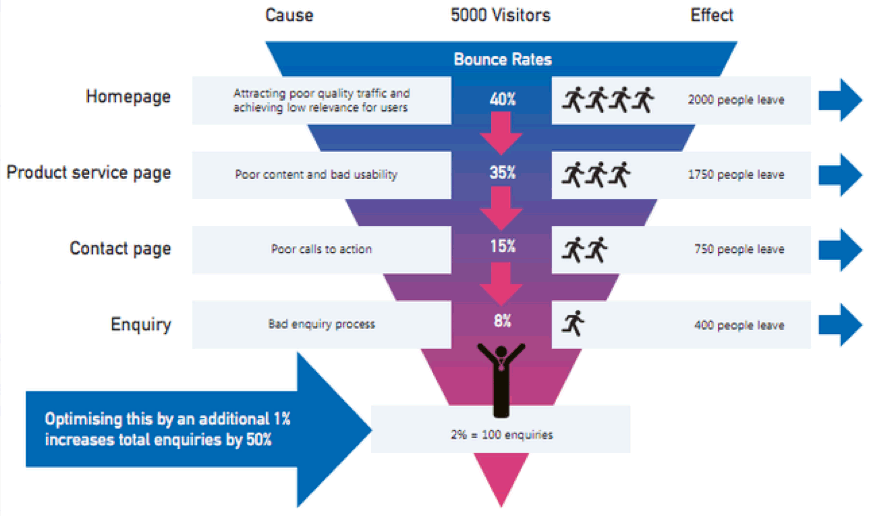 While this image focuses on lead generation, it effectively represents direct conversion if you substitute conversion for inquiry along the funnel. The image also highlights some problems that occur to account for the decline in the number of visitors moving on to the next stage, thus pointing to both metrics to monitor and solutions for improvement.
Since most social media ROI comes not from conversions on social platforms but from conversions on your website or in your physical store driven by your social media marketing campaigns, measuring and maximizing social media ROI requires monitoring performance on both social media platforms and your website. We'll get into attribution modeling near the end of this post but, for now, we'll ignore assessing which metrics come from social and which from other marketing efforts, such as SEO.
Assessing and maximizing social media ROI
Social media, and digital marketing in general, account for an increasing percentage of marketing spend for most organizations. That's because digital marketing effectively translates into ROI but it's also a factor of the improved ability to track performance available through digital channels.
Think about it.
I run a Google search ad. I can track how many visits come to my site based on the ad versus organic or referral traffic. I can even determine which of my ads performs best by using tracking. But, the ability to track performance doesn't stop with knowing what activities brought visitors to my site. I can track those visitors through my website and, if properly designed, I can determine which customers came from which marketing efforts.
Below, you see the typical funnel generated within Google Analytics. In this case, we were interested in where visitors came from. With a simple selection from the dropdown menu, however, I could just as easily track the source of each visit then follow those visits through their trip on my website.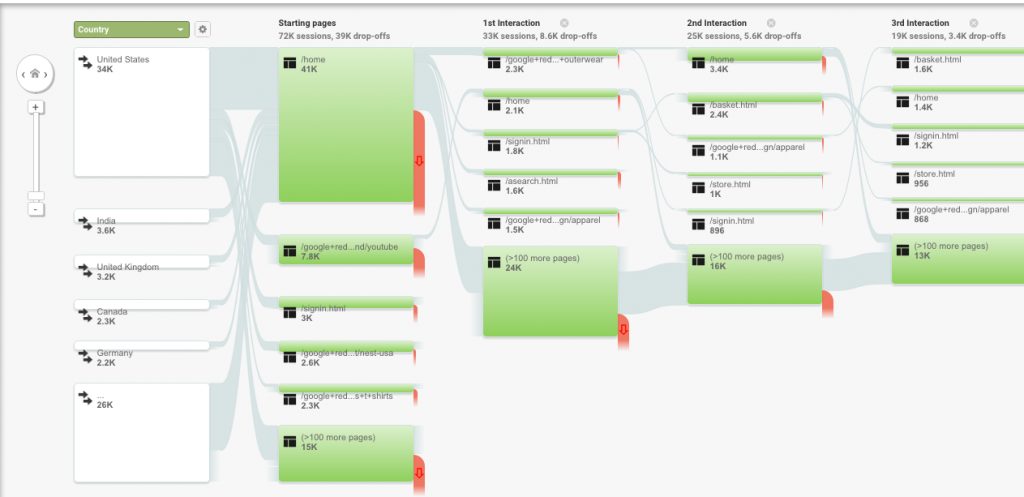 Hence, while digital marketing provides great tools for assessing and maximizing social media ROI, they're complex, especially when it comes to things like attribution modeling. That's the reason for today's post.
Metrics related to ROI performance
Be sure to pop down to the end of this section to see the infographic we created to display critical metrics at each stage of the buying process.
Awareness metrics
One of the biggest problems when you're interested in maximizing social media ROI is getting accurate metrics that correlate with ROI, especially when it comes to metrics you control. Thus, you're able to not only predict ROI with some degree of accuracy using an algorithm containing these metrics, but you're also in a position to manipulate those variables.
When it comes to awareness, that correlation is tenuous because the conversion funnel is leaky as all get out, as you can see in the graphic shown earlier. Just because someone knows your brand exists it doesn't mean they're gonna buy your product. In fact, there's nothing in the metric that differentiates between knowing positive things about a brand (positive attitudes) and knowing negative things about a brand (negative attitudes). For instance, most Americans know the brand called Spam — which is canned spiced ham meat. Now, just knowing about the brand doesn't make me (or most other Americans) want to buy the brand and, in fact, knowing it's spiced ham in a can contributes to my desire to avoid the brand.
So, why rely on awareness measures to assess the performance of your marketing campaigns?
Well, before digital marketing channels, marketers really didn't have a good means to assess factors that had a greater impact on purchase and, therefore, ROI. Think about it. You're running a bunch of TV commercials because someone told you that was the way to increase sales. Well, how do you assess whether the millions you spent on creating and distributing the ad translated to sales?
You could measure the change in sales; comparing sales before with during and after the TV ad campaign. The problem is that consumers aren't robots. They remember your ad and add the information to their internal database of product information. Hence, the ad might not generate sales today but stimulate learning that translates into sales far down the road. Or, your ad did increase sales but those sales return to normal as soon as your advertising stops, forcing you into a continual stream of advertising to maintain higher sales.
Using Occam's Razor's notion of "see" we have better metrics for assessing the awareness stage. Among the metrics useful at the awareness stage are:
Impressions across various campaigns and platforms
Engagement on social media
Sharing your posts across various platforms, including email
Percentage change in following
Brand mentions and share of voice
Post reach
Interest metrics
By the interest stage, users not only know about your brand but also want to know more. Of course, there are lots of reasons for that interest, including competitors watching you, students doing projects, or even idle curiosity from those with time to kill. In addition, you have folks doing comparison shopping if you're an e-commerce site or checking out products for a future purchase.
For all these reasons, you expect a decline between awareness and interest. That doesn't mean, however, you shouldn't strive to reduce the decline.
Here are some metrics you should monitor at the interest stage of the conversion funnel:
Clicks
CTR (click-through-rate)
Bounce rate (users who left after viewing a single page) which represents I came, you sucked, I left. Although for blogs, the bounce rate is commonly high and has no negative meaning, for an e-commerce or brand site, bounce rate is a good indication that you should fix your page.
Time on site with longer times indicating higher interest
Page depth, or the number of pages per visit, also indicates a higher interest as more pages are viewed.
Increase in subscribers
Maximizing your social media ROI involves enticing as many visitors to explore your site and explore it in-depth as possible. Of course, all this relies on attracting the "right" visitors to your site. To represent a customer, visitors must have the need, authority, desire, and ability to make a purchase. If visitors are missing even one of these features, you can't make a sale without a dramatic change in your strategy.
For instance, overcoming the inability to make a purchase often involves offering financing options or other financial arrangements, since these most likely impact the ability to buy. By offering to finance or offering a tiered solution allowing visitors to purchase a product in their price range you overcome this block. Free shipping also reduces costs for the buyer.
Amazon offers a somewhat unique solution for problems that affect the inability of visitors to make a purchase. In some areas, porch pirates abound and consumers avoid online purchases that someone can steal from their doorsteps. Amazon not only offers to ship to your office, but new options allow them to put items in your trunk or garage, with your permission, of course.
Decision metrics
Now we're at the nuts and bolts of assessing and maximizing social media ROI. Prior metrics hint at users who might purchase your brand but decision metrics reflect where the rubber meets the road. At the decision stage, the business is yours to lose so, when visitors leave without making a purchase, you failed. We couldn't say that at earlier stages in the funnel as too many variables were in play and metrics couldn't distinguish between business you should get and business that wasn't really there to start with.
Assessing and maximizing decision metrics then has the biggest impact on ROI.
The most critical metric at this stage in the marketing funnel is cart abandonment. Current studies suggest that, on average, 65% of visitors abandon their shopping carts on e-commerce websites. And, the number 1 reason for cart abandonment is shipping charges.
When someone puts a product in your cart, then leaves without making a purchase, the cost is huge. Ideally, you want 0 shopping cart abandonment. Of course, that isn't gonna happen.
In addition, here are some metrics to consider in assessing the decision stage:
CTR for various CTA (calls to action)
Visits to landing pages
Free trials
Contact requests
Action Metrics
Now, we get to the really fun part of monitoring performance — when the cash register rings. Unfortunately, conversion rates aren't that great; around 2.5%. Obviously, there's some variation by industry and some companies, like Dollar Shave Club (20%), have much better conversion rates. Conversion rates are also higher on desktop than mobile.
Of course, conversion isn't the only metric to monitor at the action stage of the buying process. In addition, we have much more valuable consumer actions to assess including:
Repeat purchases
CLV (customer lifetime value)
Recommendations
And, finally, we have an image showing the critical metrics you should assess at each stage of the buying process.
Most conversions involve multichannel efforts combining visits across different campaigns and channels, including email. Hence, we next jump into attribution modeling.
Attribution modeling for maximizing social media ROI
Of course, the above is based on all traffic coming to your website. If we want help maximizing social media ROI, we have to understand the contribution of various channels to conversion. Sometimes, a visitor converts during their first visit. That's an easy measurement. All you have to do is look where the visitors came from.
More commonly, it takes a couple of visits to achieve conversion. That's multi-channel attribution modeling–apportioning the value of the sale among the channels driving visits that ultimately convert. Google Analytics offers various models to assess the contribution of a channel to conversion. Some models give all the credit to the last interaction, some give all the credit to the first interaction. More effective is apportioning credit to all the channels. Here's a list of different build-in models available on Google Analytics and the platform offers the option of comparing models to see the impact of the model on the amount credited to each model.

Google Analytics also offers an additional option to create a custom model to assess performance.
Maximizing social media ROI – resources
Much is written on how to effectively assess ROI and how to use metrics to improve your ROI.  So, today, I thought I'd provide a list of the 27 most influential resources I've found for assessing and maximizing social media ROI.
Resources for understanding metrics and maximizing social media ROI
We divided these up between blog posts, multimedia resources, and books, although books lose their relevance quickly. I chose those I think offer the best resources to assess and maximize social media ROI. I hope you enjoy them.
Blog Posts
1. Occam's Razor -A Beginner's Guide to Web Data Analysis –  Avinash Kaushik
2. Hausman Marketing Letter – Google Analytics – Angela Hausman
3. Mashable – Measuring Social Media ROI – Erica Swallow
4. Unbounce – Measuring Social Media ROI with Google Analytics – Kristi Hines
5. Hootsuite – How to Prove and Improve Social Media ROI – Christina Newberry, Michael Aynsley
6. ClickZ – Understanding the Importance of Social Media ROI – Nick Cifuentes
7. Social Media Explorer – 2011 Trending Topic: Social Media ROI – Nichole Kelly
8. How to Define an Actionable Social Media ROI for Your Business – Brent Barnhart
9. Gigaom – 3 Accurate Metrics for ROI on Social Media Campaigns – Sudha Jamthe
10. How to Measure the ROI of Social Media – Megan Marrs
11. The Next Web – The Social Media ROI: It's Not About Immediate Results – Sherilynn Macale
12. Social Media Examiner – How to Estimate your Social Media ROI – Dag Holmboe
13. Mashable – Understanding the Social Media ROI Cycle – Jamie Turner
14. Business2Community – ROI: Return on Investment in Social Media Marketing – Angela Hausman
15. Search Engine Watch – 4 Steps to Measure Social Media ROI with Google Analytics – Nathan Linnell
16. Marketing Profs – Social Media ROI: How to Ensure your Social Media Efforts Pay Off – Kieran Flanagan
17. Danny Brown – How to REALLY Measure the ROI of Social Media – Eugene Farber
18. Social Bakers – 8 Steps to Measure Your Social Media ROI – Marta Buryan
19. Forbes – Measuring the Social Media ROI – Sunil Senan
20. The Delightfully Short Story of Social Media ROI – Kevan Lee
21. Top Rank Blog – Social Media ROI as Return on Influence – Lee Ogden
Multi-Media Resources
22. Social Media ROI – Slideshare
23. Measuring Social Media ROI – Infographic
24. Social Media ROI: Socialnomics – YouTube
Books
25. Social Media ROI: Managing and Measuring Social Media Efforts in Your Organization (Que Biz-Tech)
26.ROI of Social Media: How to Improve the Return on Your Social Marketing Investment
27. Engage!: The Complete Guide for Brands and Businesses to Build, Cultivate, and Measure Success in the New Web
Conclusion
Did I miss some of your favorites?
Do you have other resources to add?
Simply list them in the comments.
Need marketing help to support business growth?
We welcome the opportunity to show you how we can make your marketing SIZZLE with our data-driven, results-oriented marketing strategies.  Sign up for our FREE newsletter, get our FREE guide to creating an awesome website, or contact us for more information on hiring us.
Hausman and Associates, the publisher of MKT Maven, is a full-service marketing agency operating at the intersection of marketing and digital media. Check out our full range of services.