SMS is short for short message service and reflects the growing number of text notifications users receive via their mobile devices. The rapid growth in SMS (see the graphic below to show how SMS is growing) comes from the success of the marketing strategy for maintaining relationships with customers, improving your ability to meet their needs while streamlining your business operations and reaching new prospects with attractive offers at the same time. If you're currently using SMS or thinking of adding SMS to your strategic plans, we have 21 SMS stats you need to know. Thanks to SimpleTexting for their post containing additional SMS stats and to Bre Lewis of Go Fish Digital for bringing this post to my attention. If you have unique post content you think would help me create value for my readers, please reach out via email at angie@hausmanmarketingletter.com for consideration.

SMS stats
Since the original study results shown above from 2020, the new study finds 27% more businesses employing SMS marketing than the year before. Unless indicated by a link, the SMS stats shown below come from a survey of 1300+ consumers, business owners, and digital marketers to understand SMS marketing, where it's going, and what tactics improve the efficacy of SMS marketing. Unless otherwise identified, the image below all come from SimpleTextin and you can find them, additional images, and more stats by using the link to Simpletextin in the opening paragraph.
The graphic above shows that most businesses surveyed currently use SMS marketing as part of their digital marketing strategy. Many, 60+%, plan to increase their use of SMS marketing, which offers tangible evidence that the strategy delivers positive rewards to the companies using it. Less than 9% of companies using SMS marketing plan to decrease their spending on this strategy, something we'll discuss later in this post. Only 5% of businesses surveyed don't use SMS marketing and have no plans (as of 2020) to add SMS marketing to existing marketing strategies
The business case for SMS marketing
The growth of SMS messaging boils down to one factor — engagement.
Access to a mobile device capable of receiving text notifications (SMS messaging) is ubiquitous. Worldwide, 6.4 billion people use a smartphone according to Statista. 96% of adults own a smartphone in the US, according to the Pew Research Center. Users have their mobile devices within reach at all times. Most users sleep with their mobile devices on the nightstand next to their bed. It's the first thing they see in the morning and the last thing they see before falling asleep. Seventy-four percent of Americans feel uneasy if they leave their smartphone at home and 45% of them say that their smartphone is their most valuable possession [source].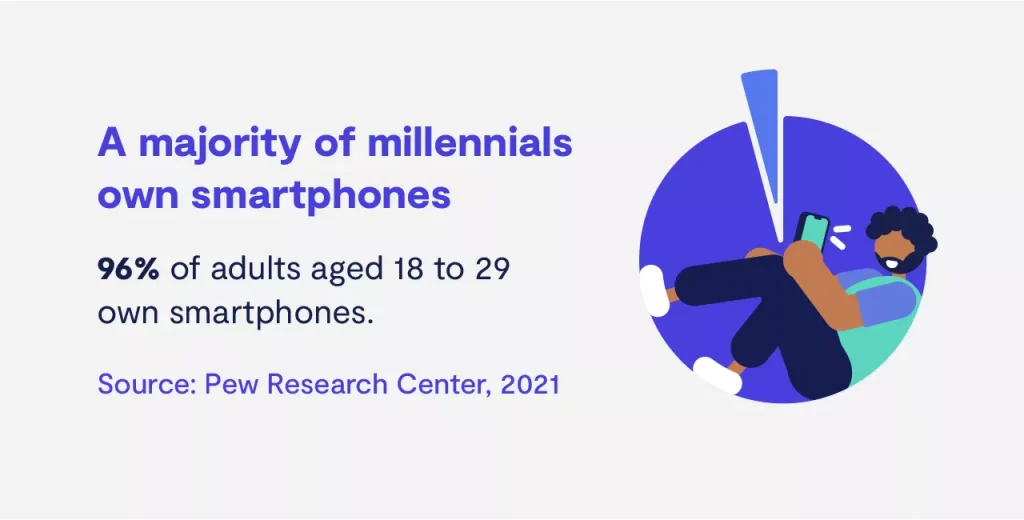 The average age when children get their first smartphone dropped to just 6 years, down from 10 in 2017. So, even the youngest among us use their own mobile devices. Yesterday, my 5-year-old called when she got her hands on a tablet with a phone connection.
With the spread of mobile devices, the use of text messaging exposed. Mobile users monitor and use text messaging extensively, especially younger consumers who rarely initiate or answer voice calls in favor of texting. A recent study explains why mobile users prefer texts:
Texting is less intrusive than calling. Texting is a great way to avoid talking over the phone if you're too busy to call. Texting is a more private way of communication, so it's easier to talk about personal things without feeling embarrassed or judged by people nearby. [source]
Data from the study shows that, across consumers surveyed, their use of SMS is higher than any other apps used on their mobile devices, as you can see below. The percentage of consumers who use SMS messaging is closely followed by social media apps but far above the use of other opportunities for business communication, such as email and phone calls.
SMS stats related to the business case for SMS marketing include (based on survey results):
1 in 3 mobile users check SMS notifications within 1 minute of receipt; 85% check notifications within 5 minutes
a little more than half of the users respond to an SMS notification within 3 minutes while only 5.4% of users respond to an email in the same time period
Nearly all users respond to an SMS notification within 10 minutes (84%) while only a little over 20% of users respond to an email within that time period.
Most businesses in the study reported click-through rates (CTR) of between 20 and 35% as compared to a measly CTR of 1.9% for search ads and .35% for display ads. Social media ads generate similar CTRs.
Most mobile users read your SMS messages (98%) while social media posts only reach a fraction of your community due to platform algorithms that limit your organic reach
55% of businesses surveyed report sending SMS messages to customers within the last year
Integrating SMS messaging with other digital marketing strategies generated higher conversion rates according to 74% of respondents
Uses of SMS messaging
Continuing our SMS stats, we have a few regarding how business SMS marketing is used and which industries users interact with using text messaging.
Below you can see survey results showing how businesses use SMS messaging.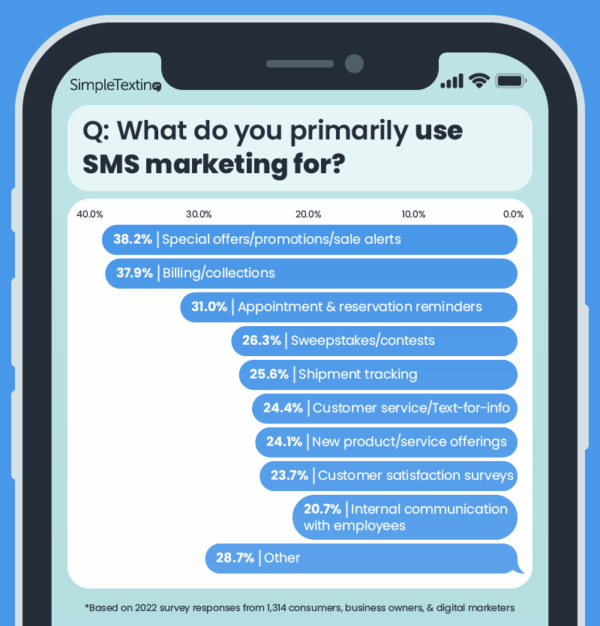 Top uses include offers and communicating information such as appointments, shipping, and new services to customers and prospects who opted in for messaging. In the survey, consumers reported they see value in these communications as two-way options for a quick response from a business.
A business's rationale for implementing an SMS strategy involves a cost-benefit analysis. SMS messaging features high CTR, especially when compared with alternate forms of communication with customers. Using SMS allows businesses to build two-way communication and provide personalized attention in a form that's easy to use and very cost-effective.
You find a distinct industry bias in the way consumers view using SMS marketing with e-commerce, healthcare, and banking showing the highest opt-in rates for consumers (see below).
Legislation covering SMS messaging
Most developed countries impose legislation that covers SMS messaging. In the US, text messaging follows Can-Spam legislation passed to protect consumer privacy and many are familiar with this legislation based on its restrictions on email marketing. In addition, the Telephone Consumer Protection Act requires businesses to gain opt-in from consumers before initiating messaging. Businesses must also provide easy tools for opting out of future messages via text responses or other methods.
The EU and California provide additional protections for consumers through GDPR (in the EU). In addition to protections provided under Can-Spam, GDPR requires companies to delete all data related to consumers when they opt out of future messaging. Similar laws are in effect in England and Australia. If you're a multinational, commonly you enforce GDPR in your SMS messaging strategy as this is the most restrictive set of laws.
Certainly, bad actors exist in SMS messaging, just as we see numerous violations of these laws as they relate to email marketing. Stiff penalties exist for violators, so if your business operates physical offices in any of these countries, strict adherence to the regulations is important if you wish to avoid penalties.
The good news for businesses is that opt-in rates reached 70% in 2022. up from 62% of users who subscribed to a business's SMS in 2021
55% of consumers report they subscribed to SMS platforms from between 1 and 5 businesses
Mobile apps versus SMS marketing
While mobile apps represent some of the same benefits as SMS marketing (ie. mobile notifications), SMS marketing has many distinct benefits over mobile apps.
First, users must download a mobile app to communicate with a business. And, while users might have 30 or more apps on their devices, they spend 70% of their time on just 3 mobile apps, according to recent studies. Unless you're TikTok or some other massively growing social network, your chances of worming your way into that narrow list of apps are slim.  Moreover, newer smartphones automatically silence notifications from rarely used apps to reduce space utilization and increase battery performance. While it's still possible to develop a profitable app, the chances aren't great.
As mentioned earlier, not only don't users have to download anything to get your SMS messages, they're more likely to opt-in to receive messages, especially if you operate in one of the industries shown in the image shared earlier.
Tools to manage SMS marketing
Hopefully, these SMS stats convinced you to at least give SMS marketing a try. If you're new to SMS marketing, here are a few tools you can try to get started, according to Geekflare. The benefits of using SMS software include:
Faster delivery
Higher open and CTR
Measurable results to help optimize your performance
Affordable because they're text-based so you don't have as many creative costs plus the platforms themselves involve small monthly expenses
Some SMS software integrates with other messaging platforms such as email to make your strategy more holistic and improve results.
A few SMS software options are Omnisend, Sender, and SendinBlue. The choice of the right SMS software for you depends on your budget, your needs, and whether integration is important.
Conclusion
Hopefully, these SMS stats helped you make the decision to start using SMS marketing as part of your digital strategy or increase spending on this tactic. For those of you who feel you aren't getting what you hoped from SMS marketing (that 5% who plan to discontinue the tactic), these SMS stats should help you see that SMS marketing is a viable tactic and the data shown should help you defend the continued use of SMS marketing by your firm. If you don't enjoy the return you hoped for from your SMS strategy, I have some advice for improving performance in another post on this site.
As always, I welcome your comments on this or any other post on this website. Also, ideas for future posts are encouraged, Simply enter your thoughts in the comment box below.
Need marketing help to support business growth?
We welcome the opportunity to show you how we can make your marketing SIZZLE with our data-driven, results-oriented marketing strategies.  Sign up for our FREE newsletter, get our FREE guide to creating an awesome website, or contact us for more information on hiring us.
Hausman and Associates, the publisher of MKT Maven, is a full-service marketing agency operating at the intersection of marketing and digital media. Check out our full range of services.