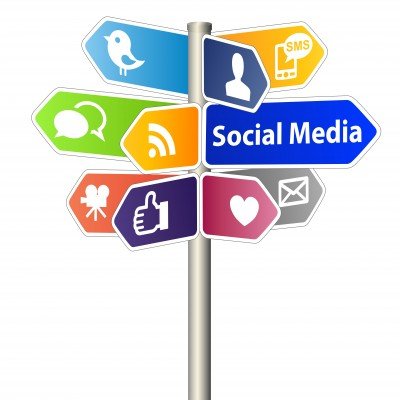 Are you "nice" in your social media posts or are you spammy?
Nice social media posts engage and build your audience, while spammy posts make you look stupid, ignorant, or just plain lazy. Spammy posts might also get you banned from social networks.
Making nice in social media posts
Take a look at the infographic below to see prevailing etiquette. Then, let's take a look at 15 ways to be nice in social media posts. If you want more information on how to create the perfect social media posts, check this out!
First, let's get this out of the way.
There is NO such thing as the perfect social media post.
That's because each platform is different and its users expect a different form of interaction on each platform.
A corollary to the fact there is no perfect social media post is that posting isn't enough for success on social platforms regardless of how perfect your post is. Brands who do nothing but post, get little engagement and engagement spurs interest in your brand and amplifies your message.
So, let's discuss the 15 ways to be nice in social media posts
How often to post
On Twitter, you can get away with posting about 5 times/ day, although Buffer published 14 times/ day using its app and claims they get good results. However, SocialBakers produced a study showing 3 Tweets per day produced maximum engagement. Spread your posts throughout the day to ensure you don't spam anyone's Twitter feed with multiple messages.
On Facebook, 1-2 posts/ day seems to be the sweet spot according to Buffer. SocialBakers found top brands post an average of once/ day and found engagement drops significantly when a brand only posts about once a week. Posting more than a couple of times per day borders on annoying and TrackSocial finds engagement actually declines after the first post each day.
Everyone seems to agree that LinkedIn and Google+ warrant only 1 post a day before getting pretty spammy.
One caveat to these posting schedules, however. Facebook, and more recently Twitter, use an algorithm to determine whether your posts show up. Increasing your posts per day is a means to combat the effect of these algorithms to ensure you reach users.
 And, don't send the same post a bunch of times. Guy Kawasaki recommends sending each post no more than 4 times — adjusted to users' time zones.
Images in social media posts
Twitter doesn't support images natively, but creating Twitter Cards allows embedded images in your posts. I personally dislike images on Twitter but to each her own. Experiment to see what works with your audience.
Facebook images work well — getting 37% more engagement than posts without images. The same goes for LinkedIn and Google+. Google+ is especially image-driven and full-size images tend to do better there.
Images that attract, especially quirky ones, create engagement. Images without people work best, as there's a tendency to ignore images of people we don't know. Dogs and cats work well, as do memes, as long as they don't contain people.
Content that rocks
Don't forget the importance of content in driving social media success.
Limit talking about yourself to less than 20% of posts.
All recommendations assume you have something valuable to share. If you don't, just shut up!
Use smart contests, questions, and coupons. Creating contests that don't get your target audience to sign up or using coupons without encouraging sharing miss the mark.
Use some teaser copy to encourage users to click through for more information.
Getting results from social media posts
Remember, recommendations are just that — recommendations. Each audience is different, so creating systematic tests to determine how your audience responds to different social media posts allows you to optimize for your audience.
Not all engagement is created equal. You're in business to make money, not friends. So creating engagement among your target audience (those most likely to buy) is more important than just reaching random social media users.
Monitor, analyze, and tweak. That's the only way to improve the performance of your social media posts. What times of day work best, what types of content, which CTA (calls to action), etc.
A few insights on social media posts
I wanted to pull a few things from the infographic below to highlight opportunities for your social media posts.
Almost all social networks are skewed toward women and Pinterest is mostly women.
So think about the kind of stuff you're sharing. For instance, Asus made a truly sexist remark (especially when combined with the Twitter Card and compounded the mistake by shifting blame to someone else — a third party. That kind of stuff might play well in the locker room but doesn't cut it when the audience is 64% women — as it is on Twitter.
Social networks are just that — social. Be as organic as possible rather than disrupting conversations.
I've mostly abandoned efforts at Facebook advertising, except for promoted posts. Promoted posts work well as they fit organically into a user's newsfeed and, if properly targeted, reach your target audience with information they appreciate.
On LinkedIn, it's great to join groups, but you shouldn't share every piece of content with every group because lots of people belong to multiple groups and get spammed by your multiple posts.
Use hashtags responsibly.
Including a #bunch of #hashtags in #each #post gets #annoying really #fast. Hashtags on Facebook have pretty much gone the way of the dodo bird and they never really caught on with Google+.
Say thank you!
When you share someone's social media posts, give a little shout-out (or H/T on Google+) as a little thanks for finding great content. I also like to thank folks who share my content. It gets a little time-consuming to thank every RT, +1, and share, but it's polite — and gets more. Spread out your thank yous if you have a large number so you don't overwhelm your feeds.
Tit for tat
This is kind of a corollary to saying thank you. Social media is a community. If you want something from someone, it's best to start by giving them something. So, when you follow someone on Twitter, RTing one of their posts increases the chances they'll follow you back. Mentioning (or linking to) the great content produced by others makes them more likely to share your content.
Need marketing help to support business growth?
We welcome the opportunity to show you how we can make your marketing SIZZLE with our data-driven, results-oriented marketing strategies.  Sign up for our FREE newsletter, get our FREE guide to creating an awesome website, or contact us for more information on hiring us.
Hausman and Associates, the publisher of MKT Maven, is a full-service marketing agency operating at the intersection of marketing and digital media. Check out our full range of services.