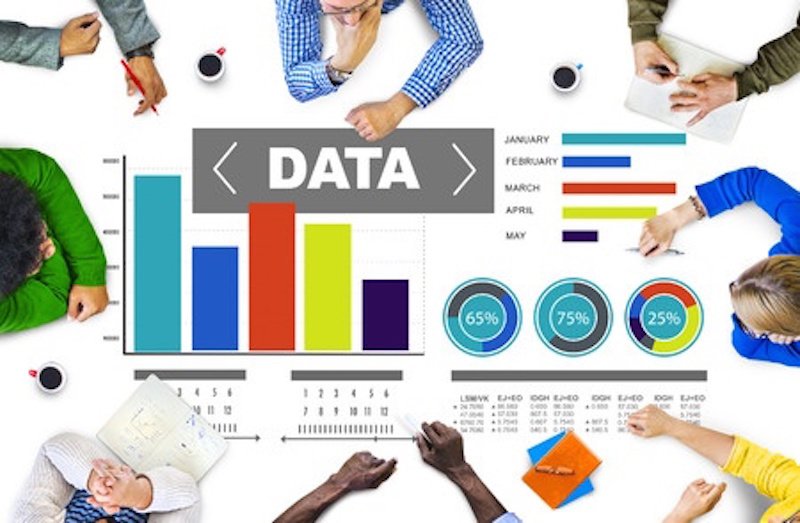 I ran across this list of the 14 must-have metrics for digital marketing in researching a recent post, so I thought I'd share it with you.
The infographic from Digital Marketing Philippines breaks down metrics into traffic building metrics, conversion metrics, and revenue metrics.
Today, we'll only have time to get through traffic-building metrics.
Let's dive right in.
14 must-have metrics
Traffic generation
For most online businesses, getting folks to your site is the first step in conversion. Whether you're doing lead generation, online sales, driving customers to your brick and mortar stores, or just collecting emails for future marketing campaigns, getting folks to your website is often a necessary element.
Hence, you want to understand how folks find your website and how effective you are at driving folks to the website.
Must-have metrics #1: Pageviews and unique visitors

What you really want to know, more than the absolute number of visits is the general pattern of visits. Notice, my graph of visits forms a particular pattern where visits fall off over the weekend, then pick up again on Monday. I also experience drops during the winter holidays and over the summer when folks are out of the office.
Knowing how my visits normally look on a graph allows me to pinpoint problems or surprises, such as a post that really went viral or a couple of flops. A severe change in my pattern of visits suggests something might be wrong with the site or my hosting. Be sure to take into consideration a normal lag between cause and effect.
To really understand this data, I have to match it to other activities such as new posts, a large increase in social activity, or changes to the website infrastructure. For instance, I recently upgraded by adding SSL security to my site and noticed a small decline in visits as the new URL containing the https propagates through the system.
Must-have metrics #2: Traffic sources
Where your traffic comes from is an important question both in terms of evaluating the success of your digital strategy and in terms of ranking factors within the Google Algorithm. You see, Google uses the online community to evaluate the quality of any given website, and links (along with traffic) are good signals of quality content. The better and more plentiful your links, the better Google judges your content.
Google views quality links from social networks (ie. shares and tweets), direct traffic, and referral traffic from other websites as strong indicators of your content quality. Bad links from spam sites, poor quality sites, unrelated websites, or paid links can get you in serious trouble — even get your site de-indexed meaning it virtually disappears.
Your traffic sources also give you a good idea of how your marketing strategy is going. Getting lots of direct visits means you're doing a good job of publicizing your web address and building a strong reputation for your brand. Getting lots of referral traffic means you're doing a good job of blogger outreach and getting other websites to link with yours. Getting lots of organic traffic means your SEO is going well. If you're not getting enough traffic from any one of these major traffic sources, it's time to revisit your strategy to build traffic from other sources.
Must-have metrics #3: Mobile
Consumers love their smartphones and tablets. But, these devices offer limited real estate for websites and owners must accommodate the smaller screen size. Most sites, like mine, are responsive, which means the content automatically scales down to fit in whatever screen size the user has — and if your site isn't responsive, Google will award penalties.
But using a mobile device means more than smaller screen size. It likely means users are interested in different things. For instance, rather than looking for items on a mobile device, users are more likely interested in directions or a phone number. They're more interested in viewing coupons or sale items than the most recent press release. And long-form content is really not what users want on their smartphones.
If Google Analytics shows a lot of mobile traffic, you might consider developing a mobile app to customize the experience for mobile users versus having them struggle with a mobile website.
One of my big concerns with mobile apps, is they don't add much functionality. For instance, my Macy's app doesn't display coupons for in-store discounts. In contrast, the Target app lets me shop for specials online — either with a mobile or computer — and stores all my coupons in a single, scannable image.
Must-have metrics #4: Click-through rate
Click-through rate (CTR – the percentage of users who click on your ad) applies to Google Adwords advertising, but you can look at your clicks from any platform or marketing tool. For instance, I'm using AddThis to display related posts to entice readers to visit more pages of my website. I get a weekly report showing the number of clicks each piece of content received. Similarly, you can look at the number of Facebook impressions and visits from Facebook over a period of time as a click-through rate.
Must-have metrics #5: Cost per click

Again, cost per click (CPC) is unique to Adwords and reflects how much you pay, on average, for each click your ad received. Your CPC is a function of the keywords associated with your ad, your quality score (which is related to your CTR, how well your ad matches your landing page, and the relevance of your ad to the user's query), and your maximum bid.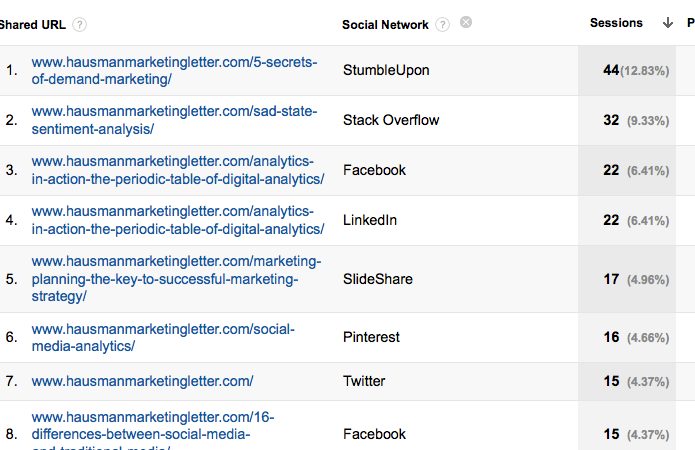 While CPC is strictly related to Adwords, you can use a similar means to determine your cost for any other online advertising by comparing the price you paid for your marketing campaign with the number of clicks you received.
Look at my analytics from today. I've selected to view pages by social networks and you can see much of my traffic came through StumbleUpon based on an ad running for that page.
Using data such as this, if you paid $100 for sponsored Tweets and you got 1000 visits to your landing page, your cost per click was $.10.  Obviously, this gets more complicated when you have multiple Twitter ads running or multiple posts pointing to the same landing page.
Putting all the must-have metrics together
Visualizing data is an important element of analysis. So is bringing all your metrics into a single dashboard where you can get the big picture of what's happening.
Luckily, most social networks, Google Analytics, and Adwords offer APIs to make downloading data easy. I use a Cognos dashboard (from IBM) because it not only allows me to bring all my must-have metrics to one place but allows visualization. Because the dashboard is interactive, I can send it to clients who might change the visualizations, combine data points, or compare metrics across social platforms in any way to meet their particular needs.
Final thoughts
OK, enough for today. In future posts, we'll cover conversion metrics and revenue metrics as well as a few of my own personal favorite must-have metrics.
Please be sure to add to this conversation in the comments.
What are your must-have metrics?
Which of these must-have metrics do you monitor on a consistent basis?
Need marketing help to support business growth?
We welcome the opportunity to show you how we can make your marketing SIZZLE with our data-driven, results-oriented marketing strategies.  Sign up for our FREE newsletter, get our FREE guide to creating an awesome website, or contact us for more information on hiring us.
Hausman and Associates, the publisher of MKT Maven, is a full-service marketing agency operating at the intersection of marketing and digital media. Check out our full range of services.