I got this great infographic about containing 115 facts about social media and I couldn't wait to share them with you. Not all this information is earth-shattering, but having it all in one place is a great tool. I'm gonna print it out and hang it next to my desk for easy reference.
But, my goal in today's post is to point out the implications of these facts for devising your digital marketing strategy, so let's jump right in.
Which social networks do you need?
Your digital strategy should include a couple of social networks, although you must recognize that only slightly over 50% of the population is on ANY social networking platform. And, that gets worse once you leave the developed countries, falling to a low of only 6% in Central Asia.
Trying to use every platform out there is a huge mistake, even if you're a large brand with lots of resources. Adding more people just complicates issues of integration across platforms, especially when it comes to voice.
Since you're limited to a few, choose wisely.
I commonly recommend Facebook — because it's huge, as you can see in these facts about social media infographic. I think you need a good reason to NOT use Facebook.
After that, it really becomes an issue of how to best interact with your target audience. If you have a younger audience, you might want Snapchat, although marketing on the platform is a little wonky.
If your target audience is women, then Pinterest is for you. If it's B2B, then your strongest tool is LinkedIn.
Many brands need video to engage, explain, and entertain their target audience. That means you need YouTube and maybe an Instagram account if your brand is really visual.
Mobile is the game of the future
As mobile devices become smarter and bigger, with increasing functionality derived from apps, mobile is the first choice of many users for everything from social media to ecommerce.
From a strategy perspective, that means getting your sites, including social media platforms, optimized for mobile. In fact, Google gives you less love if your site isn't optimized for mobile. You want to ensure your images and links work well on mobile and that the links load properly and quickly on a mobile device.
The demographics of social media
As you can see in the facts about social media graphic, demographics come into play on social networks.
Women make up a higher percentage of users on Facebook and Instagram, while men make use LinkedIn more that women. Pinterest is mostly women — 80%, and they post 92% of Pins.
Brands think of social media as reaching younger demographics, and this is true for many of the platforms, but there's dramatic growth in older users on Facebook and they've always been a big part of LinkedIn.
That said, teens and young adults use social platforms more frequently and use multiple platforms.
Social media and the US presidential election
There's a disturbing trend for users to get their news from social media, especially Reddit, based on the infographic.
Why is this disturbing?
Well, we saw in the recent presidential election, fake news (propaganda) spread far and wide, impacting the way voters chose the next president.
Of course, there's no simple fix for propaganda because most solutions impact free speech. And, traditional media isn't much better. In their drive for higher ratings, traditional news outlets cover what sells papers and gains viewers, thus their newscasts aren't balanced or inherently accurate, as they share the same "fake news" with the caveat that they're simply reporting what's trending on social media sites.
Unfortunately, this leaves users with virtually no source of accurate news.
Again, looking at the facts about social media, we see that Trump clearly won the race for eyeballs on social media 00 with 23 million connected users to Clinton's paltry 15 million. The time to shift from traditional advertising to social media (at least in political campaigns) is past and the Democrats need to embrace new media, which they owned in the Obama campaigns.
Facts about social media and ecommerce
We know that social media impacts sales through:
Creating awareness of brands
Enabling sales
Sharing recommendations
Tacit endorsement through using the product
Spreading word of mouth
Enabling targeted advertising
and many more
In the graphic, you can see the relative impact of Pinterest is very strong in every category except actually facilitating a sale. So, maybe you need to rethink your Pinterest strategy and increase the resources dedicated to this platform.
Currently, Facebook and Twitter provide the best ROI of any social platform. I would argue that their superiority is more a function of experience, than due to features of the platforms themselves. For instance, Snapchat is new and brands are still trying to figure out how to optimize their marketing strategy on this platform. That said, I like Facebook advertising for its ability to deliver granular market segments based on a variety of factors, including psychographics. I've had great success with my Facebook campaigns.
Engagement on social networks
Many brands struggle to engage with customers on social networks.
Part of the problem is what they're sharing — which is too promotional. Social networks allow users to interact with each other. If brands want to participate, they need to provide value, not just shout into the cloud. Check out this category if you're interested in learning how to optimize content creation.
Part of the problem is sending posts into a vacuum, meaning they're posting at the wrong time or haven't built up an owned social network capable of amplifying their message.
Looking at the infographic, we see the optimal times to post across the 3 most popular social media, although there's little consensus regarding the best times to post. Plus, your brand has a particular target market and the optimal post times might be different in that market.
My suggestion is to use a martech tool that suggests optimal post times based on how YOUR users interact with your posts. I happen to use Buffer, but lots of tools offer this functionality.
Popularity and the myth in vanity metrics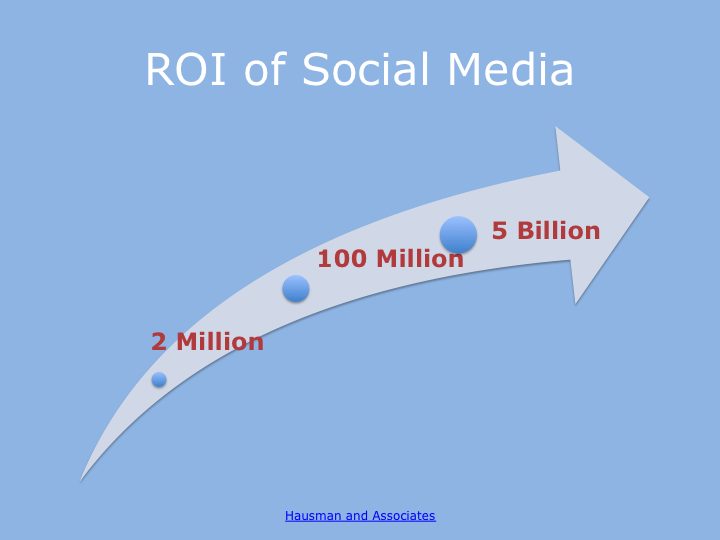 Having a large fanbase doesn't necessarily mean much in terms of ROI. Sure, having a large group of fans (whether it be Facebook, Twitter, etc) is great, but having engaged users is better — those who share, like, and comment — because that amplifies your message, reaching people far outside your user base.
We talk about owned, earned, and paid media and you should focus on building a strategy to optimize each one. Focusing on vanity metrics only considers owned media.
Need marketing help to support business growth?
We welcome the opportunity to show you how we can make your marketing SIZZLE with our data-driven, results-oriented marketing strategies.  Sign up for our FREE newsletter, get our FREE guide to creating an awesome website, or contact us for more information on hiring us.
Hausman and Associates, the publisher of MKT Maven, is a full-service marketing agency operating at the intersection of marketing and digital media. Check out our full range of services.




Presented by Skilled.co