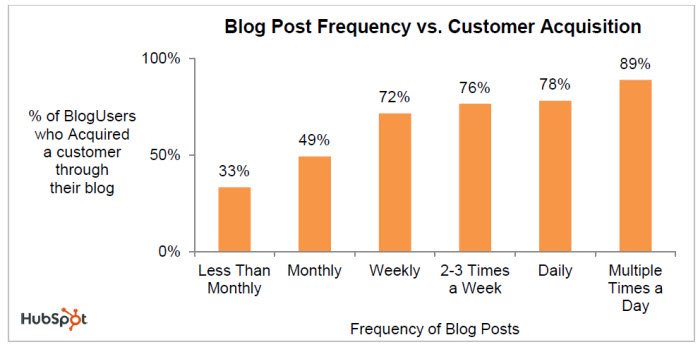 Blogging began its life as a type of online journalism but changes to the Google Search algorithm as well as the need to share content across social platforms means you need to start a blog as an indispensable tool for your business. As you can see in the graphic above, the correlation between blog posts and gaining new customers is strong. As an individual, you find almost every man and his dog has a blog these days, and people love to share their lives, loves, and passions in life with this long-form content.
If you are stuck in lockdown at the moment and need a new hobby to keep you busy or want to position your business to take off once the economy goes back to normal – start a blog to add value to your spare time. Not sure if a blog is right for you? Here are some reasons.
What is a blog?
As mentioned, blogs (short for weblog) originated as journalism sites or used by hobbyists as an online platform to discuss their passions. Companies soon realized they needed a blog attached to their main website to drive traffic to their website and position themselves as experts in their niche. For instance, King Arthur Baking, a small flour company, exploded their business by starting a blog sharing recipes and other information to help bakers.
"Nowadays, a blog is a regularly updated website or web page and can either be used for personal use or to fulfill a business need" according to Hubspot. Hence, the distinction between a website and blog blurred over the years since the first one was published in 1997.
Why you should start a blog
1. It's easy
Starting a website is not as hard as you might think, and in fact, you can easily put together a blog or other website in an afternoon. To build a website, all you need is a free account with Wix or WordPress, a domain name, some images to represent your blog, and some content that you'll expand over time.  Unfortunately, choosing Wix, Squarespace, or another free platform comes at a significant cost in lost traffic opportunities, so I don't recommend those platforms unless you just want a hobby. Plus, getting the look and feel you want with these free platforms is challenging.
If you want to turn your blog into a revenue stream or use the content to boost visits to your e-commerce site, you really need a self-hosted blog (website), which costs around $100 per year, although you can spend much more depending on the functionality and performance you want. Sure, you can pay someone to create a website for you, starting at around $1000, but content management systems (CMS) and themes mean that nearly everyone can craft their own website without writing a line of code. In fact, I created a guide that steps you through the actions needed to start a blog with tons of screenshots to help you along the way.
2. It's good for your mental health
Writing is great for your mental health. When stuck at home for many months on end, you can go stir crazy and life can feel as if it is swallowing you up. A blog allows you to escape into your own little world for a while, which is relaxing and provides a sense of catharsis. Writing is a way to express yourself, and when you pour out your heart into an article on your blog it lifts the weight from your shoulders and helps you feel better.
3. A blog is a creative outlet
One of the best things about blogging is you have an outlet for your creativity. Blogging is a great tool for creative people who want a place to jot down their ideas. You can fill your blog with anything that you want, and it allows you to be as creative as you like every day.
But, more than simply an outlet for your creative ideas, a blog/website promotes your creative endeavors. For instance, members of my Indie authors group have blogs to engage readers in support of their sales. If you have tangible creative products, consider the benefits when you start a blog even if you actually sell products through Etsy. We'll talk about that more below.
4. There are no rules
When you start a blog you might assume rules govern what you say, but that isn't the case. Every blog is unique to its owner, and this means you choose what you share with the world. There are no rules and you determine what to say, even blending posts from several niche areas. Make your blog as specific or varied as you want.
5. Talk about your passions
Have you ever started to ramble on about something you love and saw a room full of bored faces staring back at you? Yepp, us too. Sadly, family and friends don't always understand or share your interests. Because of this, you might feel as if you have no place to share your passions. However, a blog is an ideal place to share your passions and connect with an audience around the world who share the same passions as you. It is a breath of fresh air to share the things you love with those who want to listen to what you have to say and share their own take on the subject.
6. You create an online community
Talking about people around the world – building a blog is an amazing way to connect with people and build your own little community. When people read your blog and talk to you about the topics you cover, you feel a real sense of achievement and pride.
Once you created an online community, you can discuss things that are important to you and you can even discuss issues that are close to your heart. Your blog creates a platform for other members to join the conversation, offering mutual support and unique ideas related to the topics you cover.
7. You can show off your photography skills
Taking photographs is a real art form, and when you start a blog you can really show off this skill, even making money from folks who want to buy your pictures. As mentioned earlier, even if your blog isn't an e-commerce site, use your blog to build an engaged community around your art to support sales on Etsy or another platform.
Blog photographs are often stunning, especially as screens develop better display capabilities, such as retina displays. Want to develop your photography skills? There are lots of photography courses online designed to help you take and edit your pictures, plus bloggers who share their tricks of the trade.
8. You'll learn how to write
You don't have to be a professional writer to start a blog, in fact, most people aren't. As long as you have a head full of ideas and a place to put them; you can start a blog anytime and anywhere. The simple act of writing improves your skill and the more you write, the more you hone that skill. You can use apps such as Grammarly to check your work for grammar and spelling mistakes, which also helps improve your writing.
9. You can make money
One of the most enticing reasons to start a blog is the opportunity to monetize your blog through advertising, affiliate marketing, or e-commerce. Affiliate marketing is a huge part of blogging, and it offers huge potential to make money from your writing.
To use affiliate marketing, you must sign up for affiliate programs related to your content. Once accepted, you get unique links to share on your blog, in email marketing, and through social media. Each time you make a sale from someone clicking on your link, you get paid based on the pay structure of the particular brand. Fees of $100 or more per sale aren't abnormal, especially for high-value products.
Don't know how to use affiliate marketing? Take an affiliate marketing training course online to learn the tricks of the trade and start making real money this year as a blogger.
10. You meet new people
If you are an outgoing soul who loves being around people, blogging offers opportunities to meet lots of new folks. Soon, you'll get invited to events and award shows as a blogger and this allows you to meet other creators, photographers, and brand reps. It's also a good way for you to get to know others and have fun!
11. You're open to opportunities
Blogging sets you up for new opportunities. From being invited to a product launch to the opening day of a restaurant, you'll find new opportunities as an influencer. I received everything from VIP tickets to NFL games to all-expense-paid trips to resorts as incentives to share my experiences with my community.
So what are you waiting for? Pick up your keyboard and start writing today!
Need marketing help to support business growth?
We welcome the opportunity to show you how we can make your marketing SIZZLE with our data-driven, results-oriented marketing strategies.  Sign up for our FREE newsletter, get our FREE guide to creating an awesome website, or contact us for more information on hiring us.
Hausman and Associates, the publisher of MKT Maven, is a full-service marketing agency operating at the intersection of marketing and digital media. Check out our full range of services.