Building an effective SEO (search engine optimization) strategy is more than just picking out keywords and building content to boost online rankings, although these aspects of SEO are very important. An effective SEO strategy requires in-depth knowledge of your customer's journey. By aligning your SEO strategy to every stage of the marketing funnel, you'll generate more conversions.

What is SEO?
SEO is a ranking algorithm used by search engines (like Google and Yahoo) designed to deliver the best content in response to a user's query. The traffic driven to your site as a result of clicks from these search results is called organic traffic and, as you can see in the graphic above, organic traffic represents 50% (on average) of the traffic that visits your website. That means, your SEO strategy is critical for the success of your brand; I mean, who can afford to have 50% less traffic visiting their website?
For today's discussion, I'll focus on Google's search algorithm, since Google represents more than 91% of all online searches. WOW!
Google's algorithm isn't published but, given the importance of SEO strategy for success, experts research how various factors impact your search results by conducting experiments (often called Monte Carlo experiments), tracking website performance across sites, and monitoring the blogs published by key Google executives (including Google's blog targeting developers) for clues regarding potential changes to the algorithm.
In developing your SEO strategy, keep in mind that Google's primary goal is delivering the best results to users — those links that do the best job of answering a user's query. If you provide content that provides user value, you're already halfway done with your SEO efforts. Boiling the algorithm down to its most basic level, we find the following factors exert the greatest impact on your rank:
quality signals like social media engagement, backlinks from other websites (especially those with their own quality signals), time on page, low bounce rate (visiting only a single page during a visit), and domain factors such as age
protecting visitors' privacy and security including offering a secure website (one that uses the HTTPS protocol), displaying a privacy policy, requiring visitors to accept cookies, and secure checkout
user experience factors such as mobile-friendliness, fast load speeds, and easy navigation
keyword factors where there's an exact match between the query and keywords assigned to a particular piece of content, as well as keywords in the domain name.
Inherent in our discussion is the notion that where your content ranks in a search impacts the number of clicks through to your website. Well, that correspondence is well documented, as you can see below.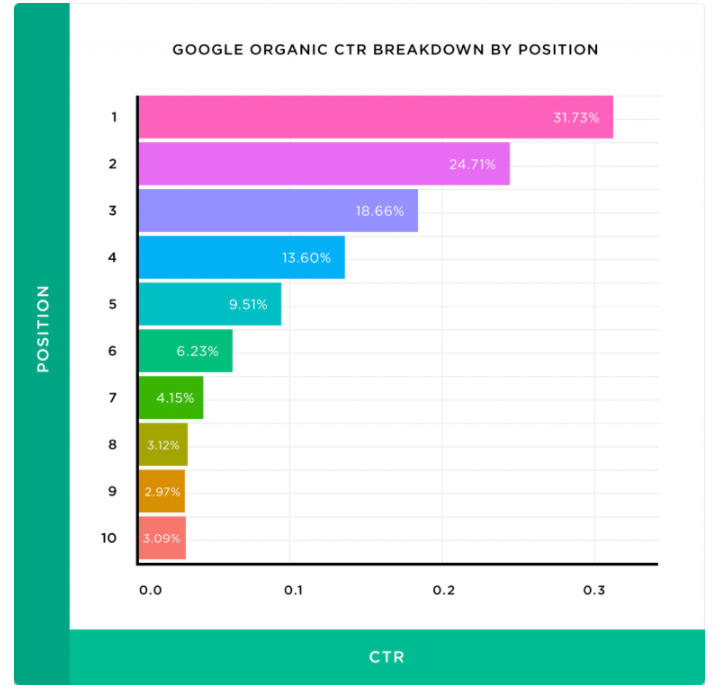 Notice that the number of clicks your content receives drops pretty dramatically. Once your content moves to the second page and beyond, you can expect only a few clicks. Hence, there's an inherent trade-off between using keywords with a large number of searches and keywords that you can easily rank for because the competition is low. For instance, I'm commonly in the top position on search for marketing keywords on the fringe, such as building perceptual maps but find it hard to rank near the top when facing stiff competition for keywords like digital marketing as I face large companies with big marketing budgets.
Using long-tail keywords helps reduce the competition while taking advantage of the increased use of voice search.
However, considering keywords and SEO strategy that matches where your target market is along the conversion funnel offers a great strategy for optimizing clicks as well as converting the traffic that visits your site. So, read on to learn how you can adapt your SEO strategy based on the stage in the conversion funnel.
What is the marketing (conversion) funnel?
The marketing or conversion funnel looks like this: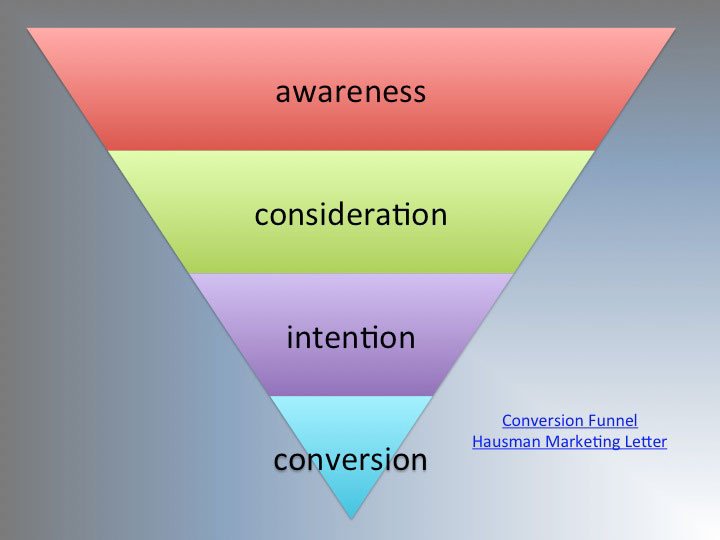 However, in a marketing context, think of the conversion funnel as very leaky. This means that not everything (or everyone) added to the top of the funnel flows through to the bottom (conversion). Instead, people leave the funnel at various points along the way, leaving very few to flow through as customers. Although conversion rate varies by industry, an average conversion rate hovers around 3.9%.
SEO strategy for each stage in the funnel
Most SEO efforts focus on the awareness stage, as this is where prospective customers enter the conversion funnel. Although it's unlikely for visitors to convert during the awareness stage, this stage is critical. If you think about a funnel, the more volume you add to the top of the funnel, the more flows through to the bottom. Your task is to attract as many folks in your target market to your site and keep them there using different SEO marketing tactics.
Once you attract visitors using an SEO strategy, you have other tools to aid in conversion, such as retargeting, but SEO is still important, as we see later in this post.
SEO techniques effective at the awareness stage
In the awareness stage, your main objective is visibility. The Google spider (a code snippet) constantly crawls your website to categorize new content to build a database used when a user makes a query. Here are some tactics to improve visibility:
Step 1: Analyze niche search queries
Analyzing niche search queries help you find which keywords or phrases your audience searches for, taking into consideration personal search history, and geographic location, among other things. However, niche words can set you apart from your competition from the get-go, just like my example earlier of using perceptual maps as a keyword.
If you're a store that sells pajamas, the keyword "pajamas" likely has a lot of competition. Using long-tail keywords, like "pajamas for light sleepers" gives you a better chance to improve your rank when a search matches that keyword.
Similar words, like "blue pajamas" or "checkered pajamas," are close to your seed keyword ("pajama") and give consumers a more accurate description of your product. Related keywords, like "nightgown" or "pjs," may rank higher for your brand depending on your niche.
Step 2: Analyze relevant keywords
Relevant keywords are anything that makes sense for your product. If you don't sell checkered pajamas or the page that the keyword links to doesn't discuss checkered pajamas, remove the keyword. A relevant keyword has to match user intent to gain high-quality traffic.
For example, a customer who wants to shop for a product won't click on a headline with "buy," and customers at the awareness stage won't read a blog that compares two products.
However, short tail keywords have a lot of competition, so using certain relevant keywords is a bad idea unless you're guest posting and building backlinks. Link building agencies like linkbuilder.io can help startups reach a wider audience by building high-DR backlinks.
Step 3: Competitor and landing page keywords
Search for keywords your competition uses and look for weaknesses in their strategy. You may find that a low search volume keyword could offer you a lot of traffic. You can use competitor analysis tools, like WooRank, to gain insight into their SEO strategy.
Keep in mind that keyword placement is as important as the words themselves. You need to tailor your keywords for specific landing pages and products. If your landing page mentions more than one product, divide your keywords into thematic blocks to aid the search engine.
SEO Techniques effective at the consideration stage
When it comes to SEO, keyword research takes up the bulk of your time. That's because keywords attract your target market to your page as well as determine your rank. Now that they're here, you need to keep them interested.
Step 1: Create a content strategy
The right type of content depends on your niche and audience, but either way, you must produce valuable and engaging content on a consistent basis. Create content that encompasses the entire conversion funnel and choose keywords that match the stage. Creating a variety of content keeps visitors coming back to learn more about your brand if they're interested. For instance, adding explainer videos is really great at the consideration stage.
Your blog posts should use internal linking and calls to action that guide readers to the next stage. Your awareness stage posts should link to consideration stage posts, and then to your decision stage posts. However, all of your content should somehow link to your sales page.
Step 2: Optimize your text for queries
The technical aspects of SEO are important, but you can't forget about on-page SEO. Before optimizing the text on your site, ask yourself if it looks appealing, answers visitors' questions, or provides them with a product they need. Once you have these answers, focus on:
Website structure: Do the headings make sense? Can visitors find what they're looking for?
Uniqueness: Does my website stand out from others in my niche?
Volume: Is my text informative and explains topics clearly?
Keyword balance: Do the keywords appear in the text organically?
Since SEO is an ever-evolving process, you need to pay attention when Google updates its requirements. For example, most websites now adapt their content for voice search and an increased emphasis on speed.
Step 3: Make eye-pleasing snippets
Presentation is key, especially when it comes to SEO. Creative and informative snippets (like the one below) can increase the organic clickthrough rate as well as achieve the coveted 0 rank before all other links. Meta descriptions and meta titles can utilize keywords and customer interest by explaining, in as few words as possible, why they should read your blog.
Rich snippets are additional elements, like star ratings, an FAQ section, or product availability, that you can customize using Google's Markup Helper or CMS plugin.
SEO techniques effective at the decision stage
Your keywords may pull in traffic, and your content may cement you as an industry expert, but if your technical features aren't up to snuff your customers leave without converting.
Step 1: Track Core Web Vitals
Google's Core Web Vitals, introduced in 2021, take user experience into account, especially load speed. Each web vital considers how the content is deployed on your site and how quickly it loads. For instance:
Largest Contentful Paint (LCP): Look at how quickly elements are displayed.
First Input Delay (FID): Tracks how long it takes for a page to load.
Cumulative Layout Shift (CLS): Indicates whether the layout shifts as the page loads.
A lean website design ensures your page loads quickly and doesn't shift much. Minimizing Javascript, using thumbnails, compressing images, and rewriting spaghetti code can help you rank high in the Core Web Vitals metric. Plus, these changes will impress your customers.
Step 2: Optimize mobile usage and images
Optimizing your images and mobile-friendliness net significant gains in traffic and trustworthiness. Mobile customers value speed, and compressing the image files on your website can drastically improve your site's load time. Your customers also value convenience, which mobile optimization ensures. Your website must use responsive design (available in many templates) to ensure your content displays appropriately regardless of screen size.  Google expects this and uses it as a ranking factor.
Step 3: Analyze website visitors
Some web pages receive more traffic than others. That's a given, but do you know why specific posts outrank your other content? By tracking your website's analytics, such as page views and KPIs, you gain valuable insight into how your users interact with your website and blog. You even have access to visitor information, like that shown below, to help you optimize performance.
To get a complete picture of your visitor's habits, compare landing page URLs first. This helps you see what pages need work. Then, track KPIs and metrics like average session duration, bounce rate, and sessions. Finally, analyze website keyword conversion rates.
Conclusion
I hope you found this post helpful in generating an SEO strategy designed to optimize performance at each stage in the conversion funnel. If you have questions or suggestions for future posts, please enter them in the comments.
Need marketing help to support business growth?
We welcome the opportunity to show you how we can make your marketing SIZZLE with our data-driven, results-oriented marketing strategies.  Sign up for our FREE newsletter, get our FREE guide to creating an awesome website, or contact us for more information on hiring us.
Hausman and Associates, the publisher of MKT Maven, is a full-service marketing agency operating at the intersection of marketing and digital media. Check out our full range of services.