Brand awareness is the first and the most crucial step in the journey of a user to become a customer. Through brand awareness, users get to know about your services, learn the features and benefits you provide, build attitudes toward your brand, and by increasing brand awareness, you create a successful brand. A small increase of 1% can generate a 50% increase in lead generation. So, generating sales is directly related to brand awareness.
Based on this data, it's easy to see why 89% of marketers claim brand awareness is their number one goal. Even though businesses know how important brand awareness is, many fail to create a solid strategy for reaching a large percentage of their target market. While no one rule works for creating brand awareness for every business in every industry, you should have a few strategies designed to build awareness embedded in your marketing plan.
You can boost brand awareness in two ways:
Create content that resonates with people (pull strategy)
Pitch directly to members of your target market (push strategy)
The first approach is simple–you create awareness by creating content that resonates with your target market and let them reach you. Creating value for your market attracts backlinks to your content from others who help spread your message, achieves engagement on social platforms, and draws organic traffic to your website.
The second way is to reach the market directly with offers, such as email marketing. For instance, using a proposal template to pitch to clients is a great way to get a potential client's attention. You can go through this collection of proposal templates to create customized proposals. Proposals help clients understand why they should choose you.
To add this tactic to your marketing plan, check out these 10 ways you can use to boost awareness using both digital and traditional media.
10 tactics to boost brand awareness
You should choose a combination of the following tactics and see what works best for your brand. Likely, you need to experiment with several combinations of tactics to find what works best for your brand.
1. Use personalized business cards 
You might think that in this day and age of digital marketing, handing out cards to recipients is an outdated way to promote your business. However, that is not the case. A business card, handed at the right occasion helps you expand your in-person network and eventually boost brand awareness.
Here's how you might employ a business card in a way that benefits your business:
It leaves a lasting impression on the recipient
Increases the size and engagement of your network
Helps you make a quick first impression
Well, the perks of using a business card are endless. However, don't forget to make your card as personalized as you can. If you hand over your card to a person at a corporate event or at a casual get-together, the quality and design of the card should create a positive and lasting impression. For instance, if you operate a handyman business, think about crafting a business card that shows a character building something. Make it whimsical and folks will remember you and what you do. If you're a development company, show a snippet of code on your card; bonus if the code actually does something when the recipient enters the code (using an embossed QR code. for instance).
Another key to making a business card work for your brand is to consider how you distribute them. Using every event as a means to see how many cards you can hand out is the WRONG way to use a business card. Instead, focus on having a substantive conversation with an individual and then handing over your card as a natural part of that conversation. Sure, you won't hand out as many business cards but you stand a better chance of the person actually keeping the card and using it later.
So, think of a one-of-its-kind design for your card and print it professionally. You can learn more about business card printing and decide if you would want one for your business.
2. Craft a unique brand identity
Building a unique brand identity goes a long way toward creating brand awareness that translates into action. You might choose a quirky and fun brand image if that is what you think your target market wants and you work in an industry where an extra dose of comedy does well or it helps you stand out from the competition. For instance, check out this ad that defined the Apple brand as a different product than those offered by its competition. This ad not only shows a little lightheartedness, it resonates well with the target market for the brand.
Brand identity, brand image, and brand personality are intimately tied together and transmitting these factors to potential buyers is the real goal of building brand awareness, not just increasing reach. In building a cogent brand image across multiple platforms, you must increase the number of touches (exposures to the brand) through integrated marketing communications.
The exact number of touches required varies across products, markets, and industries. Some experts place the number at 6, while others think a minimum of 8 touches is necessary to result in a lead or sale.
3. Content marketing 
Content marketing is about how you tell your brand's story, reminding customers to buy additional products, building your brand's image, helping consumers understand the benefits of your brand, showing buyers how to get the most from their purchase, building engagement with your community, and lots more. Nowadays, content marketing isn't just about producing content to attract viewers, but, it's about how you make your content personal to your viewers so that it resonates with them.
If you want to use content marketing to boost brand awareness, here are some basic tips to follow:
Know your target audience
Prepare a content strategy across various types of content, including social media, email marketing, a blog, and guest posts
Create a content calendar to ensure you produce content on a consistent basis
Keep it real
Analyze performance data and make changes to the strategy as needed
4. Build trust 
Big brands are successful because of the credibility they earned over time. People not only know about brands like Apple and Nivea, but more importantly, they trust these brands. You can partner with respected brands to leverage the solid trust they developed for your brand or implement strategies like the ones shown below to help build trust in your brand. The aim is to become a brand that people trust, believe in, and want. However, it takes time to develop these beliefs.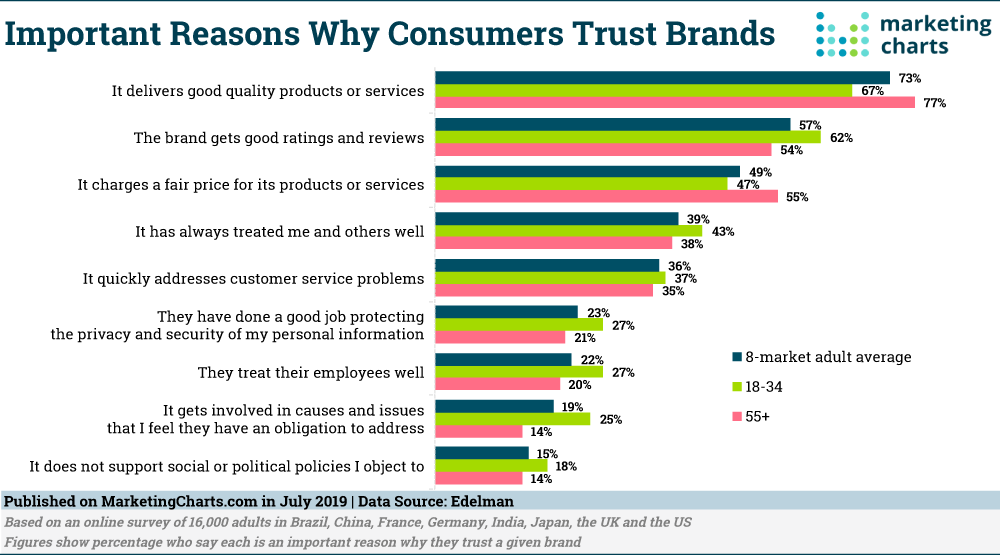 Bound up within tasks designed to build trust with your target market, is the notion of living values important to that market. For instance, note the impact of getting involved in causes your market believes in, treating employees fairly, and other representations of your shared values increase the amount of trust your market has in your brand, especially for younger target markets.
5. Use SEO 
Content marketing isn't simply about creating content, it's about driving traffic to your website or your physical store. When it comes to sending organic traffic (between 51% and 73% of all traffic, depending on industry) to your website, SEO (search engine optimization) is the name of the game. SEO determines the rank of your content so that, when a user enters a query, the search engine delivers content with the highest rank first. Since users commonly choose a link offered near the top of the search results page (as you can see below), showing up near the top brings more traffic to your site.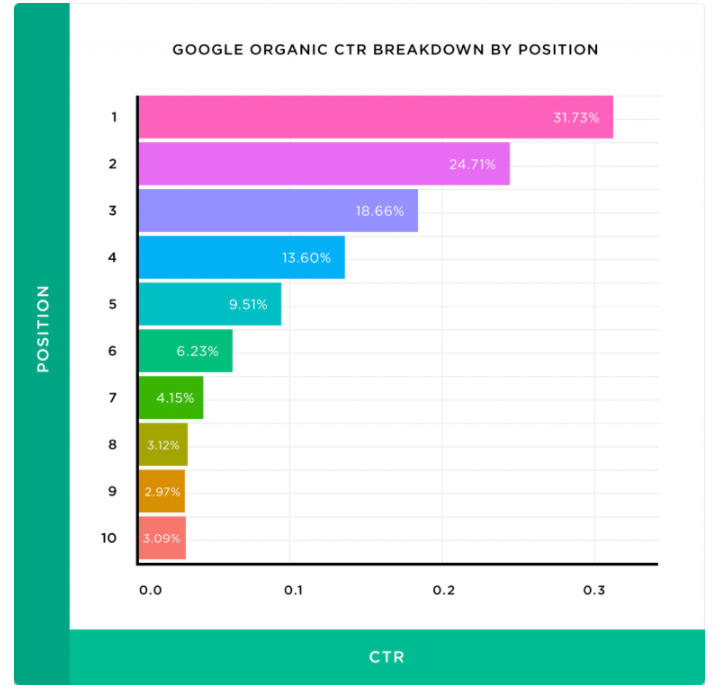 SEO rank is higher when you produce high-quality content that addresses the user's query (user intent). Keywords used to represent your content show which content fits with a user query. Hence, if a user wants to find a local bookstore, you might use keywords like "bookstore in XYZ (location)" or "selling value-priced books in XYZ".
Since Google and other search engines use a robot to crawl content posted online (actually a small piece of Javascript), search engines rely on indicators of quality such as:
backlinks from GetMentioned or other agency that helps you gain high-quality websites under the assumption that other websites don't link to poor-quality content
engagement (likes, comments, shares) on social media using the same assumption
visitor data such as time on site, repeat visits, depth of visit (number of pages/visit), and other data suggesting visitors found what they're looking for
word count and hyperlinks to reputable websites to demonstrate you produce content that's well researched
reputation factors such as using an HTTPS protocol, warning of the use of cookies, domain age, and other factors
Search engines also look at indicators of website quality that deliver a good user experience, such as fast load times, menus, and others.
You can use SEO tools like Ahrefs, Google Search Console, and SEMRush to search for appropriate keywords to include them in your content and help your content rank higher.
6. Try going offline 
Using business cards to promote your brand is one way of marketing your brand online. However, there are many others.
For example, if you own a small business and need to reach potential buyers, one of the best ways to market yourself is to first attract local users and then gradually expand your network through
face-to-face events
a strong presence such as building in a high-traffic location
offering a loyalty program to keep customers coming back
local advertising
attractive window displays
store atmospherics and merchandising that fit your target market
ensuring a safe location with plenty of parking or easy access to mass transit
and much more
7. Use data insights
What does your target market want? How can you give them what they want?
Creating a data-driven marketing strategy is the only way to ensure you see what's happening and learn to adapt your marketing approach over time. As a marketer, you need to know:
How do visitors find your website?
What type of content do viewers enjoy, ie achieves higher clicks and time on site?
Which content do they share to reach new members of the market
What content results in achieving your terminal goals such as generating a lead or sale or acquiring new subscribers
How do visitors navigate through your website, including what actions drive a visit? A visit that converts?
What causes negative actions, such as shopping cart abandonment?
Which hashtags work best for delivering valuable traffic to your website?
And, must more
Unless you commit to a well-considered and consistent program monitoring the metrics across your various marketing efforts, you could be wasting time and money.
8. Influencer marketing 
As seen from the graph above, 69% of marketers preferred to spend on influencer marketing in 2019 because it delivered a high ROI when compared with other marketing tools. By 2022, influencer marketing skyrocketed, especially on Instagram. The reason is quite simple–influencers who build an engaged community comprised of your target market, help spread the word about your brand, impact your brand image, and carry weight with their community when it comes to forming purchase intentions. Hence, Influencer marketing is essentially a digital to of conventional word-of-mouth. It is used by most marketers today since it is a direct and simple way to reach a larger audience.
51% of marketers say influencer marketing helps them with customer acquisition. Not only can you boost your brand awareness through their network but you can also make valuable partnerships to work long-term with influencers.
9. Partner with local brands 
This is one of the best ways to expand your network, especially if you are a local business. Even if you own a mid-sized business, working with other local brands works well since it attracts a local audience. You can partner with local businesses to co-organize seminars, workshops, or other events to boost your brand awareness more. For instance, most towns have consumer events where businesses purchase a table to demonstrate their products. These events attract a ready-made audience that self-selects to see products like the one you sell.
10. Increase video content 
As seen in the graph above, marketers feel that video marketing contributes positively to their marketing strategy, with agreement on this statement rising each year. Viewers today want to know about your brand in the simplest and most digestible way possible. Hence, you should include more video content in your content marketing strategy to boost brand awareness.
Instead of writing a blog post about your service, you can try creating a video of it and even trying audio podcasts. You can invite industry experts to your podcast and interview them. This will improve the credibility of your brand and also increase relationships with other experts in the industry.
Wrapping up tips to boost your company's brand awareness
A strong brand awareness strategy leads to consumer recognition, which then leads to sales.
The article gives you tips to boost brand awareness but which ones work for you depends on your target market and the scope of your business.
If you own a small business, using SEO, influencer marketing, and increasing video content might garner results faster. However, for a mid-sized business, these things might not work as well and you might replace one or more tactics with others that offer more promise.
Need marketing help to support business growth?
We welcome the opportunity to show you how we can make your marketing SIZZLE with our data-driven, results-oriented marketing strategies.  Sign up for our FREE newsletter, get our FREE guide to creating an awesome website, or contact us for more information on hiring us.
Hausman and Associates, the publisher of MKT Maven, is a full-service marketing agency operating at the intersection of marketing and digital media. Check out our full range of services.