Turning a profit using social media, for some, is as elusive and rare as a white rhino. But, it doesn't have to be. Think of social networks as a big party and try to fit in — not be the life of the party. Build relationships, demonstrate your trustworthiness, and offering content that drives leads and nurtures them is the key to making money with social media.
My Infographic, which comes at the end of this post, shows great tools for making money with social media — and other tools for making money online. Many of these tools fit together to create an integrated online marketing strategy to support your online marketing goals better than using individual strategies.
But, you need to go beyond these tools to know HOW to apply them to making money with social media.
Here are 10 tips for making money with social media (notice none of them involve hogging the microphone):
Making money with social media
10. Be authentic
Social media isn't like traditional advertising and it shouldn't look and feel the same. If you have any questions about how digital marketing is different from traditional advertising, I wrote a post to identify differences and show how those differences translate into different strategies.
Social media is a community designed to share comfort, support, information, expertise, and entertainment rather than a channel for spouting advertising. To drive success, you must develop an authentic voice in social media — one that talks like a real person, shares like a real person, and that people can relate to as a real person. Share your foibles, mistakes, sense of humor, and what's going on in your life. Let people backstage to meet your team and provide input on what you're working on.
And, above all, be honest. If you make a mistake, own it, and promise to do better.
9. Don't interrupt
If folks are having fun sharing on social networks, join in. In fact, native advertising works best when it comes to finding success in digital marketing because it fits seamlessly into existing conversations rather than interrupting them. Don't bring the party down by talking about yourself. Have fun with them or create your own fun.
Newer social platforms like TikTok and Instagram which attract younger users are even more sensitive to interruptions by commercial messages than users of older platforms like Facebook and Twitter, where their generally older audiences are more tolerant of advertising. Experts recommend an 80/20 mixture with 80% of your social content consisting of interesting, valuable, entertaining content while only 20% supports your brand.
8. Leave them with something to talk about
Share something interesting — something of value. Social media is definitely a pay-it-forward world and if you don't get that, then hire someone who does. For instance, give away valuable stuff, such as free products, discounts, white papers, videos, or trials. Pick your give-aways so they resonate with your target market(s) (personas) and fit your brand. I share about digital marketing, so I use lead magnets that provide concrete information to boost your digital marketing efforts, other brands might give a free trial of their product as an incentive.
7. Follow your target market(s)
Don't fish where your boat is, fish where the fish are. The same holds true for digital marketing. Be on platforms where your target market(s) hang out, rather than jump on the bandwagon to be on platforms where everyone else is or where you hear about good returns. For instance, Pinterest has a higher percentage of women, TikTok has younger users than probably any other platform, LinkedIn is filled with professionals and students, WeChat is primarily Asian users, and Instagram users are also younger but older than those on TikTok. This infographic is a little old, but many of the demographics remain unchanged, although new social platforms, like TikTok, are now available while others, like Google+, died.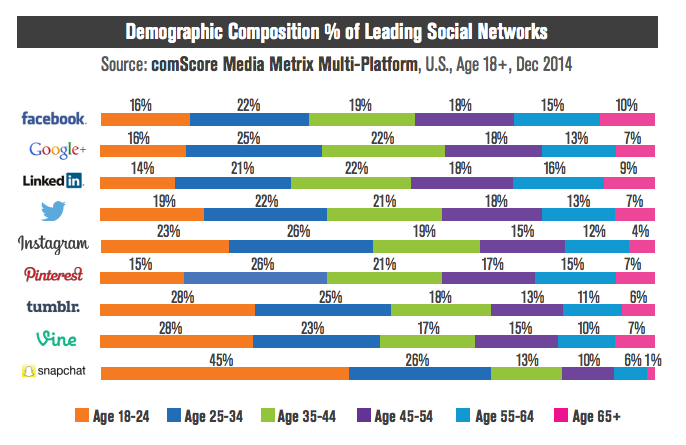 You'll be more successful if you share content on the right platforms and only choose as many platforms as you can keep up with. It's better to work with only 1 or 2 platforms and post to those platforms frequently than to try to create a presence on a bunch of platforms you can't effectively serve.
If the fish aren't biting, move your boat. For instance, I used to get a lot of traffic to my website from Twitter — now, not so much. I still use Twitter, but I now focus on social networks that bring in traffic, especially the kind that will buy from me — my target market. I find Facebook much more valuable, especially my group, which I call my social media marketing tribe. Feel free to join us and share your great content with the group, just remember to share value not spam.
6. Build trust
Trust is a big word… it's important. And trust in marketing is low because for years we've made promises to consumers then failed to meet our obligations. Firms have a lot to do to make up for this.
Earning users' trust isn't so easy. The best way to demonstrate trust is to show how others trust you. Hence, the value of reviews and positive mentions of your brand. You must craft a strategy to gain these reviews and mentions rather than leave it to chance that customers will share their positive interactions with you. Giving customers a little more than they expected is a great way to encourage customers to provide reviews and positive mentions. Another is following up with customers after a purchase to invite reviews. Some companies even hold contests to encourage positive brand mentions.
5. Engage
Engagement is the name of the game in social media. Not only does engagement spread your message, but the shares and likes act as tacit endorsements that convey trust and suitability in your products to generate higher ROI (return on investment), as shown below.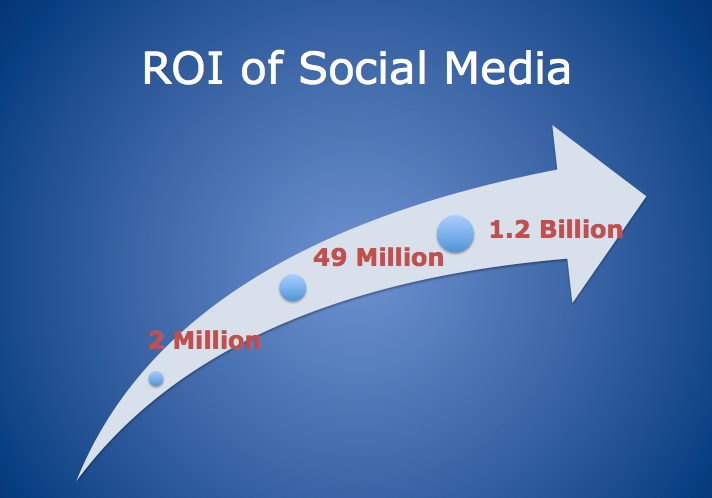 Get your target audience involved with you to build engagement. Ask questions on Facebook. End your blog posts by asking for feedback. Participate in Quora conversations. When users post questions, comments, or complaints about your brand, take time to address these issues. For instance, I once had a student facing being stranded by an impending snowstorm after a job interview, yet the airline wouldn't budge on rules requiring a substantial fee to rebook. She took her complaint to social media, where the airline heard her complaint and fixed the problem. Instead of resulting in a negative, listening, and responding to the customer resulted in a positive that increases trust and positive purchase intentions for all those who saw the interaction.
And, make it easy for your target audience to engage. For instance, I use a plugin allowing visitors to comment using their Facebook profile. The plugin also brings comments from Facebook back to my blog. This increases engagement.
4. Build your community
Don't just pretend to care about your visitors — truly care about them. That means responding quickly when they post a question or concern, as mentioned above. But, also thank them for positive mentions. No one has to provide positive feedback or recommendations, so support their efforts. For instance, Google Analytics retweets sometimes when I share information about the value of their tool. This was much more valuable than a simple thank you as it drove significant traffic to my site, thereby creating value for me in exchange for the value I created for them.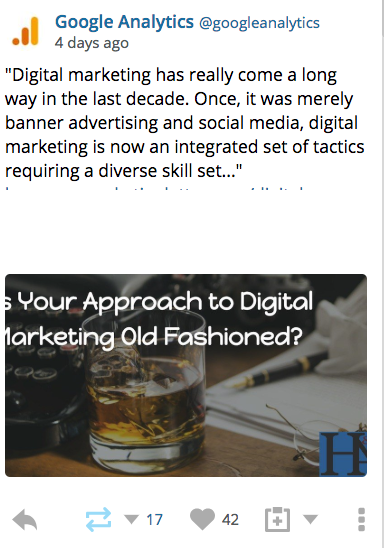 Remember, social media is always on, so plan for responses during the evening and on weekends. Chatbots, powered by AI and ML are perfect for listening on social media as they never take a moment off and save a load of time for your staff.
Building a community means being a good member of that community and helping everybody out.
3. Provide value
Don't think about yourself — think about your community. Why are they engaged with you? What are their pains? How can you help?
I recently met with a client interested in using social media to connect with younger prospects. Yet, they were uncomfortable when I suggested we find out what types of posts might help these prospects, they only wanted to talk about themselves in their social media marketing. FAIL!
2. Plan, plan, plan
You can never plan too much. And, planning isn't done after the first year — you need to constantly update your plan as things change. I commonly suggest to clients that we meet on a monthly basis to review results and plan for the next month's campaign. Putting your social media marketing on autopilot isn't going to optimize your opportunity by making money with social media.
Contingency planning should also be part of your social media marketing plan. Social media marketing is, by its nature, less predictable. You never know when someone is going to say something off the wall or where they're going to choose to say it. You need a contingency plan so when something bad happens, you're ready with a response.
Recently, a local colleague behaved badly at a conference. I wasn't there, so I don't know the details. The important thing is he quickly responded and apologized for his poor behavior before others started complaining about it.
1. Measure, analyze, respond
Social media is great because there's so much information available, but don't get sidetracked with vanity metrics like #s of Fans or Followers. These don't translate well to conversion, so keep your eye on the ball. Assess things related to making money with social media — things like reach, SEO, and conversion. Be sure to assess these metrics in a way that helps you focus your efforts on creating more content that performs well.
Don't bury your head in the sand. Listen. It's important, as mentioned above, the listen and respond to both positive and negative comments and answer questions quickly.
Using these tools
Notice that many of these tools integrate together and reinforce each other. Cool. Integration is really the name of the game.
Need marketing help to support business growth?
We welcome the opportunity to show you how we can make your marketing SIZZLE with our data-driven, results-oriented marketing strategies.  Sign up for our FREE newsletter, get our FREE guide to creating an awesome website, or contact us for more information on hiring us.
Hausman and Associates, the publisher of MKT Maven, is a full-service marketing agency operating at the intersection of marketing and digital media. Check out our full range of services.