Are you looking for ways to take your small business to the next level? Unfortunately, traditional marketing methods like TV and radio are costly and losing their effectiveness, especially for small businesses without a huge marketing budget. As you can see below, the cost to reach your target market is much higher in traditional versus digital channels. And it's really hard to assess the performance of these traditional marketing tactics so you don't know how to improve performance. Luckily, there are plenty of digital marketing tactics available to help you reach your target audience and grow your business that fits nicely into your budget.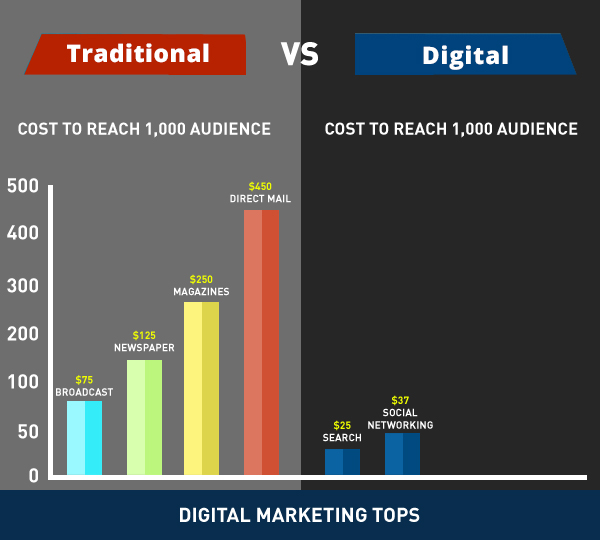 In this article, we'll look at 10 marketing tactics that can help you wake up your business and drive more leads and sales. From content marketing and SEO to influencer marketing and email marketing, there are many options to choose from. These marketing tactics help you increase brand awareness, build credibility, and drive more traffic to your website; ultimately resulting in higher conversion rates.
So, if you're looking for creative ways to take your small business to the next level, read on and get ready to take your business to make your business rock.
First, what is marketing?
According to the AMA (American Marketing Association),
Marketing is the activity, institutions, and processes for creating, communicating, delivering, and exchanging offerings that have value.
Thus, marketing is so much more than advertising. That means you must get ALL your marketing ducks in a row before you worry about the communication (advertising and selling) aspects of your business. If you want to learn more about these important aspects of marketing, check out my post on the definition of marketing.
Here we'll focus primarily on the advertising portion of marketing. Advertising creates demand for the business's products by emphasizing the value proposition offered by them. Advertising demonstrates how the product solves a consumer problem (consumers buy solutions, not products), the advantages of buying the firm's products over those offered by competitors, and builds a community around the brand's products to encourage others to make a purchase. Advertising also reminds customers why they chose the brand and invite them to make additional purchases. Finally, advertising supports customer satisfaction by suggesting new product uses, demonstrating appropriate ways to get the most out of a purchase, and reducing cognitive dissonance.
Let's get into the 10 types of marketing that skyrocket your small business performance.
10 Marketing tactics to drive sales
1. Content Marketing
Content marketing is one of the best marketing tactics to drive leads and sales. Instead of spending a lot of time, money, and resources on advertising, focus your efforts on creating and publishing blog posts, videos, social media posts, email marketing messages, and other types of content that promote your brand and build a community around it. This strategy is especially useful if you're trying to build brand awareness or attract new customers. Use content marketing to educate your target audience, solve their problems, or provide advice on relevant topics. By creating high-quality content with great copywriting that is useful, you help your audience discover and remember your brand.
Content marketing not only works to attract new prospects, but it's also critical for driving visitors toward conversion by offering reasons to buy the product, answering questions, and helping visitors navigate the conversion process (see below). Content leaders see almost 8X more website traffic and 6X higher conversion than marketers who don't produce valuable content on a consistent basis.
To produce content on a consistent basis, consider using tools that make it easier. For instance, ChatGPT is an AI (artificial intelligence) that scans the internet for content on a desired topic and then creates content (text and images) of the desired length. You NEVER want to simply copy and paste this content into your blog, as you might get a penalty from search engines and, sometimes, the content isn't totally accurate. But, this AI offers a great solution for a first draft.
You should also create a content calendar with ideas for a month of posts along with possible keywords (we'll discuss more on this below), resources you might want such as images and links, and the target audience for the content.
A marketing automation tool, like Buffer, reduces your efforts by letting you schedule content updates and automatically post them to your desired platform. Automation tools also help you monitor performance across platforms.
2. SEO
Search engine optimization (SEO) is a critical marketing tactic for businesses seeking to improve awareness and conversion online. SEO uses tactics based on search engine algorithms designed to rank content that matches a user's search to deliver the most helpful results first. Since users commonly choose links near the top of the search results, SEO helps people find your website when their query matches your content.
Key elements of the ranking algorithm for Google (the big tuna when it comes to search traffic) are:
high-quality content published on a consistent basis
social media engagement (likes, shares, comments)
backlinks from high-quality websites
a great user experience
social signals of quality such as time on site, repeat visits, etc
keywords that match user intent
Here's an image based on experiments that indicates the relative importance of top ranking factors on your rank (Google doesn't publish this data).
Whether it's a specific product, a particular service, or information about your business, content determines the SEO value of your page. Using effective SEO strategies is essential if you want to rank high on Google and other search engines. Depending on your niche and chosen keywords, you may need to do some research and/or hire a professional to help you get started. There are lots of guides, tutorials, and other resources available to help with this process. many you can find on this website.
3. Paid advertising
Paid advertising, also known as paid marketing, is advertising that a business pays to place on a media channel, such as a newspaper or a magazine. Online advertising options include PPC (pay-per-click) such as Google Ads, display ads on websites like the one at the bottom of this page, and social media advertising, including on YouTube.
As you saw in the image at the top of this page, the costs vary greatly based on the media used, with digital media representing value over traditional channels. In traditional media channels, you pay a quoted price and the channel carries your ad. In digital channels, you only pay for the ad when a user clicks on it. Another advantage of digital advertising is the ability to choose targeted users, thus increasing the likelihood of getting a conversion versus advertising indiscriminately to a broad segment based on characteristics that aren't often important to your target market.
Most good ad networks also have an analytics feature that displays how many people saw your ad, where they saw it, whether they ended up clicking it, and the cost per click. You then have very useful information to help you improve your ad performance over time. By linking your advertising to Google Analytics for your Google Ads or using tagging in other types of online advertising, you can track the click all the way through your website from the first click to the last click. This is additional information you can use to improve performance. Hence, if a particular ad generates a higher than average conversion rate, you know to continue that ad over others or to produce similar ads in the future.
4. Social media marketing
Social media is an extremely useful marketing strategy for businesses of all sizes. Unlike traditional marketing methods, social media isn't limited by geography or time. This makes it a great way to connect with your target market and grow your brand. There are a number of social networks you can use to get your business noticed. Popular options include Facebook, Twitter, Pinterest, YouTube, Instagram, TikTok, and LinkedIn. However, it's important to remember that social media is a long-term strategy, as are most digital marketing tactics (except advertising), so don't expect results overnight.
The key to social media marketing is producing content that resonates with your target market on a schedule that matches the norms for that platform (see below). Content should reflect the brand's personality, show the brand in a positive light, and engage your market. Don't post overly formal content (it shouldn't look like a press release), post short content, use images to attract attention, and ask questions to engage users. As you can see, social media marketing is time-consuming, if done right, so you may want to choose one or two networks to focus on initially and expand that as you have more bandwidth. Choose networks that represent where your target market spends its time.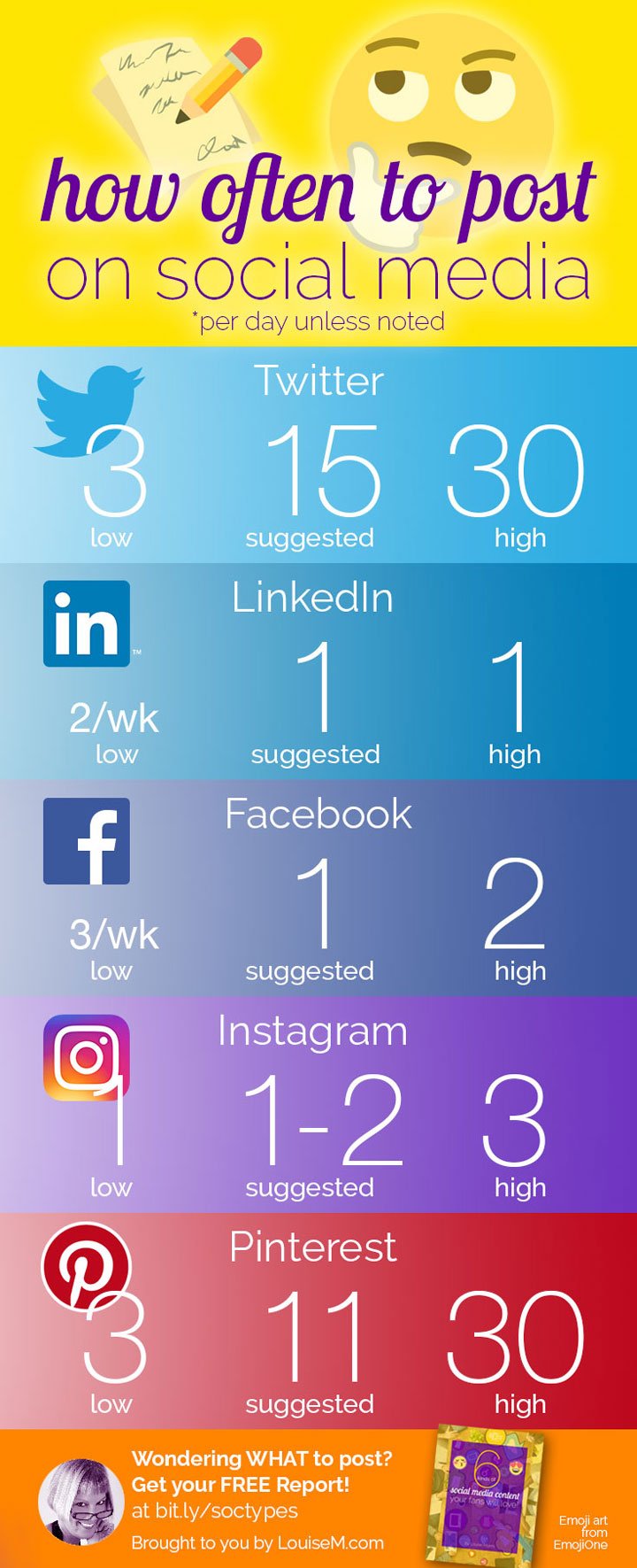 5. Influencer marketing
For many small businesses, influencer marketing is their ticket to growth. In this strategy, a micro-celebrity or other user with a significant following shares your products or promotes your brand on their social media. Some influencers charge a lot of money in exchange for a brand mention while others, with smaller followings, might promote your brand in exchange for free products or another type of barter. One of the easiest ways to find influencers is through online directories like Tags and Yext.
Choose an influencer that fits your brand and its values. The last thing you want is an influencer promoting your brand and then displaying something your community finds offensive. For instance, PewDiePie made millions promoting brands on YouTube until he posted anti-Semetic rhetoric that caused brands to drop him like a hot potato. But, the damage to the brand reputation was already done. Also, look for influencers with more engagement, as you'll see better results than choosing an influencer with a larger following but less engagement.
6. Email marketing
Email marketing has long been considered one of small businesses' most effective marketing tactics, as you can see below. According to a report by eMarketer, nearly 65% of consumers open emails from companies they know. Moreover, this strategy is relatively inexpensive. Most estimates put the cost of acquiring a single lead through email marketing at just a few cents.
Email marketing is a two-pronged strategy. You must first collect subscribers as it's illegal to email users who didn't sign up to get information from you in both the US and EU. That means putting a subscription form everywhere, making it easy to subscribe by only collecting the least amount of information necessary for success, and offering a lead magnet such as an ebook or access to a trial version of your product in exchange for those willing to subscribe.
The second prong is sending email messages. To ensure your emails get opened and read, you want to carefully craft your subject lines, incorporate images, and send targeted messages based on a subscriber's wants. Finding the right timing for your messages takes a little experimentation as sending them too frequently encourages members to unsubscribe while sending too infrequently fails to generate the returns you want. Tracking click-through rates (CTR) and following those clicks as they traverse your website helps you optimize results.
It's a good idea to write emails that are tailored to your subscribers by segmenting your list. You might contact an ecommerce email marketing agency for professional help to get this marketing tactic right.
7. Referral marketing
This strategy allows you to monetize your relationships with existing customers, whether they're friends, family members, or existing business relationships. With referral marketing, you ask a customer to share your product with a friend who may also be interested in buying your products. Once a customer shares your link with a friend, you get a commission from the friend's purchase as long as you have a marked-up product page. To encourage more people to join your program, you can offer incentives like free products or other discounts.
8. Video marketing
Video marketing isn't so much a marketing tactic as a type of content marketing but the growth in video viewing by consumers makes it worthwhile to mention techniques associated with producing video. While it used to be that businesses relied more heavily on print marketing, the rise of digital media and changing consumer habits shifted the focus to video. Technology also played a part in the rise of video marketing as mobile bandwidth grew, they became faster, and mobile social media channels like TikTok and Instagram Reels expanded their user base.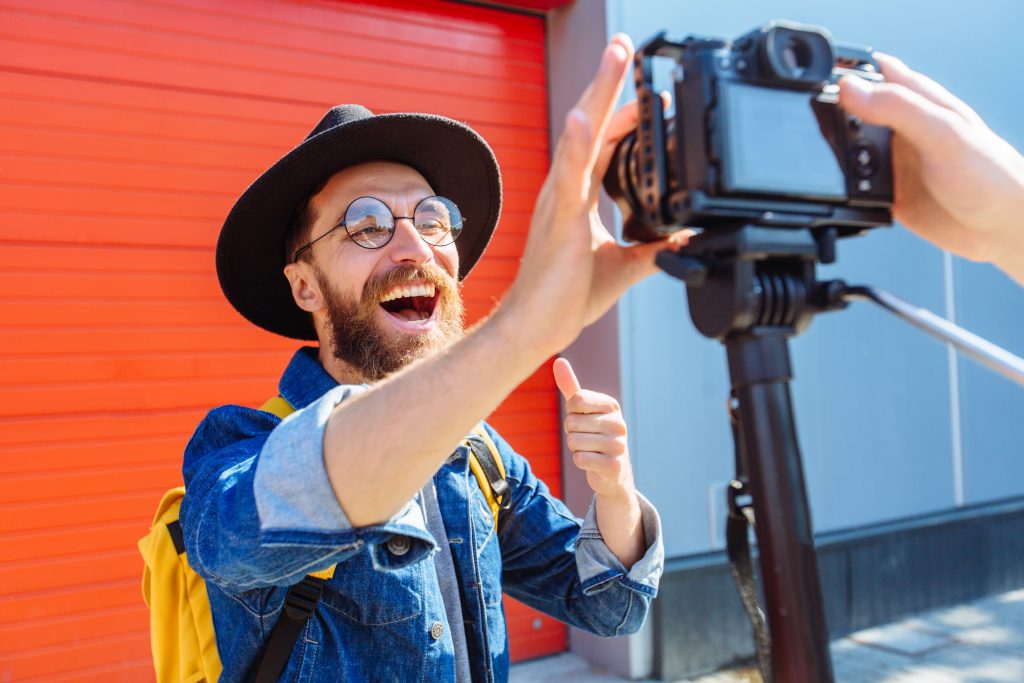 Video is a great way to communicate with your target audience. And it's a low-cost and effective way to build brand recognition since you can create videos with a few inexpensive tools like a smartphone, some lighting, and a nice background. For something a little fancier, you can buy an inexpensive video camera, a tripod, more lighting, a greenscreen, and invest in video editing software like Adobe Premier Pro.
To make your video marketing effective, you'll want to choose a topic that's relevant to your brand and audience. It's also a good idea to include a call-to-action in your video so that your audience knows what to do after watching it.
9. Networking and community building
Finding new customers and nurturing leads takes networking and community building. Networking is a great way to make connections with other businesses and other entrepreneurs in your industry, as well as with customers and prospects. Your network of industry-related people can help you find leads, set up business meetings, and find new partners. Plus, you can use these connections to boost your sales and grow your business even more. Building your own community is another excellent way to drive traffic to your site and increase sales.
10. Public relations
This strategy allows you to tell your story to the media and community in a positive and helpful way. Public relation is a strategy that involves generating media coverage for your brand and your business. With PR, you can create a press release that is distributed to journalists and bloggers who write about your industry. PR isn't a marketing strategy, per se, but it's one of the most important strategies to have in place. In fact, research suggests that 70% of consumers say they make purchasing decisions based on information they read in the media. When you work with a PR agency to generate media coverage for your brand, you're essentially leveraging the power of advertising.
The goal of PR is to get your name, logo, and products in front of as many people as possible. With the right strategy and a little bit of effort, you can use PR to get your business in front of millions of consumers.
A great way to gain PR and build your community is to support organizations demonstrating your values. Since consumers increasingly choose brands that espouse their values (see below) and media outlets love to feature companies doing good for the community, this is one of the marketing tactics you should immediately add.
What's next for your company?
Using successful marketing tactics that support your small business isn't a one-time event. Instead, it's an ongoing process. With each new customer or piece of content that you create, you build on what you've done before to take your business to the next level.
Not only is it not a one-time event, but marketing is something that requires numerous strategies in tandem to get results. So the next step for your company is deciding the best marketing tactics for your business to start right away and which might wait for more resources.
Conclusion
Marketing is a crucial part of growing any business. And many small businesses end up falling short in the area of marketing because they don't know what to do or don't allocate sufficient resources to this important functional area. In fact, many companies don't even know where to start to optimize their marketing. Fortunately, there are a number of excellent marketing tactics you can use to help bring in more leads and sales.
These marketing tactics should include some combination of content marketing, networking, public relations, and more. These marketing tactics can help you build a stronger brand, reach your target market, and generate more leads and sales. Once you have a better understanding of what effective marketing looks like, it will be easier for you to take your business to the next level.
Need marketing help to support business growth?
We welcome the opportunity to show you how we can make your marketing SIZZLE with our data-driven, results-oriented marketing strategies.  Sign up for our FREE newsletter, get our FREE guide to creating an awesome website, or contact us for more information on hiring us.
Hausman and Associates, the publisher of MKT Maven, is a full-service marketing agency operating at the intersection of marketing and digital media. Check out our full range of services.