In today's digital age, email marketing remains an incredibly effective way for businesses to reach and engage their customers. SaaS (Software as a Service) companies, in particular, can benefit from email marketing as a means to promote their products and services, educate their audience, and nurture leads into paying customers. Yet, putting together a successful email marketing campaign is challenging, especially for small SaaS companies. In this post, we provide some great email marketing examples to help SaaS companies deliver on the ROI potential of email marketing like those you can see in the graphic below.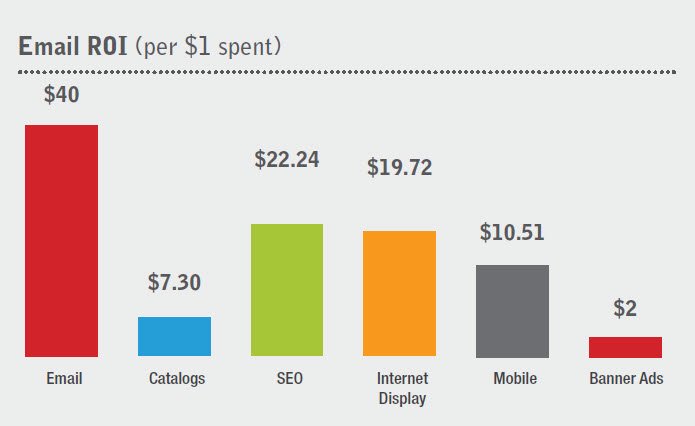 This article will review ten exceptionally great SaaS email marketing examples and analyze what makes them effective. By looking at them, you will get inspiration for your own email marketing campaigns and improve the effectiveness of your communication with your audience. Better still, you can work with a professional in SaaS marketing such as Rocket SaaS to plan and implement effective email marketing campaigns. If you need other SaaS programs, such as SEO, consider AUQ.
Creating an email marketing program
Email marketing, as shown above, has the highest ROI of any of the other digital marketing tactics included in the list. Part of that comes from low costs associated with email marketing but part comes from the high return possible from email marketing, as you'll see in the email marketing examples discussed below.
Email marketing is a two-pronged strategy for any business. First, you need to acquire subscribers to your list because regulations make it impossible to buy, borrow, or rent the lists created by other companies, a practice common in snail mail marketing. Email marketing requires that subscribers opt-in to receive content from a company. You can create a subscriber list through the following:
Adding existing customers to a list and then adding new customers over time
Using a lead magnet such as an ebook or webinar to collect subscribers
Hosting in-person events such as a product launch to acquire subscribers
Host a subscriber form on your website and social media profiles with a great offer to subscribers
Only collect a minimal amount of information on subscription forms to make it easy to subscribe
Use QR codes to take prospective subscribers to your form from places where including a link is cumbersome, such as a flyer
Next, you must craft periodic messages to subscribers to generate conversions. Achieving high open rates (and click rates) among subscribers is harder than ever before, especially for users who employ tools like Outlook (from Microsoft), as these tools segregate promotional and social content into separate folders that many users never open. That's why average open rates declined in 2020 (as you can see below) and continued a slight decline. This makes a marketer's job harder but it doesn't mean you should drop email marketing from your toolbox.
Here are some suggestions for getting the most out of your messages:
segment the subscriber list so you can personalize content for the interests of subscribers
optimize your subject line to encourage subscribers to open the message, including emojis and emotional words in the subject line. Keep it short with 6 – 10 words.
don't send out too many or too few messages. The first will overwhelm subscribers while the second interferes with developing a community around your content.
ensure the content included in your message provides value and isn't overly promotional
send your email at the right time for your target market. Most messages are opened soon after they're sent with the prime day being Tues and the prime time around 3 pm for improving open rates [source]
Email marketing examples
Dropbox – Welcome email
Dropbox is a cloud storage and file-sharing company that built a massive user base through word-of-mouth marketing and referrals. As a new user, you are greeted with a welcome email that immediately starts building trust and setting expectations. The email is among the top SaaS email marketing examples because it is personalized with the user's name and includes a clear call-to-action. The email also includes a short video explaining the benefits of Dropbox and how it works, which helps new users quickly understand the value of the product.
Most email companies offer the ability to send a welcome email. You can determine the lag time between subscribing and sending the welcome message, apply segmentation options, and include the subscriber's name in the subject line easily.
Grammarly – Onboarding email series
Grammarly is a writing enhancement tool that helps users improve their grammar, spelling, and writing style. New users are greeted with a series of onboarding emails that introduce them to the product and its features. The first email in the series explains the benefits of Grammarly and how it works. The second email showcases some of the features and tools that are available to you such as the grammar checker, spelling checker, and plagiarism checker. The third email prompts you to start using the product by offering a discount on a premium subscription.
Again, many email companies offer this option to users.
HubSpot – Educational email series
HubSpot is a marketing, sales, and customer service platform that helps businesses attract, engage, and delight customers. As a subscriber to their email list, you may receive an educational email series that teaches you about inbound marketing, a methodology developed by HubSpot. The email series is on the list of SaaS email marketing examples because they offer lessons that teach you about the principles of inbound marketing. Each lesson includes a call to action to learn more and take the next step.
Rather than an onboarding series, this option is a standard type of email sent to subscribers. Segmentation allows Hubspot (and your company) to send the right type of educational content based on the interests of a particular subscriber group.
Asana – Product update email
Asana is another SaaS project management and teamwork platform that helps teams organize, track, and complete their work. As a user, you may receive product update emails that inform you of new features and improvements to the product. The Asana email strategy features on the list of great SaaS email marketing examples for their effectiveness through an in-depth explanation of what the feature is, how it works, and how it can benefit users. It also includes a call to action.
Intercom – Customer success story email
Intercom is a customer messaging platform that helps businesses communicate with their customers and provide support. As a user, you may receive customer success story emails that showcase how other businesses are using Intercom to improve their customer communication and support.
One email tells the story of how Allbirds used Intercom to improve their customer communication and reduce the time their team spent on support. The email also includes quotes from the Allbirds team and a link to a case study that provides more details.
Slack – Feature announcement email
Slack is a team communication platform that helps teams stay organized and connected. As a user, you may receive feature announcement emails that inform you of new and improved features.
One example of a great feature announcement email from Slack is their announcement of a new feature called Slack Connect. As one of the greatest SaaS email marketing examples, it explains what the app is all about and the benefits for users. It also includes a video tutorial that shows you how to use the features and a call to action to learn more.
Mailchimp – Industry insights email
Mailchimp is an email marketing platform that helps businesses create, send, and track email campaigns. They send industry insights emails that provide valuable information and tips for your industry.
Their email includes a link to a report that provides detailed data and analysis on email marketing trends in the retail industry along with tips for how retailers can improve their email marketing efforts.
Airtable – Product education email
Airtable is a collaborative project management and organization platform that combines the features of a database, spreadsheet, and kanban board. New and old users receive product education emails that teach about different features and ways to use the product.
Their approach is among the greatest SaaS email marketing examples that include a video tutorial showing you how to use the calendar feature along with tips and best practices for getting the most out of it.
Zendesk – Customer appreciation email
Zendesk is a customer service platform that helps businesses provide support to their customers. You may receive customer appreciation emails that show Zendesk's gratitude for your business and offer helpful resources and support.
Zendesk's "Thank You" email includes a personalized message thanking the user for their business, a link to helpful resources, and an invitation to join their customer community. It is among the SaaS email marketing examples because of its personalized and customer focus approach.
Calendly – Event reminder email
Calendly is a scheduling and appointment scheduling platform that helps businesses and individuals schedule meetings and events. You will receive event reminder emails that remind you of upcoming events and meetings.
Their reminder email shows the event details such as the date, time, location, and attendees. If you are looking for one of the greatest SaaS email marketing examples, choose this one and check how it includes a link to the event page and a call to action to add the event to your calendar.
Conclusion
By looking at these great SaaS email marketing examples, we can learn what works and get ideas and inspiration for our own campaigns.
Some key takeaways from the examples above include personalization, clear calls-to-action, video tutorials, customer success stories, industry insights, product education, customer appreciation, and event reminders.
Need marketing help to support business growth?
We welcome the opportunity to show you how we can make your marketing SIZZLE with our data-driven, results-oriented marketing strategies.  Sign up for our FREE newsletter, get our FREE guide to creating an awesome website, or contact us for more information on hiring us.
Hausman and Associates, the publisher of MKT Maven, is a full-service marketing agency operating at the intersection of marketing and digital media. Check out our full range of services.