Optimizing your online workflow is an important way to become more efficient, productive, and meet your goals. Optimizing your online workflow also results in better coordination and less wasted effort. A sluggish workflow not only reduces productivity and increases expenses but can disillusion workers leading to higher turnover rates.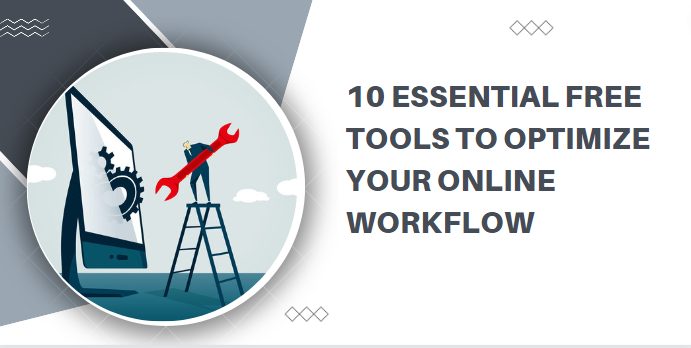 Whether you're collaborating with clients worldwide or managing your content creation process, streamlining your online workflow is crucial. Fortunately, a wealth of free tools is at your disposal to streamline online workflow without breaking the bank. They can help you get more done without wasting time, taking your business to new heights of success.
In this comprehensive guide, we'll take an in-depth look at ten essential tools to improve your online workflow and explore how each can revolutionize and optimize your daily tasks. So, without any further ado, let's get started!
10 tools to optimize your online workflow
A few caveats before we hop into these wonderful tools. First, while they offer a free version, often this version lacks key features that make them truly great. Some limit the number or type of tasks you can do on the platform while others limit who can access the platform. Second, in most cases, the full-featured tools are much easier to use than the free version. Finally, some tools require so much time to set up that it feels like a risk to even start the process with no guarantee that the tool will fill your needs.
As a marketing tool, offering a free version of the tool represents some risk as users might find fault with the limited free version and reject your tool altogether. A better option might be to offer a free trial of the full version to allow users to experience the value of your tool without limits, although some software, such as Salesforce, require such an extensive setup that I would never recommend doing a trial. The same is true of Adobe Creative Cloud, where the trial is only 7 days, resulting in more frustration as the software, while powerful, is complicated and involves an extensive learning curve.
1. Paraphrasetool.ai – improving content quality with AI
Effective content often involves revising and rephrasing. paraphrasetool.ai, an AI-powered online paraphrasing tool, simplifies this task by providing a quick and efficient way to generate unique content. This is especially important when the first draft of your content is generated by another AI platform, such as ChatGPT.
It significantly reduces the time and effort spent on content creation, enhancing productivity. Its intuitive interface and rapid results make it an invaluable resource for writers striving for originality. This resource is wonderful for those seeking to generate content for diverse audiences. You just need to enter the source material and create as many text variants as you want without worrying about plagiarism.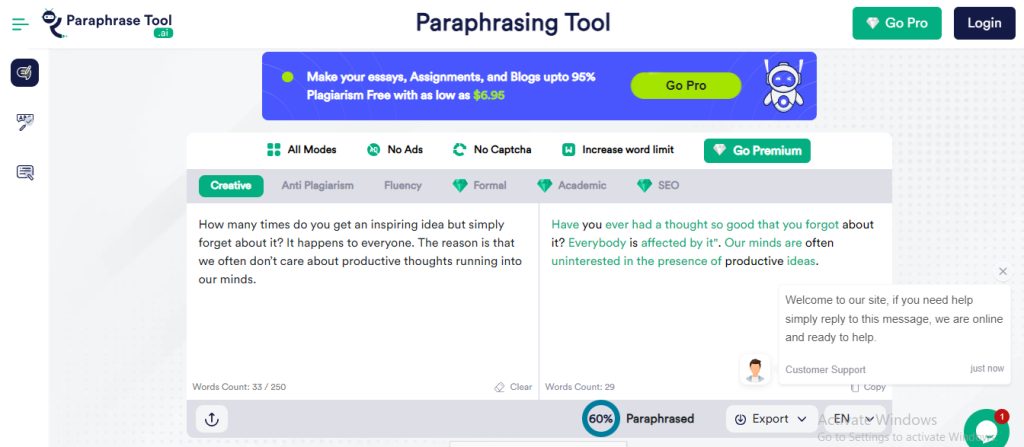 Online notepad – crafting and organizing ideas
How many times do you get an inspiring idea but simply forget about it? It happens to everyone, especially when a thought occurs to you in the middle of the night or first thing in the morning. Some folks keep a notepad by their beds or next to the shower to capture these random ideas. Other times, a great idea pops into your head when you're in the middle of something and you fret about interrupting your work and losing productivity.
However, the creative process begins with organizing your thoughts and ideas. Online Notepad offers a feature-rich text editor that lets you jot down notes, create article outlines, brainstorm, and draft sections of your work. Keep it handy on your mobile so you can quickly jot down ideas without disrupting the flow and later organize ideas to weed out the ones you need to follow up on.
The ability to take notes from anywhere with an internet connection ensures that no brilliant idea is lost and your creative process remains seamless.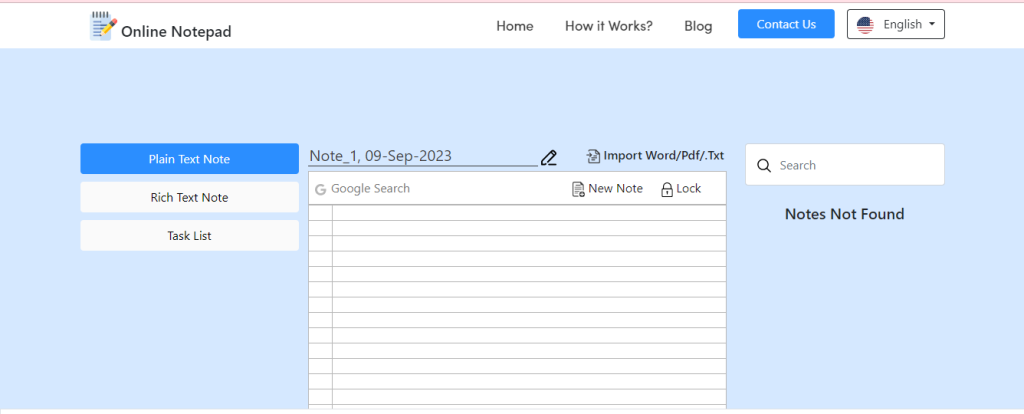 3. FB Video Downloader – adding multimedia to your device
Incorporating multimedia content into your articles can boost engagement. FB video downloader simplifies gathering video material from Facebook, allowing you to include captivating visuals in your articles. This tool empowers you to diversify your content and make it more appealing to your audience, ultimately optimizing the impact of your work.
You can download stories, reels, and Facebook feed videos easily. All you have to do is copy the video URL you wish to download, visit FB video downloader, paste the URL, and download the video in your desired quality (SD or HD). It's a great resource for people who want to download FB videos without wasting time.

4. Mergepdf – handling PDF documents with ease
Dealing with PDF documents is a common task for writers. If you own the paid version of Adobe, you have a full-function editor that allows you to edit, merge, reorganize, and sign documents with ease. However, Adobe is expensive and if you don't need to edit PDFs all the time, it's overkill. Merge pdf is a versatile online PDF merger tool that allows you to combine multiple PDF documents into a single file seamlessly. Whether you're merging research papers, compiling reference materials, or creating comprehensive reports, Mergepdf streamlines the process, making it easier to manage your resources efficiently.
The tool is free to use and supports batch processing. That means you can combine as many PDFs as you want without being forced into a paid subscription.

5. Todoist – mastering time management
Effective time management is a writer's best friend, especially when juggling multiple assignments. Todoist is a robust online tool that empowers you to create daily schedules and to-do lists.
By centralizing your tasks and deadlines, Todoist ensures you stay on top of your work, reducing stress and significantly enhancing your overall productivity.
It's a simple online solution for those who always miss out on important tasks. Todoist makes sure you stay on track and achieve all pending tasks.
6. Dropbox – universal content accessibility
Accessing your work and research materials from any device is essential for a seamless workflow, especially when it involves multiple collaborators. I remember in my Ph.D. program, I was working with a faculty member on some research, and both of us revised the documents on our own devices. Of course, the internet was in its infancy then but we ended up with so many versions of the document it was nearly hopeless to find the most recent version or to combine our efforts effectively. Dropbox provides a reliable online cloud storage service that allows you to store and access your content universally. Other options include Google Drive. Both are free with limitations on storage amounts.
This ensures that your resources are always at your fingertips, regardless of your location or device. If you keep traveling from one place to another or work with colleagues, this is the right tool for you.

7. Slack – effortless communication and collaboration
Effective communication is the hub of successful collaborations with clients and team members. Slack is a versatile tool renowned for its internal communications and task assignment prowess. Its user-friendly interface, channels, and direct messaging capabilities make it a go-to platform for efficient team collaboration, fostering productive interactions.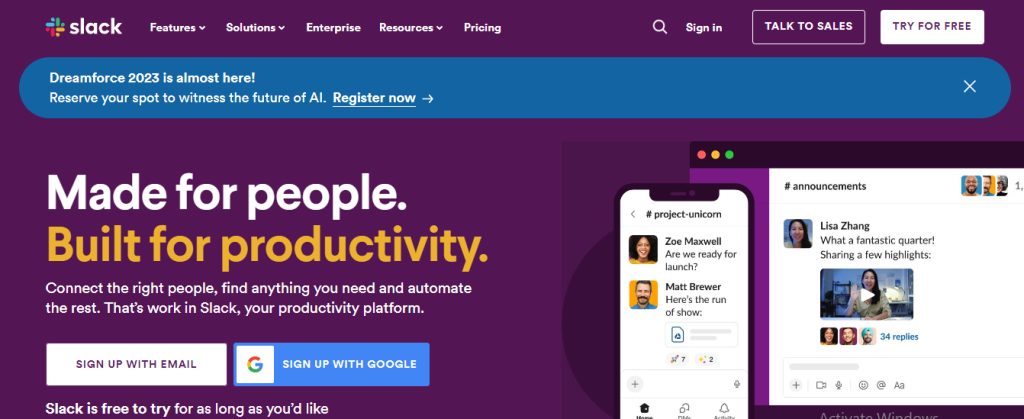 8. Zoom – revolutionizing online meetings
Virtual meetings are essential for business and entrepreneurial endeavors in the digital age. Online meetings allow workers remote opportunities, which many workers, especially younger ones, seek. This makes it easier to hire the best people and keep them. It also allows a distributed workforce that translates into lower costs (workers in low-wage countries often require less salary and workers who can work from low-cost regions will settle for lower salaries than their counterparts in high-cost regions like San Fransisco and New York). A distributed workforce is also valuable in a global marketplace since workers are embedded in multiple cultures to create products that appeal to consumers in those areas.
Virtual sales calls mean your salesforce is more productive and generates much lower costs as they don't face long and expensive travel to reach customers.
Zoom is a comprehensive video conferencing tool that facilitates various online conversations, including video calls, webinars, and virtual meetings. Zoom brings a slew of integrations and features that you can use to make the most of your online video conversations. The free version does restrict the length of meetings and doesn't offer some advanced features but it's perfect for the casual user.
Its simplicity and reliability are paramount, ensuring you can connect with clients, team members, and customers with internet access seamlessly.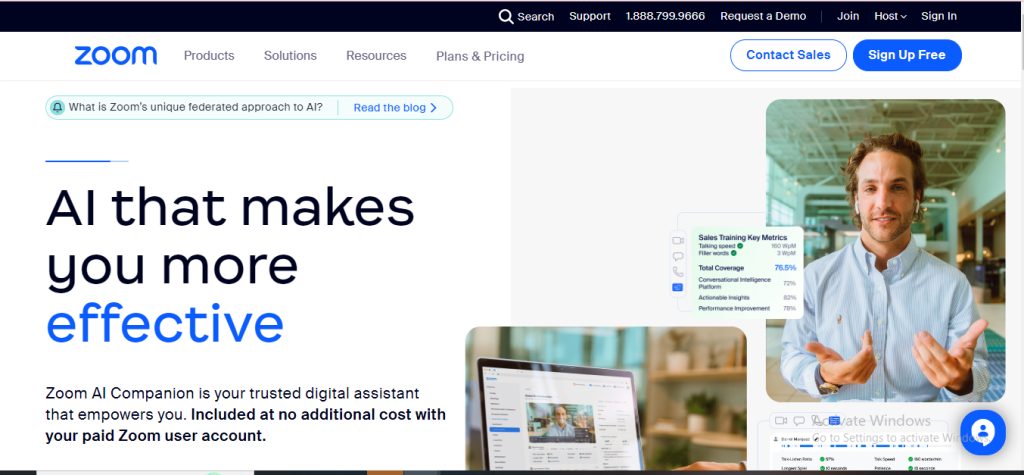 9. Hootsuite – managing your social media presence
Maintaining an active and engaging social media presence is crucial for writers involved in content marketing. Hootsuite is a powerful social media management tool that streamlines the scheduling and posting of social media content. [Please note, Hootsuite no longer offers a free version]. Instead, you might try Buffer, which offers a free version that allows posts to three social networks and doesn't provide analytics.
A critical aspect of success in social media is sticking to a consistent posting schedule. For most social platforms, that means generating fresh content every day while X (formerly Twitter) requires multiple posts per day. That's a lot of effort and time. Social media management tools make your task easier by allowing you to schedule posts to all your platforms from a single tool, which means you can schedule a month's worth of posts in a single afternoon thus freeing you up from posting at specific times (the software recommends optimal posting times). Instead of interrupting your day multiple times to post content, you can simply check in with your social media when you have time during the day to see what's happening and respond to comments.
Brand Mentions does some tasks you would find on Hootsuite, such as gathering all your engagement into one place so you can respond more effectively to stimulate further engagement.
10. Asana – streamlining task assignment and project management
Asana is an indispensable tool for companies to streamline task assignments and project management. It empowers you to assign tasks, set deadlines, and track progress efficiently so nothing falls through the cracks. This ensures that you consistently meet client deadlines and project milestones, allowing you to manage your workload effectively without compromising quality.
Conclusion
Efficiency and optimization are the foundation of a successful online workflow. Incorporating these ten free tools into your daily routine can elevate your productivity, simplify content creation, and streamline communication and organization. Note, however, that the free versions of many of these tools have serious limitations, so carefully consider your needs before incorporating something that might involve time-consuming setup. If, after expending the time and effort, you discover the tool is too limiting, it's a waste.
Whether you're a freelance writer or part of a larger team, these tools are essential for optimizing your online workflow and achieving your professional goals. Embrace the power of these tools, and watch your online productivity soar to new heights.
Need marketing help to support business growth?
We welcome the opportunity to show you how we can make your marketing SIZZLE with our data-driven, results-oriented marketing strategies.  Sign up for our FREE newsletter, get our FREE guide to creating an awesome website, or contact us for more information on hiring us.
Hausman and Associates, the publisher of MKT Maven, is a full-service marketing agency operating at the intersection of marketing and digital media. Check out our full range of services.