Customer engagement across all of your marketing channels builds a strong relationship with your community and drives customer retention. In fact, firms with high customer engagement see an 89% increase in customer retention with engaged customers representing 2/3 of the firm's revenue. Finding customer engagement tools helps ensure you achieve high levels of engagement. For reference, below is a model of customer engagement as a driver of purchase intentions.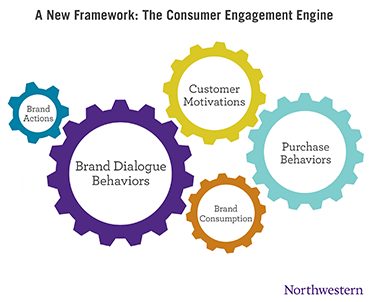 If you consider brands like Google, Coke, and Microsoft, which scored high on a new metric designed to equate customer engagement with profits, you find they not only achieve high levels of customer engagement, but they also build emotional bonds with their market, which translates to higher levels of satisfaction and brand awareness.
In this article, seeing how meaningful customer engagement is, let's discuss the top customer engagement tools you can use for your business.
Top 6 customer engagement tools you can use for your business 
123 Form Builder 
123 form builder is one of the best form builders out there. This tool allows you to create engaging forms to better understand your customers, collect payments, conduct surveys, and more. 123 form builder is an excellent tool for gaining customer feedback and shifting your marketing tactics and campaigns based on customer preferences. It helps you better understand how you can engage your customers.
If you operate in the health industry, 123 Form builder allows you to find the best templates for your medical forms. These medical forms effectively enable you to collect patient information quickly and safely to reduce the need for patients to fill out paper forms before their visit, which might put your schedule out of whack. In addition, these templates are much easier to download than creating them from scratch.
Key features with 123 form builder include:
Unlimited custom reports
Allows you to connect to many Wix sites
500 MB upload storage
Up to 5,000 submissions per month on your account
You are entitled to create up to 20 forms in your account
Pricing with 123 form builder uses a freemium model, but if you want to subscribe to their best plan- the enterprise plan, you'll pay $199.99 per month and are billed yearly.
Amberscript 
Amberscript helps engage visitors by easing the burden of adding subtitles to your video automatically. Some might underestimate the power of subtitles and how effective they are, but without any subtitles, you require hearing individuals to turn on the sound and marginalize those with hearing difficulties. According to a study, 92% of viewers watched videos on their mobile without sound. So, as you see from that statistic, subtitles are really important. Plus, using subtitles fits with search engines and their commitment to inclusivity.
Amberscript allows you to generate your video subtitles automatically and provides metrics to show you how much your engagement rates would fall if you didn't use subtitles. Amberscript saves you hours of time you'd otherwise spend generating subtitles thanks to automatic speech recognition used to add subtitles. Additionally, this customer engagement tool is available in multiple languages, so you can serve audiences in multiple countries!
Key features with Amberscript include:
Automatic speech recognition
Available in multiple languages
Complies with the GDPR
Quick transcription services
Ease of use
By paying 15 Euros per month, Amberscript grants you one hour of audio and video to upload. However, if you want to go with their monthly plan, you'll pay 40 Euros per month, with up to five hours of audio or video uploaded.
Userpilot 
If one user engagement tool deserves mention, it's Userpilot. The platform has a built-in app messaging feature that allows you to directly communicate and engage with your customers to learn more about how they feel about your products and services.
Moreover, you can build onboarding flows in your product without any required coding. This helps you improve customer loyalty, build a better customer experience, increase customer retention, and engage with your customers on a deeper level.
Additionally, the platform offers you NPS surveys, which allow you to collect customer feedback to measure customer satisfaction related to your product. When you know your level of customer satisfaction, it helps you optimize your marketing performance.
Key features include:
API
Reporting/Analytics
Real-time notifications
User research analysis
Customizable branding
Customer engagement
Pricing for UserPilot starts at $119 per user per month. Additionally, there is a free trial you can use.
Reve Chat

An important business objective is to build communities and engage customers across social channels such as Whatsapp, Facebook, Instagram, and more. Even though a website is considered your primary source of engagement for business, live chat on social channels is an ideal choice for everyone.
Live chat is preferred by most because of its 24/7 response rate and it's ability to answers questions immediately. Now, let's be honest, nobody wants to wait forever for a response, and often an immediate answer translates into better attitudes toward the brand and higher conversion.
Reve Chat is a customer engagement tool that focuses on driving sales and online support by improving communication with customers and prospects. This tool helps businesses engage with their markets across communication channels to ensure it delivers a superb experience.
Some key reasons users will prefer live chat are:
Easy to communicate: Customers can connect directly with the chatbot and do so at any time.
Instant response: customers don't have to wait for any replies and this directly affects customer satisfaction levels
Resolution time reduction: support agents understand customer queries with live chat and provide a faster solution
Key features with Reve chat include:
Voice calls
Video chat
Live chat
Proactive chat
Proactive analytics
Pricing with the standard plan begins at $44 with up to 1 active chatbot and goes up to $449 for the enterprise plan, including the most advanced features and 25 active chatbots.
Heap 
Heap is a relatively new user engagement tool but it gained notice pretty quickly over a short period of time. It is excellent for capturing and analyzing user interaction without any shipping or data code. Many large companies across the world use Heap to engage users with their products.
Heap is well known for its outstanding level of usability. It allows you to set up in a few minutes, and wherever you install its code on your site, it'll automatically start working and capturing data.
Comparatively, it's much easier than tracking the code and everything else manually.
In short, you can gather insights much quicker and don't have to rely on your developers to track and install the code each time.
Key features with Heap include:
Users analysis
Influence analysis
Paths analysis
Funnel analysis
Graph analysis
Suggested reports and more
Pricing with Heap starts with a free version but if you want to take advantage of their most advanced features, their most advanced plan is the Premier plan. However, for pricing information, you have to contact them directly to get an answer.
Zendesk 
Zendesk is an award-winning customer service software that's used by more than 200,000 customers across the globe. The platform is perceived as self-service for independent customer support and seeks to provide a superb customer experience. Self-service allows you to provide customer support without a huge expense for hiring and training a customer support staff. Zendesk is also available outside of normal business hours when your staff wouldn't be available and doesn't take sick or vacrtion days. Common types of customer self-service include online discussion forums, FAQs, and more.
Zendesk provides a solution for the billions of conversations that occur and connects over 100,000 brands with millions of customers through social channels, messaging apps, email, and more.
You may ask how self-service platforms can help improve engagement levels? Well, they do it the following way:
Improve customer satisfaction: This allows customers to find answers to their questions and thus, increases their satisfaction level.
Real-time engagement: Having self-service options allows customers to quickly find answers through their interaction with the chatbots and thus, consumers don't have to wait for any support agent to help them.
Key features with Zendesk include:
Creating personal ticket views
Centralizing tickets into one place
Converting chat, email, social media requests into tickets and more
Pricing for Zendesk starts at $49 per month; however, if you wish to try out the platform, there is a free trial available to provide a test run before making a commitment.
Wrapping it up 
Well, that's all in this article. These are our top 6 customer engagement tools you can use to engage your customers with your product and services more deeply, building trust and satisfaction. These tools are also essential if you want to find out more about what your customers think about your products and even gather feedback on how you can improve your overall business performance.
Each customer engagement tool has its purpose, so take time to carefully evaluate each tool to see which ones best fit your business needs. After all, in the end, your choice depends on a cost/benefit analysis.
Last but not least, compare prices to determine which tool or tools are worth the expense. It's always good to use a free trial before starting a monthly plan to better evaluate the tool's performance, ease of set up, and ability to improve your performance. With a trial, you can take some time and learn more about the platform you are using and see if it actually belongs in your business or not.
Need marketing help to support business growth?
We welcome the opportunity to show you how we can make your marketing SIZZLE with our data-driven, results-oriented marketing strategies.  Sign up for our FREE newsletter, get our FREE guide to creating an awesome website, or contact us for more information on hiring us.
Hausman and Associates, the publisher of MKT Maven, is a full-service marketing agency operating at the intersection of marketing and digital media. Check out our full range of services.