The world is moving fast and seems to get faster every year. Everyone is in the race and if your business isn't moving forward, you're losing ground. Staying the same is no longer an option. Today, AI (artificial intelligence) is used to enhance the productivity and performance of mere humans and AI-powered mobile apps are revolutionizing the world, including the digital marketing world. In this post, we'll discuss 10 AI-powered mobile apps you should consider adding to your digital marketing strategy.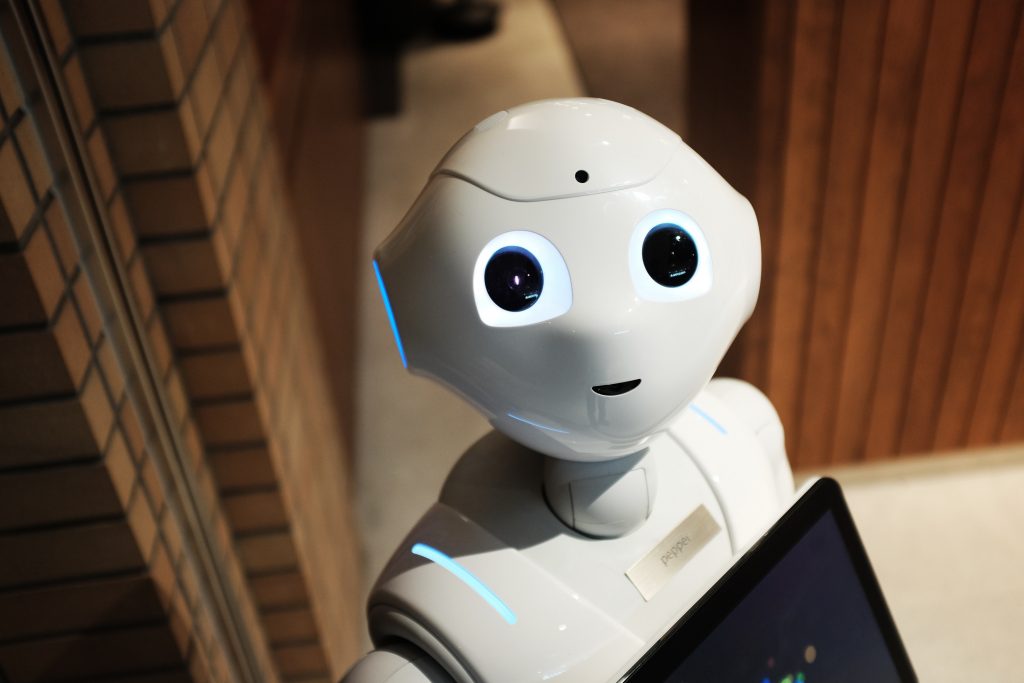 What is artificial intelligence?
Scientists are now trying to make machines that simulate processes by human intelligence; creating machines like self-driving cars and ad writers that do things previously only done by humans. The main target of the scientists is the computer system, they want computers to work like a human brain and compute solutions to problems in real time. Natural language processing, machine vision, expert systems, and speech recognition are the main applications of artificial intelligence.
The basic three types of artificial intelligence are Artificial General Intelligence, Artificial Narrow Intelligence, and Artificial Super Intelligence. Read on to see how these are used in digital marketing, which is rapidly replacing traditional marketing; a process enhanced during the pandemic.
What are digital marketing and AI-powered mobile apps?
With the rise of digital marketing, many of the brands we buy from use digital marketing as a tool for creating awareness, interest, desire, and, ultimately, action– AIDA. Email, websites, social media, multimedia messages, video, and SMS (text messaging) are the primary tools of digital marketing. Digital marketing utilizes digital technologies like mobile phones, desktop computers, and many other platforms, to move users toward making a purchase.
Digital marketing is changing the world and the increased emphasis on mobile marketing as a major force for digital marketing makes mobile-friendly websites and mobile apps an undeniable requirement for most of today's businesses. Many of the mobile apps developed today involve AI-powered mobile apps that make life easier for human beings and development faster for companies. Besides benefits, an AI-powered mobile app has many side effects on human physical and mental health. Below, you can see some of the most popular AI-powered mobile apps in terms of both awareness and usage as highlighted in a 2017 study.
https://www.ibm.com/watson-advertising/thought-leadership/how-ai-is-changing-advertising
10 AI-powered mobile apps that are changing the world of digital marketing
In artificial intelligence, the main concerns are voice recognition, speech recognition, image recognition, natural language processing, and text interpretation which help you introduce your business to users and promote your products when they match user intent. As such, digital marketing has the potential to be at the right place at the right time to make a conversion, since users can search and find a plethora of suitable products and buy them in the middle of the night while wearing their pajamas. In contrast, traditional marketing relies on retailers who are only open during certain hours, are only located in certain communities, and carry limited stock, which means consumers often experience difficulties in obtaining the products they want when they want them. With changes to the logistics systems, consumers shopping online can get their products as early as the next day, further reducing the need to rush to the store to obtain what they want. Also, the internet facilitates price comparisons by allowing users to compare prices without leaving home to drive around.
Artificial intelligence combined with other benefits of digital marketing makes the system think and respond like a human being. An AI-powered mobile app also reduces the cost, time, and human resources for the business. For instance, chatbots work around the clock to answer common customer queries with an interface that means many users don't even know they're communicating with a machine rather than a human being. AI-powered recommendation engines reduce the user's frustration in searching for the right product by making recommendations based on the user's browser history. AI can even write your online advertising copy and powers A/B testing to ensure users see the most effective ad.
AI makes human work easier in other ways such as automated replies on any website, scheduling, and many more things to solve human queries. Many apps are changing the world of Digital Marketing. Some of them are mentioned below, so just have a look at them.
1. Crystal Dash
Crystal is an application for customer relationship management (CRM). This application, based on artificial intelligence, uses digital technology to build and manage relationships with customers. The app integrates chatbots, email, phone and other forms of communication with your sales process and then produces reports and dashboards to optimize performance. The app works with other systems to allow salespeople to instantly quote prices and promise delivery schedules while working remotely with its cloud features.
This app manages all processes of training, hiring, and sales.



2. X.ai
X.ai is a  personal assistant app. It is a very tough task to hire a person for every task needed to implement a digital marketing strategy, especially when you lack robust resources. X.ai makes this work easier. In this application of artificial intelligence, much of the work is done by the app, such as setting reminders, sending notifications, and managing the tasks necessary to run the business without hiring human assistants. It is very cost-effective and reduces the time humans must spend on such mundane matters.
This app is designed for scheduling. You can adjust your appointments and meetings by using your own custom availability and schedule, which you can update almost instantly. A small business can manage very well through the use of this kind of app. Customers get the answers to their queries within a second. Automated replies make it easier.
3. Optinmonster
This app is designed for lead generation by managing the lead generation process you put in place, whether through email, or other strategies. This app includes the features of page-level targeting, lightbox popups, scroll boxes, targeting using geolocation, and floating bars. With this app, you can follow the gestures of visitors to deliver targeted messaging designed to increase conversion.
4. Flow OX
The customer service app, FlowOX, uses AI to power a chatbot to answer common visitor questions. Almost all businesses are now using chatbots to provide good service to their customers on demand. Chatbots use ML (machine learning) to make the chatbot better over time by training it on common questions and the appropriate answer. Over time, ML helps the app get better at answering questions by learning how users frame queries and what answers work best for addressing their queries.
Using a chatbot makes the task of customer service very easy and reduces the cost of hiring humans. Chatbots also never call in sick or take a day off, which might leave the firm with long wait times for human customer support. With the help of a chatbot, your business is directly connected with your audience on the platforms of social media and many websites.
5. Insightsquared
This app is designed for data analysis. Data Analysis is a very sensitive task to perform and important for large as well as small businesses that need real-time information to make better decisions. Data is directly connected with improved performance in marketing, accounting, sales, and customer service. This tool takes historical information to make better sales forecasts, identify risks and opportunities, analyze the sales process, and can even be used for guiding sales reps and coaching. This tool also provides suggestions for marketing and sales. It is cost-effective and does the data analysis more effectively than a human.
6. MarketMuse
Market Muse is specially designed for content strategies. Content marketing plays a critical role in SEO, lead generation, and building relationships with customers. Producing fresh, valuable content on a consistent basis is the key to digital marketing but it's also a time-consuming and expensive task.
This application, based on artificial intelligence, alleviates your content woes by researching, writing, and distributing content to enhance your content calendar and make your posts look better. The app also helps you craft your own content around customer journeys by scoring your content as you write.
7. High Rise
For digital marketing, many of the tasks you're required to do are simultaneous, such as managing the team and work. This application helps to manage the team by assigning the task automatically to the right employee. This tool is essential specifically for the small business to assign a task, manage teams, and then record results. Importing contacts from Gmail and Outlook is also easy to do with the app. Users can add comments to these messages seen by the other users to help create and manage tasks, the delegation of tasks, and assign a task in just a few seconds.



8. Zoho
Digital marketing is all about the behaviors of customers and their pieces of information. Zoho is an AI-based application that is actually an integrated suite of apps to handle CRM, customer services, and bookkeeping. This application is basically CRM that helps you to gain insights from metrics related to your sales trends. Zoho can work online or as a self-contained offline mobile app so you can stay on track even when you are offline so you can access and modify information. Managing data is also very easy for marketers because it is available all in one place.
9. Grammarly
We all need help with grammar and spelling from time to time and Grammarly ensures you're always putting your best foot forward in everything you write from reports to emails to advertising copy. These features make Grammarly one of the most extensively used applications nowadays. Not only does Grammarly work with you as you type to identify grammatical problems, but you can also use it to make your clear and precise. You can also use the app to check plagiarism within your content to ensure you don't get penalized by search engines.
You can also add the extension of this app to your system and integrate this application with other apps, such as your word processor. You can easily identify your mistake while writing any formal message or email. This is a very helpful application.
10. Uber flip
One of the famous AI-powered mobile apps is Uberflip. With the help of this application, you can personalize content experiences to build engagement with users to increase sales. Using this app gives you access to content that drives engagement and you can also monitor the behavior of visitors to offer inducements to speed conversion.
Conclusion:
Artificial Intelligence makes digital marketing easier and less costly while enhancing returns. AI-powered mobile apps improve the user experiences, which translates into enhanced sales. Above, you'll find a few examples of AI-based applications to make your business more effective and reduce costs while still keeping customers happy. With the number of scientists and businesses working on AI, you'll likely see new applications and ones that stretch the boundaries of current possibilities.
Author Bio: Hamza Abbasi is a keynote speaker on social media strategy, LinkedIn marketing & social media marketing trainer, MediaHicon digital marketing author, and MediaHicon SEO consultant for global organizations.
Need marketing help to support business growth?
We welcome the opportunity to show you how we can make your marketing SIZZLE with our data-driven, results-oriented marketing strategies.  Sign up for our FREE newsletter, get our FREE guide to creating an awesome website, or contact us for more information on hiring us.
Hausman and Associates, the publisher of MKT Maven, is a full-service marketing agency operating at the intersection of marketing and digital media. Check out our full range of services.